[youtube http://www.youtube.com/watch?v=uKpX-5jQjQ0&w=420&h=315]
And the Knope of the Week Goes To. . . . .
Megan Messmer, ELGL project coordinator, PSU MPA student, City of Dayton intern, and City of Banks intern. Megan did a seamless job coordinating and managing the ELGL Forum with Rob Cornilles. She made all visitors feel welcome including Beaverton School Board members, Rob Cornilles' staff, and two trackers. Post-meeting, Megan handled inquires from the Democratic Party of Oregon and follow up with meeting attendees.
Previous Knope of the Week Recipients
ELGL: In Case You Missed It
Much of Rob's discussion at yesterday's ELGL Forum focused on this three-point plan for job creation. Further details can be found on this webpage.
What's Going On, What's Going On
Applications for Oregon City Commission Vacancy now accepted through Feb. 3rd
City Commission Position No. 3 is currently vacant and the City Commission is accepting applications for appointment until February 3, 2012, 5:00 p.m.

New Open City Hall Topic – City Seeks Input on Upcoming Year's Priorities
The City of Lake Oswego has posted a new question on its online town hall forum, Open City Hall. Open City Hall allows people to give direct input to Council and staff on current issues without having to attend a meeting, plus you can read what others are saying about important Lake Oswego topics. It's easy and convenient! The current topic will assist the City Council and City Manager as they make project and policy choices for 2012.
Around the Northwest
Oregon AG race starts on odd note
Washington County transportation chief says future plans will prioritize bicycle infrastructure
Finalists for Cornelius city manager include former Beaverton Mayor Rob Drake
Lewis & Clark Law Professor States Public Has Right to Paddle on Oswego Lake
New Selah mayor puts police chief on leave
Mayor: 'People of Bend Can't Afford to Do All This at Once'
Phoenix city manager will vacate post a month early
Wilsonville City Council approves location for new skate park
Oregon regulators give Portland 5-years plus to fix sewage spills in southwest's Fanno Creek
Should Portland spend $1 million for parking meters it doesn't need? Mayor Sam Adams says no
Reception for City Administrator Finalists in Ashland
Cost of UP retreat comes in less than half of budget
Salem seeks residents' help to trim costs by $10.5 million
Join the ELGL Online Community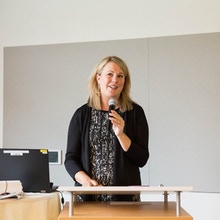 I'm the co-founder and executive director of ELGL. I love my job. Other things I love: local government, my family, my dog Michael Jordan, sandwiches, naps, books, and skee-ball.