Olympia students say viral video isn't what Huffington Post thinks
[youtube http://www.youtube.com/watch?v=MHtDF-z77wk&w=560&h=315]
Rewind
Social Media

Stay connected by following these Twitter feeds and Facebook pages.
Twitter: MMASC
Facebook:  University of Portland
Participate

Clackamas County Transportation System Plan – The Public Advisory Committee for the Clackamas County Transportation System Plan update is meeting Tues., Feb. 7, 6-9pm, in the Development Services Bldg., 150 Beavercreek, Oregon City. The public is welcome to attend and comment during public input times.
Spotlight

Portland State Inside PSU | Driving the Clean Economy – One obstacle on the road to mass adoption of plug-in vehicles: Where do you fuel up cars that don't use gas?
Reassessing Property Taxes – With home values falling, many owners are counting on a tax break. So why are county assessors making it harder than ever to get one?
Before Ice Cream Shop Can Open, City's Slow Churn – San Francisco Mayor Edwin M. Lee's office announced last week a $1.5 million fund to help small businesses, calling the sector the "Backbone of SF Economy."
Inside the UGB
Ermatinger House rehab project gets started, architect hired for Oregon City project
Arlington Mart owners intend to file lawsuits against Gladstone, Clackamas County over racial discrimination claims
Outside the UGB
Oregon's 2012 Legislature considering more than a dozen jobs bills, but don't expect miracles
Oregon's environment: It's time to reinvest in our natural resource agencies
City aims to spread innovation districtwide
Olympia council ideas: Task force, working with business owners
Debate grows over big-box retailers: Tacoma – Tacoma City Council
What's ahead for OR counties dependent on federal forest payments; 2012 agendas for key interest groups
Join the ELGL Online Community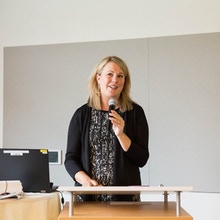 I'm the co-founder and executive director of ELGL. I love my job. Other things I love: local government, my family, my dog Michael Jordan, sandwiches, naps, books, and skee-ball.