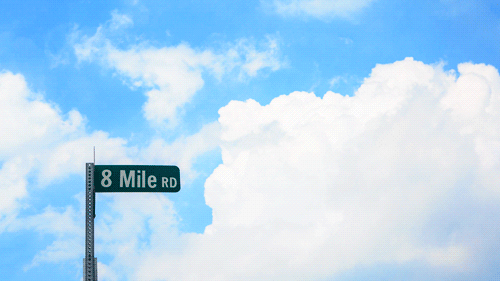 Today's Morning Buzz comes to you straight from Detroit where we check-in on the continued fallout from Trump's dismissal of Comey and take a look back at the history of Detroit's public transit system.
In today's Buzz we honor some of our favorite Detroit musicians.


Right Now w/ Brian Southey (LinkedIn / Twitter)

What I'm Listening to – Sufjan Stevens, Michigan
What I'm Reading – #ELGL17 Agenda
What I'm Watching – Daily Show
What I Want to Know from You – What is your favorite part of Detroit?
Buzzin'
Trump said he was thinking of Russia controversy when he decided to fire Comey President Trump on Thursday said he was thinking of "this Russia thing with Trump" when he decided to fire FBI Director James B. Comey, who had been leading the counterintelligence investigation into Russia's interference in the 2016 election.
#Trending
Upcoming
50 Nifty

Focus On Infants During Childbirth Leaves U.S. Moms In Danger The U.S. has the worst rate of maternal deaths in the developed world: Sixty percent of the 700 to 900 deaths each year are preventable, including that of neonatal nurse Lauren Bloomstein.
81 Burmese pythons killed on public land  In Florida, your tax dollars are being put to work to kill gigantic Burmese pythonsinvading the Everglades.
Orlando's drought worse than any in past century With skies hazed by wildfires, lawns so crisp they look flammable and the St. Johns River stagnant in places, Central Florida's drought is one for the ages, measuring by rain gauges as the most pitiless in a century.
E-cig use in Austin could soon be prohibited where smoking already banned The Austin City Council approved a resolution Thursday to add e-cigarettes to the city's smoking ordinance.
Ed Lee ponies up $40 million and site for city's first teacher housing Back in 2000, Sunset District residents killed a plan to create subsidized housing for teachers in the city. Appalling.
Changes in IT Procurement Require a Change in Culture About five or six years ago, the state of Washington went through a significant procurement reform process to where now, Washington Technology Solutions (WaTech) is now exempt from procurement regulations that the rest of the state has to follow, according to CIO Michael Cockrill.
The Tangled Story Behind Trump's False Claims Of Voter Fraud Three-thousand Wisconsinites were chanting Donald Trump's name.
Bold lighting makes California garage a highly visible landmark A county parking garage in San Diego has a distinctive architectural lighting scheme from Acclaim Lighting.
Former U.S. Congresswoman Found Guilty of Fraud Former U.S. Representative Corrine Brown was found guilty Thursday of pocketing hundreds of thousands of dollars that she raised for a fake charity alongside her former chief of staff, Elias "Ronnie" Simmons.
DHS Considers Carry-On Laptop Ban On Flights From Europe The Trump administration has already banned large electronics in cabins of flights from several Middle Eastern countries.
Chicago launches website featuring scrubbed EPA climate change data A new Chicago government website has posted climate change information and data that the Trump Administration had removed from the Environmental Protection Agency's website.

Local Government Confidential
Help wanted: A seasoned city manager to save Opa-locka  Help wanted: A South Florida city is looking for an experienced public administrator to run a debt-ridden government that is being investigated by the FBI and scrutinized by the state during a financial emergency.
Local governments want public notices out of newspapers, and onto their own websites Newspaper publishers say legislation that recently passed the N.C. Senate would harm "the public's right to know" by moving government notices from published ads to little-viewed corners of local government websites.