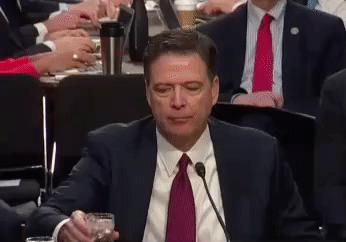 Today's Morning Buzz is all about yesterday's appearance by former FBI director James B. Comey before the Senate Intelligence Committee.

Right Now w/ Brian Southey (LinkedIn / Twitter)

What I'm Listening to – Jason Isbell – If We Were Vampires
What I'm Watching – Red Sox weak showing against the Yankees
What I Want to Know from You -Did you watch any of Comey's testimony?
Buzzin'
Comey: White House lied about me, FBI Former FBI director James B. Comey on Thursday used a dramatic appearance before a national audience to sharply criticize the character of the president, accusing Trump of firing him over the Russia investigation and then misleading the public about the reasons for the dismissal.
Behind Trump's temporary silence: Why the counterpuncher let others do the punching The world waited nearly a day before the tweet finally came. All day Thursday, many people expected President Trump to weigh in but he had nothing to say — on his preferred medium of Twitter or anywhere else. He let others do his talking.
Theresa May Loses Overall Majority in U.K. Parliament Prime Minister Theresa May of Britain suffered a major setback in a tumultuous election on Thursday, losing her overall majority in Parliament and throwing her government into uncertainty less than two weeks before it is scheduled to begin negotiations over withdrawing from the European Union.
#Trending
Upcoming
50 Nifty
The Dark Architecture of National Security All that is known about this photo for sure is that it was taken after 1986.
2-bedroom apartment out of reach for most Oregon renters The numbers from the National Low Income Housing Coalition show renters are struggling to control their housing costs across the state.
Illinois still has no budget, but lawmakers approved almost 500 other bills Bickering between Democrats and Republicans that once again has left Illinois without a budget and dominated state politics, but lawmakers still managed to approve about 500 pieces of legislation in their spring session.
Nick Melvoin has a lot of ideas for L.A.'s schools Incoming board member Nick Melvoin has ideas on how to improve schooling in Los Angeles, including using test scores in teacher evaluations and a single-payer health-care system.
Will Bears Ears Remain a National Monument? Jonah Yellowman lives in the north end of the Navajo Nation, between Monument Valley, the famous backdrop of many Western movies, and Mexican Hat, Utah, named for a nearby red-rock formation that looks like a sombrero.
The Incompetence Defense During former FBI Director James Comey's dramatic testimony before the Senate on Thursday, Republican senators settled on a pair of strange arguments for why President Trump hadn't obstructed justice: He didn't try very hard, or he was really bad at it.
Trump's Infrastructure Plan Still Could Use More Planning The president's infrastructure proposal still has a few holes to fill in, and it also may not be the job engine he thinks it will be. Here are four questions he may want to think about.
Presidential Disaster Typically Courted In Times Of High Confidence In the hubris of the moment, having vanquished the world of electoral politics, a new or re-elected administration is fully confident of its mandate, and equally full of itself.
Not A Random Attack: New Details Emerge From Investigation Of Slain NPR Journalists Journalists David Gilkey and Zabihullah Tamanna were killed in Afghanistan last year on a reporting trip.
 
Local Government Confidential
City Council flexed muscles to secure Baltimore budget deal with Pugh As hundreds of Baltimore students, teachers and activists gathered for a hearing on closing the school funding gap, the City Council's budget committee chairman had some news to share: A deal was done.
Turner calls for City Council vote on 'sanctuary city' lawsuit Mayor Sylvester Turner on Thursday said he would ask City Council to vote this month on whether to join lawsuits challenging the constitutionality of Texas' new "sanctuary cities" law, ending months of equivocation on the controversial immigration enforcement measure.
Austin City Council says no to gun rights activist's board appointment Austin City Council Member Rita Ora Houston is defending her decision to nominate Michael Cargill, owner of Central Texas Gun Works, to a city advisory board.