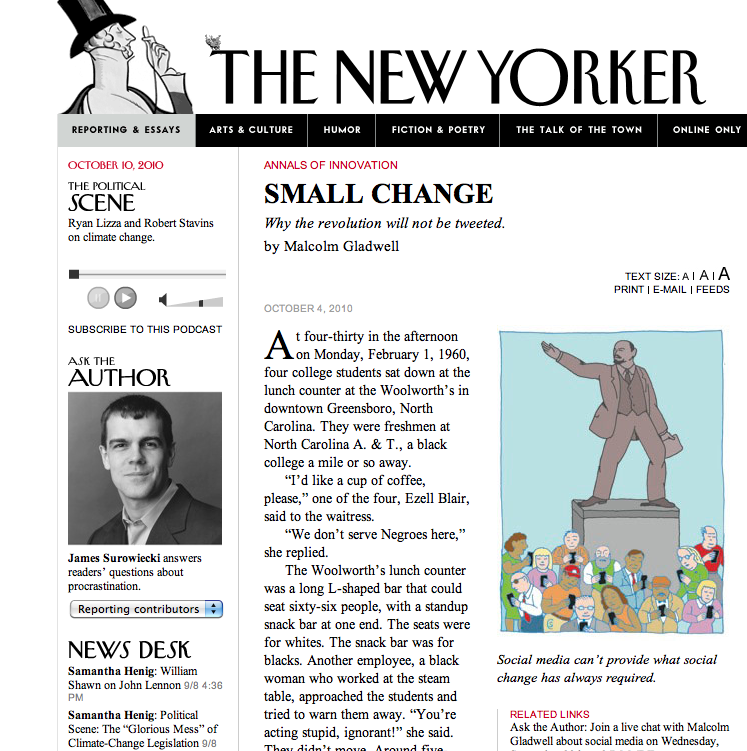 In today's Buzz, Trump says there are no tapes of his conversations with Comey, we take a deep look at Obama's handling of Russia's interference in the election and Nancy Pelosi continues to feel pressure from the Democratic party.
Today's Buzz is brought to you this week's GovLove guest Malcolm Gladwell.
Can you name each of the Malcolm Gladwell's books represented by the pictures and gifs below?

Right Now w/ Brian Southey (LinkedIn / Twitter)

What I'm Listening to – Jason Isbell -Nashville Sound
What I'm Reading – 42 Laws of Power
What I'm Watching – Interstellar
What I Want to Know from You – Have you read any of Malcolm Gladwell's books?

Buzzin'
Trump Says He Did Not Tape Comey Conversations President Trump cleared up one of the capital's least suspenseful mysteries on Thursday, acknowledging that he did not record conversations with James B. Comey, the F.B.I. director he fired in anger over an investigation into his campaign's possible ties to Russia.
#Trending
Upcoming
50 Nifty
London Considers Making Drivers Pay Per Mile The first transit strategy from London Mayor Sadiq Khan's administration has barely been out two days, and already British media are asking if it signals the death knell of private cars in the city.
Seeking the City of the Future, in Prague This week, CityLab's UK bureau chief and European correspondent Feargus O'Sullivan has been dispatched to the Czech Republic to drink beer moderate a panel at In/visible City, a two-day conference running today and tomorrow in Prague.
State troopers to begin patrolling St. Louis interstates, freeing up police for violent crime Pilot program to begin in early July will put between 20 and 30 troopers along interstates 55 and 70 to help enforce traffic laws
St. Louis County executive announces pay raises for police officers St. Louis County police officers' average pay will jump by roughly 30 percent next year under a new wage scale announced Thursday by County Executive Steve Stenger.
Scientists planting 400 acres of Minnesota pines to survive climate change If you want to plant a pine tree that might survive the climate upheavals that are already remaking northern Minnesota's boreal forest, where should it go?
What shoppers need to know about the Cook County soda tax That 2-liter of pop you're picking up for the Fourth of July picnic might pack a little sticker shock this year as Cook County rolls out a new penny-per-ounce tax on a wide variety of sugar- and artificially-sweetened beverages.
Johnny Depp Just Made a Bizarre Joke About Assassinating the President Pirates of the Caribbean star Johnny Depp could find himself in deep water after joking about Donald Trump and presidential assassinations at the Glastonbury Festival.
Obama: 'This Bill Will Do You Harm'  On Thursday, Senate Republicans released a draft version of their Obamacare replacement, the American Health Care Act.
Real Estate Firm With Ties To Trump May Build The New FBI Headquarters Some critics say Vornado Realty Trust should recuse itself from bidding on the project because of its financial relationship to the president and his family.
London tower blaze began in faulty fridge Police say the outside cladding and insulation failed safety tests after the blaze in which 79 are thought to have died.
Cities prepare for traffic influx caused by August's solar eclipse As the August 2017 total solar eclipse approaches, cities within the viewing path are making preparations for an increased number of out-of-towners.

Local Government Confidential
$15 minimum wage plan draws crowd to Minneapolis City Hall Hundreds of low-wage workers, business owners and activists descended on Minneapolis City Hall Thursday to testify about the proposed $15 minimum wage, packing the council chambers as demonstrators supporting the wage hike chanted and beat drums just outside the door.
Lindenhurst Village board approves downtown 'floating zone' The Lindenhurst Village board of trustees on Tuesday night approved a controversial new zoning law. The board voted unanimously to approve the "floating zone" legislation, known as the Downtown Redevelopment District. The zone can be applied geographically and sets parameters for proposed development that cannot be altered by a village zoning or planning board.