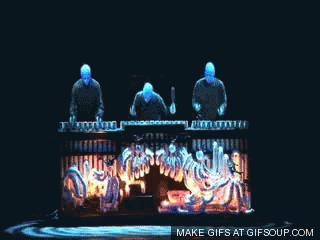 In today's Morning Buzz the U.S. adds 222,000 jobs in June, Sen. Jerry Moran  of Kansas holds a town hall meeting, and the State of Illinois moves forward with their first budget in two years.
Today's Buzz is brought to you by the Blue Man Group.  Yesterday it was announced that Blue Man Group was Bought by Cirque du Soleil.

Right Now w/ Brian Southey (LinkedIn / Twitter)

What I'm Listening to – Jason Isbell -Nashville Sound
What I'm Reading – The Juiced Ball Is Back & In MLB's New Home Run Era, It's The Baseballs That Are Juicing
What I'm Watching – WGN News
What I Want to Know from You – Have you signed up to attend an ELGL Supper Club?


Buzzin'
U.S. Labor Market Roars Back, Adding 222,000 Jobs in June The Labor Department released the June hiring and unemployment figures on Friday morning. This is the latest official snapshot of the state of the American economy.
A town hall in Kansas shows Republican struggles with health-care bill At his first town hall meeting since coming out against the Senate Republicans' health-care bill, Sen. Jerry Moran (R-Kan.) wanted to make himself clear. He didn't want legislation jammed through on a party-line vote, but he would "not necessarily" vote against it. He'd met people who "tell me they are better off" because the Affordable Care Act was passed, but he knew plenty of people were hurting, too.
Illinois House overrides Rauner vetoes of income tax increase, budget Seeking to restore stability to a state government teetering on the abyss, lawmakers on Thursday turned aside Republican Gov. Bruce Rauner's opposition to a major income tax increase and a spending plan, ending a record-setting impasse.

#Trending

Upcoming

50 Nifty
How Americans Order Their Steak Are people who prefer their steaks well done just wrong?
The Trump Administration's Own Data Says Obamacare Isn't Imploding  Welcome to TrumpBeat, FiveThirtyEight's weekly feature on the latest policy developments in Washington and beyond.
France Will Ban 'All Petrol Vehicles' By 2040 In the age of gasoline, the French government is planning what the country's environment minister calls a "veritable revolution:" banning all sales of petrol and diesel cars by the year 2040.
Oregon tobacco age headed to 21 after lawmakers pass new rules This month could mark the last time that 18-, 19- and 20-year-olds can legally purchase tobacco products in the state.
Another awkward handshake overseas: President Trump left hanging as Polish first lady greets Melania On Thursday, President Trump and first lady Melania Trump were welcomed by Polish President  Andrzej Duda and his wife, Agata Kornhauser-Duda.
He used to be homeless, sleeping in Sacramento parks. Now he's a rookie CHP officer Edwin Lopez, a rookie California Highway Patrol officer, this week returned to an Elk Grove park where, all too recently, he used to live and sleep when he was homeless. …
A baby's bottom, an angry diner and a defiant owner: Just the latest in restaurant review clashes. A Memphis restaurant is taking some heat after leaving combative messages against a customer who complained about seeing the owner's naked child running around the cafe.
All the Promises Automakers Have Made About the Future of Cars Yet another announcement came yesterday: Volvo, the Swedish slash Chinese car company, announced that it will only offer electric or hybrid vehicles by 2019. It was widely hailed as a bold move.
Feature: The Art at the End of the World A pilgrimage (with children) to see ''Spiral Jetty,'' Robert Smithson's profound testament to catastrophe.
How To See If Home Prices Are Rising Or Falling Where You Live In much of the U.S., the housing crash hangover lingers. New tabulation of home price data lets you zoom in on hundreds of metro areas and counties around the country.
Trump Is Less Convinced About Russian Hacking Than His Intelligence Chiefs Are The president continues to hedge on whether or not he believes Russia meddled in the 2016 elections, despite evidence to the contrary and testimony from the intelligence officials he chose.

Local Government Confidential
Sutherland Residents Seek Recall of 2 Village Board Members Two village board members in a central Nebraska community could face a recall vote if their opponents gather enough signatures.
Wilmington City Council OKs lower mayoral age requirement  The Wilmington City Council voted to lower the mayoral age requirement from 30 to 25 on Thursday night.
2 local government contractors charged with conspiracy, fraud Two former officials of a now dissolved local government contractor for NASA and the Air Force have been charged with conspiracy to defraud the United States government using a program meant to benefit service-disabled veterans.