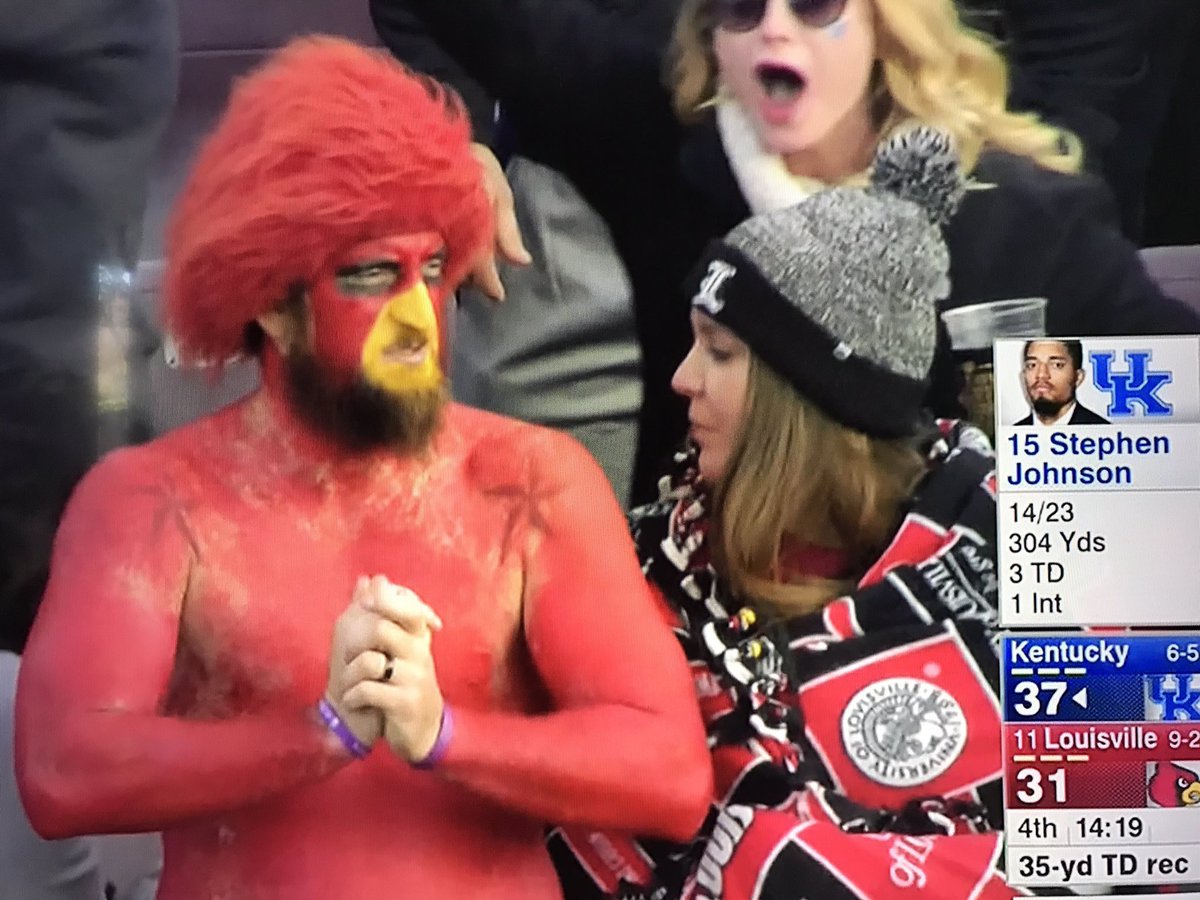 I am Kent Wyatt and I support this blog post.
Jim Valvano, former NC State basketball coach, famously said that each day you should "laugh, cry, and think". The Confidential will try to highlight an article, event, or photo that will help you with your daily laugh, cry, and think.
"If you laugh, you think, and you cry, that's a full day. That's a heck of a day. You do that seven days a week, you're going to have something special."
______
Saturday, November 26
The tree is up, the lights are bright, and my wife and dog are doing synchronized snoring while they nap.
Think
If you want to have trouble sleeping tonight, I have the article for you. Sport Illustrated goes Longform in examining the I-5 Killer. Certainly not a bedtime story for the kiddos but a good read for you in understanding the past of a trouble individual who managed to hide it for years.
Still, the serial killer occupies a singular role in the cast of Americana. Here he—and the vast majority have been male—has been hyperbolized and fetishized, even romanticized. Serial killers are responsible for only a small fraction of the murders committed in the U.S., but they are some of the most notorious figures in our history and culture. Says Sarah Weinman, who runs the newsletter The Crime Lady, "[Serial killing] is twisted fantasy that has roots in the wide-open American landscape, where it is all too easy to hunt and kill without detection and with impunity."
With the Green Lake Killer and numerous others, the West Coast has had its share of sick, demented killers. Happy Holidays!
Laugh
Don't know if you heard…housing prices are skyrocketing in Portland and Seattle. The Seattle Times examines the "roommate cities."
These number are laughable in a bad way. One solution is to avoid the big cities and head to small towns like Wilson, North Carolina or Drain, OR.
Cry
Check the box…it makes a difference. You might not think about being an organ donor, but you should because it does matter. Former football coach Sam Wyche shares his incredible story about mentally preparing to die because doctors could not find a heart to give him for a heart transplant.
"You hear the word hospice and so you prepare," Wyche said. "You know how people say when you're dying, your whole life passes in front of your eyes? Those next few hours, I really did have flashbacks to moments—from childhood, to a football game, to a class I had in high school, to scattered conversations, not just football, but life … the reality of death would always be the sobering thought to bring me back. I was laying still. I was short of breath. I felt the way you do when you have chronic fatigue, just flat-out whipped."
You can skip the first 30 minutes of the podcast if you're not a football fan. The rest of the podcast is a must listen. Sam goes into great detail, which at times is hard to listen to, about the mindset of being near death. You can also learn the story in this article.
______
Thursday, November 24
Thanksgiving….not my favorite holiday. Turkey is blah…pie is inferior to cake…cranberries are meh…
Here's an action shot of Michael Jordan and I riding to Olympia.
I know…I know…it's a very flattering picture of MJ and I.
Think
Thanksgiving provides an opportunity to catch up on podcasts. Bob Schieffer of CBS fame interviews Jill Lepore about how the media will change because 2016 election.
Mom and Dad lumbered about the house, all swollen, like bloated ghosts, chewing as they walked. It was like the Macy's Parade of Parents. People cordially offered each other another appetizer. Bizarre theories about things flew. Dad speculated that the airport would be busy again soon because people don't get Friday off.
I will now live in fear that my daughters will feel this way about visiting home once they fly the coup.
Laugh
Football, turkey, and charts. Bath yourself in the marginal utility of Thanksgiving sides.
______
Wednesday, November 23
It's Thanksgiving Eve! Doesn't have the same ring as Christmas Eve but we'll go with it. Today was a work remotely day due to this crazy incident near the Tigard City Hall.
Laugh
#CityBrandTurkey has swept the nation. I must admit complete ignorance. I figured out what this meant this morning. This trending hashtag has shown the creativity of local government. Check out the entries here. My favorite one so far…
Think
"All Politics is Local" isn't always a good thing as you'll see in this story – Salem city councilor who shared video of cars running over Black Lives Matter protesters resigns.
The video Benjamin shared on his personal Facebook page depicted a series of incidents across the country where vehicles ran into protesters demonstrating on city streets.
"When folks take to protesting illegally, people get hurt and potentially killed," he said. "I just saw that very disheartening in that regard."
Benjamin said he shared the video because he didn't see "mainstream media" reporting on the incidents. Fox News had reported on an incident in Ferguson, Missouri in August.
I'll take a wild guess that we've only seen the beginning of these type of incidents.
Cry
I earned a free pizza from the Domino's Pizza reward program. No, this wasn't a long time running. I earned the reward in less than two months. The diet will have to wait.
______
Monday, November 21
Monday…Monday…Monday! It's Thanksgiving week but ELGL is open for business.
Back from the Seahawks game full of energy, ideas, and determined to waste less time on social media. (P.S: Don't bet on my ability to conquer the last item.)
Think
I have a windowless office which I would argue is a benefit since I live in the Northwest where each day comes with a 75% of rain showers. ELGL has launched an initiative to raise the profile of windowless offices. Enough of the those who are window privileged, turning up there nose at our darkness.
Early entries to #WindowlessELGL make the case for the creation of a therapy group of us window challenged folks. Check out the entries on Twitter and Facebook.
My favorite entry so far goes to Mike Silver. Love the basketball hoop. The window is acceptable since you can only see a hallway.
Laugh
Freeze…..Stay frozen….you're still frozen….the City of Roanoke has issued a challenged. They want your organization to participate in the #MannequinChallenge. If gymnastics still awarded a perfect ten, Roanoke would be rolling around in 10's. Whatever gymnastics replaced the perfect ten with we award to Roanoke.
#MannequinChallenge during Roanoke City Council Meeting! pic.twitter.com/29Zz6tUcIM

— City of Roanoke (@City_of_Roanoke) November 21, 2016
Here's background on the latest internet sensation – D.C. Government Agencies Get In On The Mannequin Challenge and VIDEO: Inmates pose for "Mannequin Challenge" inside AL prison.
Cry
Life got you down? Think your job is dangerous? This cameraman laughs at your troubles.
When the alarm goes off and you don't know what day of the week it ishttps://t.co/WeGr4OUk1Ohttps://t.co/AnaC2i69J9

— Jason McIntyre (@jasonrmcintyre) November 21, 2016
Vikings absolutely demolish a Fox sound guy as they stampede onto the field
---
Saturday, November 19
Step aside Jay Cutler, Patrick Rollens is moving to the good side. This weekend, Patrick becomes a Seahawks diehard. He is journeying up to Seattle with Kirsten and I for a first-hand look at his new team. If things get crazy tonight, a Seahawks tattoo for the group may be in order. Anyone who lives in the Seattle area and wants to get in on the action, tweet at me.
Think
Yesterday I interviewed Paul Leonard, Upper Dublin Township, Township Manager, for an upcoming episode of GovLove. Here's a tiny taste of what we discussed.
Backdraft — as a voluntary firefighter, I had to ask Paul's take on the movie Backdraft. As you might imagined, he liked the movie but the movie is not a realistic look at the life of a firefighter.
What's on Paul's nightstand? Turns out that Paul is a podcast addict like me. He's been reading less and listening more to podcasts including GovLove. He's also listening to Grapple and recommends the podcast to ELGL members. From small towns to big cities — Grapple gives voice to people living and working in distressed communities.
Nozzle Forward is leading the way in training firefighters for today's environment.
Quote of the interview – "Ben Franklin would have been an ELGL member."
H/T to Paul for taking time to share his 30 years of experience. We're excited that Upper Dublin is our newest organizational member.
Stay tuned for the release of the podcast episode in December.
Laugh 
Poop, there it is….City of Topeka rocks. For World Toilet Day, the City had someone dressed in a poop suit walking around taking pictures and spreading the word about World Toilet Day. Link: Downtown Topeka flush with poop … emojis
It's creative ideas like this that give hope for local government finding ways to connect with the community.
#poopsuit sticking some sick #Parkour moves ?#worldtoiletday #topeka pic.twitter.com/8Bt8C4YnWQ

— City of Topeka (@cityoftopeka) November 17, 2016
Thanks for having some fun with us on #worldtoiletday #Topeka. Remember: The next time you flush, think of us! #wastewaterFTW @WorldToilet pic.twitter.com/DJXWF7imUz

— City of Topeka (@cityoftopeka) November 18, 2016
Cry
We're excited for the release of Hyong Yi's book, but we wish it never got to this point. Hyong's story has inspired many, including those at #ELGL16, and readers throughout the country – 100 Love Notes, 1 Year Later – Charlotte Magazine.
In time for the holidays, you can pre-order the book, "100 Love Notes." Here's what you'll get,
Given the magnitude of interest in Hyong Yi's touching, humorous, and heart-breaking 3-line poems, he realized that the notes had greater purpose. Yi commissioned 17 artists to illustrate the three-line poems and the resulting art runs the gamut from watercolor to pen and ink, mosaic, and collage; from traditional paintings to digital compositions. Ship date: Jan 20, 2017.
---
Thursday, November 17
Pat on the back to myself for rockin' the single parent tip this week. Kirsten was in California which meant jumbo sleepovers and pizza delivery.
Think
Lance Armstrong is back. I have not been a fan of his until he launched "The Forward" podcast. I took a listen, at first, because I was thinking it might be a train wreck or full of rants about people that were out to get him. Not so much. The podcast is full of interesting guests, decent interview guests, and cool theme music.
My favorite episodes are with:
Michael Morton was a grocery store manager who was wrongfully convicted of his wife's murder in 1986. He served 25 years in prison before being exonerated by DNA evidence in 2011. Michael sat down with Lance to discuss his story including: prison, revenge, forgiveness, and what he's doing now.
Ricky Williams is a former NFL running back who played for the New Orleans Saints, Miami Dolphins and Baltimore Ravens during his time in the league. He was a Heisman Trophy winning All American while at the University of Texas where he broke the NCAA Career rushing yards record. He is an outspoken advocate for marijuana, a yoga instructor, a vegan and is currently finishing up his psychology degree at the University of Texas. Ricky sat down with Lance to talk about topics including: injuries in the NFL, drug use by athletes, parenting, being an individual and much more.
One more idea for your listening pleasure – the Town of Gilbert, Arizona has launched #GovGoneDigital. Great sound quality and tons of takeaways that might benefit your organization. We'll learn more in an upcoming GovLove episode. Fun Fact: you can also find Gilbert on Snapchat.
Don't worry, Ben Kittelson, GovLove remains first in my heart.
Laugh
Andrew Coulson, ELGL's favorite member from Australia, sent a bag full of swag. We want to share the bag of goodies with you. When you purchase #ELGL16 swag, we'll add a few items from the goodie bag to your order. Makes an excellent Thanksgiving gift.
Mannequin Challenge has reached local government. I repeat…the Mannequin Challenge has reached local government. While ELGL cannot issue a full-fledged endorsement, I can and I do endorse the Mannequin Challenge. In fact, I rank it at the two spot on my Mt. Rushmore of Internet sensations.
1. City Hall Selfie
2. Call Me Maybe (Odd choice? Not so much, this video is an all-time great)

3. Mannequin Challenge
4. Planking
Cry
Maybe 'Murcia is on a downward spiral after all. An interim city manager in Texas did his best to contribute.
Deemed the "gold standard" of job candidates to be Amarillo's interim city manager, self-proclaimed "fixer" Terry Childers was originally brought in to repair a broken city government run by a dysfunctional City Council. And while his tenure as interim city manager has been freckled with controversy, five little words muttered under his breath at Tuesday's City Council meeting were his undoing: "Stupid son of a bitch."
---
Sunday, November 13
It's the weekend that the nation has come to know as "Kent and Kirsten's Wedding Anniversary". This year marks ten years of (mostly) martial bliss. What better than to celebrate than chasing a 5-year old and 7-year old around the beach and breaking up arguments about America Girl Doll shoes. Michael Jordan made the trip to Pacific City and showed his respect for our marriage by eating trash.
Check out my Twitter feed for my non-professional photos of the greatest beach on the West Coast. Don't worry there are no pictures of MJ eating the trash.
Think
I did not vote for either of the major party candidates. I was surprised by the outcome of the Presidential election. I am less surprised that part of our country feels talked down to and dismissed by political parties. Example A: Former Obama staffer Jon Favreau tweeting on Election Night that Hillary had an 100% chance of winning. In fact, Favreau's podcast episodes, before the election, were dismissive of Trump and his supporters, and highlight the backlash felt by Democrats in the Midwest.
As a neutral observer, I caution those firing post after post on Facebook about their frustration with the election. Unless you worked for the Hillary campaign in some form or fashion, you make focus your energy on making a positive impact moving forward as opposed to lamenting an election where you sat on the sidelines. Whether you live in Oregon or Florida, you could have telephone for Hillary in those important swing states.
I feel for people like ELGL member Erik Clarke who took time off from work to campaign for what he believed in. We need more Erik Clarkes and less Facebook and Twitter complaining.
If I could articulate my frustration better, I'd be on national TV, but luckily, a couple of podcasts articulated what happened and how we move forward.
The Axe Files: Ep. 95 – Van Jones
Van Jones, political activist and CNN commentator, talks with David about Tuesday's election results and the cultural chasm that exists in America, his childhood in rural Tennessee and the important relationship he had with his father, and why he won't be running for public office any time soon.
Nicholas Kristof says to give Trump a chance
NY Times columnist Nick Kristof spent the past year writing against Trump, but tells David, his side got it wrong – and we should give Trump a chance.
A few of my favorite post-election tweets.
Thinking about how hard I'm going to work to support women in the future & how I'm going to be the change I want to see @ELGL50 #13percent pic.twitter.com/DveHzEvogB

— Carly Lorentz (@CarlyLorentz) November 9, 2016
Retweets are not actions. Work in your cities, vote and advocate, teach yourself and give to others.

— Not deGrasse Tyson (@DrNeilTyson) November 9, 2016
46 is not a new song title. It's the % of voters who did not vote Tuesday. Make Election Day a national holiday, make voting the priority.

— Stefan Lessard (@SLessard) November 10, 2016
I'd love to hear from you about other articles or podcast like highlight your feelings about the election.
Laugh
https://twitter.com/cjzero/status/797626526850252800
WE SWAG SURFIN' TONIGHT!#H2P #ClemsonBeat pic.twitter.com/PiX67ImuR5

— Pitt Football (@Pitt_FB) November 13, 2016
Cry
H/T to our Australian friend and ELGL member Andrew Coulson for making us aware of this.
---
Sunday, November 6
We're rolling through the weekend like Marshawn Lynch and his mom.
HE'S BACK https://t.co/E5f45eBnL3

— ESPN CollegeFootball (@ESPNCFB) November 6, 2016
Drinks and dinner — Kirsten and I enjoyed welcoming Nic Westerdorf and his girlfriend to Portland this weekend. Nic and his girlfriend were checking out the area as a possible destination after Nic finishes graduate school. If you know of job opportunities in the Portland area, you can contact Nic via LinkedIn.
Think
West Coast! The invasion of Big Government is circling California, Oregon, and Washington. The Washington Post takes the ol' deep dive into what's at play on Election Day.
Big government is the new West Coast craze
The new West Coast Model is higher taxes on the rich, higher spending by the state and wide-scale efforts to lift the working poor, all in the pursuit of stronger and more evenly shared growth. It is on the ballot in three states: Californians are set to essentially make permanent an income tax surcharge on millionaires in order to fund education. Washington voters appear likely to raise their minimum wage statewide to $13.25 an hour, and to mandate paid sick leave for workers.
So, there you go…another reason to spend Election Night in front of the television.
Cry
The Oregonian newspaper reminds us that it hasn't completely disappeared despite laying off its best writers, cutting back publication days, and maintaining the worst website of any newspaper.
The paper catches up with Beaverton resident and former Mayor of Aurora, Colorado Norma Walker. 51 years ago, Norma helped shatter the municipal glass ceiling by becoming one of the first women elected mayor of an American city with a population of more than 60,000.
A few of many interesting tidbits from the article include:
"Even if she is the new mayor of Aurora, like other housewives, the dishes will wait for Mrs. Norma Walker," proclaimed the front page story of her election in the Rocky Mountain News.
Mayor Walker was so novel, she received a telegram the week of her election inviting her to New York for an episode of the popular TV game show, "What's My Line?" In it, a celebrity panel would attempt to guess the contestant's line of work through several rounds of questioning.
"It's 51 years later from when I was ridiculed for earrings or dress length or blah, blah, blah, and it's still going on," she said. "What must we do to change that? I don't know. Fifty-one years later… geez."
You'll finish the article impressed by Norma but depressed by the lack of progress in the last 50 years.
Laugh
Freeze! The Internet was birthed another movement, the Mannequin Challenge. What is the Mannequin Challenge? Bizarre 'freezing' video craze sweeps the web.
challenge us #mannequinchallenge @huskiesvb1 pic.twitter.com/u79zxuklDB

— Preslie Jade (@PreslieA) November 5, 2016
The Mannequin Challenge joins the ranks of planking, the Ice Bucket Challenge, and the Running Man Challenge. The race is on for the first local government to embrace the Mannequin Challenge.
____________
Friday, November 4
It's the freakin' weekend! Before you rake your leaves into a big pile and jump into them, we have a few important items.
Think
My new mancrush is George Hawkins, DC Water CEO who I interviewed this morning for the GovLove podcast. We need more George's in local government – he's well educated (Princeton and Harvard), passionate (what any YouTube video with George and you'll see what I'm talking about), and experience (working as an attorney, regulator, and CEO).
My interview with George will "drop" in a few weeks until then here's a few teasers.
George's Mt. Rushmore of public utilities — water, power, roads/bridges, and public transportation.
What you won't find on George's LinkedIn profile – he's been a farmer, plays bass guitar, and has two children.
He lived in Cleveland when the river caught fire.
He's an incredible dancer. Not like a great dancer at weddings, George is a semi-professional dancer.
The late, great Robin Williams is George's celebrity look-alike.
I think you'll enjoy the interview. George has transformed DC Water from an agency struggling with lead to one of the leading agencies in the country.
Laugh
Okay, I am going to do a trust fall who will catch me.
Wrong direction pic.twitter.com/BZMaT71FGi

— Big Cat (@BarstoolBigCat) November 4, 2016
Let's just assume that someone caught that person.
Cry
The presence of voter suppression would be worth a few tears. Let's hope it's not happening, but until we learn otherwise, let's play a game – Play This Oregon Trail-Style Computer Game About Voter Suppression.
Recent reports (most notably, from BusinessWeek) indicate that the Trump campaign has been openly discussing and developing voter suppression tactics, and with or without their help, it's a very real thing. Now, appropriately, The New York Times has released an op-ed in the form of a computer game as a counterpart to these disheartening stories—and to centuries of institutionalized discrimination during American elections.
_____________
Wednesday, November 2
It's November 2 and we have a decision to make….
Debating between watching @GenevaNYFLX's Council mtg or Game 7 of the WS? Maybe this preview will help you decide! https://t.co/5WUswwnLoc

— 47CastleSt (@47CastleSt) November 2, 2016
Our answer: #WeeknightsAreForCouncilMeetings
Cry
I don't have a Cub or Indian in the Game 7 fight but I have heart strings which were pulled in reading about the writer of the Cubs victory song – "Go Cubs Go". Numerous fun facts in this article including that Steve Goodman wrote the song "City of New Orleans". More importantly, he was a father to three daughters when he passed away at a relatively early age.
Go Cubs Go: How Chicago's victory anthem keeps a father alive for his daughters
Rosanna Goodman was seven years old when her mommy told her that daddy had died. She knew she was supposed to be sad, so she made a sad face. But she didn't really understand. Her father traveled a lot for his job as a musician. She thought he would come back.
If you were within a mile of Wrigley Field on Saturday night, you heard a few notes of the famous song – You could hear Wrigley Field singing 'Go Cubs Go' from a mile away.
Think
My dad turned 75-years old on Monday. He is my inspiration for pursuing a career in local government. While he's a bit old school and struggles to understand ELGL and what makes it unique from other professional associations, he is a dedicated father who raised three boys during his 35-year career as a city manager.
Since I have full editorial rights on this column, I made an editorial decision to share a couple items about my Pops.
Happy Birthday, Pops!
Laugh
If Ben Kittelson hits you up for money, don't give it to him. This is what he's trying to buy. That's right…a Seahawks-theme Geo Metro.
400