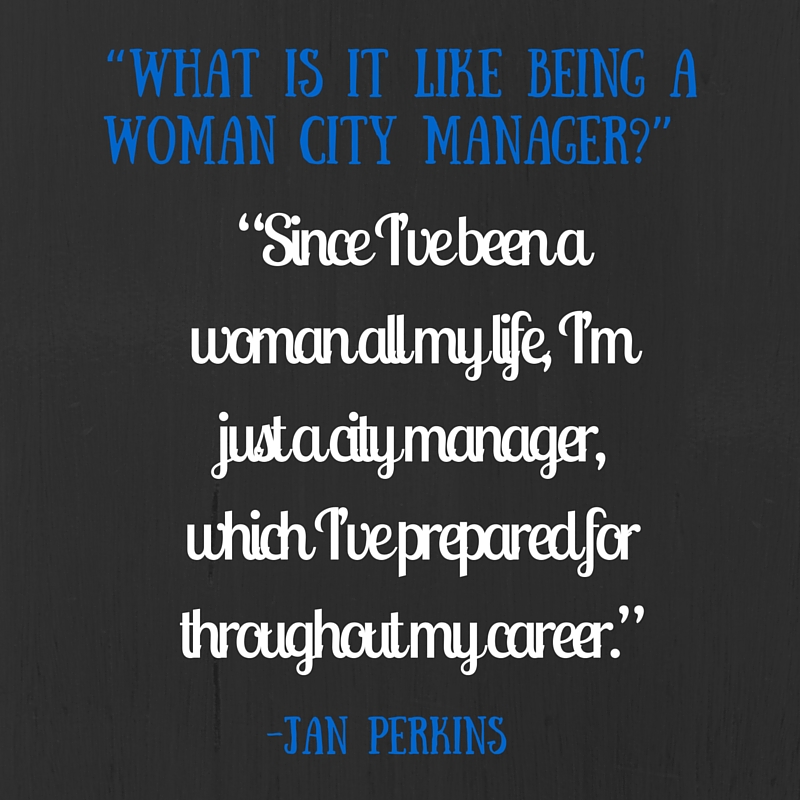 In this multi-part blog series, Julie Underwood interviews the women who were the first female manager in cities across the country.  Read the introductory blog post online here.
First, I wanted to know if they were aware that they would be the first woman in that role, if it played into their decision to apply, and if they were concerned that being a woman would be a disadvantage or barrier. 
The majority of these women knew they would be the first woman in the top seat, but this did not deter them from applying. In fact, I was encouraged when Karen and Julia N. shared that they were both one of two female finalists when they were appointed. When Karen was appointed, the majority of the Council were female including the Mayor. Jan was the first female manager at Morgan Hill, CA and Fremont, CA. She said she was frequently asked, "What is it like being a woman city manager?" Jan's response was always, "Since I've been a woman all my life, I'm just a city manager, which I've prepared for throughout my career."
When Denise was appointed Police Chief in Shoreline, WA, she was one of two women chiefs in the entire state of Washington. When Eden was appointed in Winchester, VA, it was truly historic. It took Winchester 263 years to appoint their first female manager, so this was epic! To put this into perspective, George Washington was elected to his first public office in Winchester.
Jeri's story was very inspirational. Jeri has the distinction of being the first woman and the first woman of color.  I got chills when Jeri shared the story of her appointment to Police Chief. There was a large turnout for her promotion ceremony, and the most noticeable part was when she walked into the Council Chamber and she saw a few elderly African American women weeping. The enormity of this moment was a moving experience. She was honored for their pride and support. And while this was quite an honor for her, Jeri's promotion as the first African-American female Commander for the Phoenix Police Department was one of her greatest successes. The community made a big deal about this too.
One amazing role model is Brenda, who was the first County Manager for four different Virginia counties. She was told by one Board member that he specifically voted to hire her in part because he wanted to break new ground by hiring a woman. Brenda stated, "I often get positive remarks from other women, both within the organization and in the community, who I believe feel encouraged to see a woman hired to head the organization."
Unfortunately, some who went through a city manager recruitment felt like they were the "token" woman in the mix of candidates since they were often the only female, and often, the only assistant city manager. And being the token is not a good experience. Julia N. commented, "Until there are multiple women in the candidate pool, the playing field remains unleveled."
Stay tuned for the next installment in the #13Percent Club.