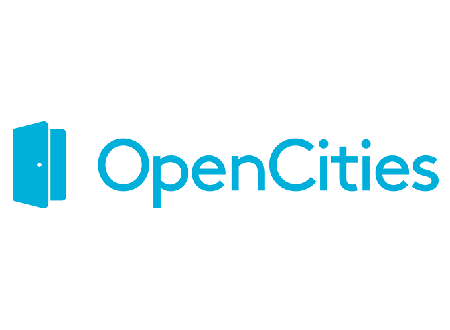 This is the company information page for the 2019 #ELGLHaverford award.
Learn more about the award program, and read about all of the honorees.
---
About OpenCities
Website: https://www.opencities.com/Home 

Contact person: Cynthia Francis 

Contact email:

[email protected]

 

Industry sector: Technology

Minority/Women-Owned: No

Does the company have an articulated equity/inclusion policy: Internal Policy

Nominated by: City of Miami, FL and City of Grand Rapids, MI
---
Engagement With ELGL:
Blogs, Webinars, Podcasts with ELGL? Yes

Events, Activities with ELGL? Yes
---
Working with the Company:
Describe your work and interactions with the nominee – how have you worked with them, on what projects, in what capacity?
OpenCities first worked with the City of Grand Rapids in 2016. Their work has included reshaping the way we think about digital services and transactional government, engaging with our community throughout the entire process. The initial project in 2016 was an Alpha Website, used internally to showcase the differences between a traditional government website and what was possible for us if we adopted a more user-centric approach. In 2017 we later selected OpenCities in an open procurement process to be our vendor for a new digital services website. Our website has gone on to win multiple awards, including the National Association of Government Webmasters Pinnacle Award. As part of the process of creating our new website, OpenCities conducted a series of workshops for our staff to improve the processes we use to create effective web content. We were coached on journey mapping our individual processes and services, effective writing for the web, the creation of user stories, and the importance of user testing.

As part of this project, OpenCities assisted us in creating a volunteer Civic User Testing (CUT) group to test every new service and page on our website, and we continue to use this group to test new services and content as the site is iterated over time.  This CUT group included participants from every district and region in our city, and was designed to be inclusive of all our residents. OpenCities stressed with us the importance of bringing the user to the forefront of our design, and encouraged us to continue to work closely with the entire community to assure that the website worked for everyone.

OpenCities managed the website project and all related processes, and managed best of breed local vendors where necessary. The OpenCities technology is provided to us as a Software as a Service (SaaS) solution, and is hosted in the Microsoft Azure Gov data center. Their services page template and their digital forms module, OpenForms, creates a consistent front-end experience for all our services, even when the action is managed by a third-party provider.

In 2016, the City of Miami decided to move forward with a much needed website overhaul.  In analyzing numerous CMS providers, we were introduced to OpenCities by a colleague/friend who we knew through Code for America.
We agreed to begin with a trial so we could learn more about their approach.  Their proof of concept with us was to create ten services, whereby we could see how their tool works, what their philosophy is, and how easily we'd be able to implement their system.
Needless to say, we were blown away.  The ease of use on their back-end was just what we were looking for. Their responsive, mobile-friendly, and modern design was a fitting juxtaposition to our cluttered, outdated site.  And their philosophy – focusing on users first, offering detailed explanations, and concentrating on continuous user testing and iteration, were the exact principles we were searching for.
After those ten services had been completed and we saw how easy their tool was to use, we knew they were the company we wanted to work with.  Our partnership began with a large Digital Service Academy (DSA), where they taught our IT team what the new website would be all about. OpenCities illustrated how to use their tool(s), but more importantly, they thoroughly explained the conceptual approach. The idea of writing for citizens rather than for government; the necessity of offering step-by-step instructions vs. long paragraphs of information (that no one would read or understand), the importance of using active, non-government language, the model of writing for 80% of cases and not getting stuck in the weeds, and the notion of empowering our employees to facilitate process improvement through their own discoveries and actions.
OpenCities was, and is, much more than an internet tool.  They presented to us a radical new approach to digital government communication, something our city desperately needed and continues to benefit from as we work together. 

What was the product/outcome of your relationship with the company?

As indicated above, our relationship with OpenCities went far beyond just selecting them as the vendor to build our new website. OpenCities became a trusted advisor on issues of responsiveness and accessibility, inclusion, and user-centered design. The OpenCities team continues to provide training and counsel on best practices for internet and intranet technologies and processes. They are always willing to step in with research, suggestions, and general learning they have encountered in their work. The OpenCities team prioritizes communication and responsiveness, and they have specific methods to bring client feedback into their product development process. We have partnered with OpenCities to build out or improve solutions for Elected Officials pages, Parks scheduling, and the ability to create content lists of differing page types that can be aggregated on a single page.  The attitude within the company is that our partnership and input is a benefit to their company, rather than a frustration. OpenCities is a tremendously inclusive partner that values our participation. 

Our goal with OpenCities was to make our new website function as a 24/7 City Hall. After working together for a year, we launched the Beta version of our new website in 2018. Utilizing their training and resources, we hosted seven Digital Service Academies (DSAs) with our employees, created 50, detailed, step-by-step services; user tested those pages and iterated on them before publishing, and designed a modern, new website.




Throughout 2018, we employed the feedback from that Beta site to revise and improve our existing content while adding more. In January, 2019, we officially launched our new Miamigov.com. The website featured 100 services as well as hundreds of additional content pages using various OpenCities templates such as venues (parks, fire stations), meetings, events, news items, landing pages, guides, and more.  Since that time, we've hosted additional DSAs and taught dozens of employees how to utilize the system for their own departments and make their own revisions. We now have over 170 services that guide users through city processes and procedures such as "Get a Fence Permit", "Become a Firefighter", "Start New Garbage Service" and "Guide to Opening a Business."

We've also created many online forms (using "OpenForms"), that have saved hundreds of hours for both citizens and staff alike. Processes such as hearing appeals and microfilm requests can now be accomplished entirely online. We've also heavily relied on OpenCities' accessibility checker to help make our site ADA compliant; a major concern for the city.  
What are three words you'd use to describe the company?
Innovative, responsive, dependable

Modern, Agile, Responsive. 
Describe the on boarding process for your work with the company – either when you personally started working with them, or when your organization did. What could someone else in local government know about starting work with this company?
OpenCities began the first project with us by meeting with all key stakeholders and creating a schedule for input and discussion. They surveyed City of Grand Rapids residents to learn the pain points with the current website, as well as identifying what people liked and what worked well. They surveyed our employees to learn what parts of the Content process (creation, management and publishing) worked effectively. They held a week long Digital Services Academy with key Content Publishers and project stakeholders to shift the thinking from "let me tell you about" to "let me give you the tools to complete your transaction."  During the onboarding, and throughout the entire length of our partnership, OpenCities has provided an effective, responsive project manager, who in turn has brought in other team members as needed from the product, customer success or leadership teams.

OpenCities does not say "here is your new website, we will do it all for you." They trained our team to be more effective and worked with us to arrive at the best possible outcome. That would not have been possible if they simply sold us a new web platform and migrated all our old content onto it. OpenCities continues to be our partner at every stage of this journey, encouraging us to put the user at the center of our thinking as we work together to define a solution. 




As previously mentioned, we knew an OpenCities employees through Code for America, and he presented a proof of concept for our review: ten, step-by-step services, written in their format utilizing our knowledge base; designed using a color scheme we selected together.




After the ten services were complete, and we hired them for the full project, we utilized the website they completed for Grand Rapids, Michigan as a template.

Our next goal was to launch our Beta website, complete with 50 services. In order to accomplish this task, OpenCities found and hired a local specialist with a background in journalism and copywriting to serve as our digital content editor.  The partnership was so successful, that the consultant is still working with us in-house – continuing to grow and iterate on our website, incorporating new OpenCities tools, leading DSA's, and ensuring digital fluidity as we expand. As we migrate content from the legacy website, this resource has been invaluable-  someone who has garnered insight into every department as well as our back-end, and is working with departments to create major digital improvement and avoid information gaps.




Anyone considering OpenCities should know that you don't get a factory feel from this company, you get fast and personalized design and response.  They're cultivating their tool often in direct response to requests from current clients; so your digital needs are met in the form of updated systems.  Also, they function as a family, and are very responsive. They've expanded their U.S. presence, so they have more help and examples every day; but are still small enough so that you don't feel like you have a 'dime a dozen' website. 
What is the company's pricing structure? Please be as descriptive as possible.

Pricing is based on size of the municipality, unlimited users, content editors  
What's the most interesting or fun aspect of your work with the company? 
Everything we could have imagined and developed has been possibly with OpenCities.  When we have ideas of how we may want to add functionality, it is never NO – NEVER. This company far exceeds any of its peers in the solution and product it brings to the table.  When we were looking for a new WCMS for our City, there was no other company, nor staff, nor product that came close to OC. We are a true Digital City Hall, civic user tested because of our relationship with OC .  https://www.opencities.com/Case-studies/City-of-Grand-Rapids 

The CEO of OpenCities is so relaxed and unassuming, that we often joke about being "hypnotized" by his aura. While this sounds funny, his disposition actually translates to the whole team.  The company functions much like a family. They know each other, they root for each other, they promote from within and grow their employees quickly.

Because OpenCities HQ is based in Australia, we find many of the cultural differences between The U.S. and "Oz" very refreshing.  They are about getting the job done rather than 'clocking in and out'. Issues are dealt with in a very simple, "problem-solution" manner; no drama included. Their work with hundreds of local governments across Australia has empowered them with a knowledge base and experience level that we often benefit from. They've also seen it all, which can be very comforting when you feel like you have a dire, website 'emergency'.

They team also travels quite a bit around the world, and not only do they share their great stories, but they offer examples from other cities and countries that are both fascinating and helpful in allowing us to stand out. Because they have a select group of U.S. clients, we also love that our site doesn't look or feel the exact same way as hundreds of other city websites. 




And those accents are pretty killer….
How has your relationship with the company evolved or changed over time? How has the company reacted to or addressed any changes that your organization has requested in the scope/focus of your work together?
OpenCities embraces change. The staff there has deep experience working with or for local governments, and they are willing to listen as much as they are willing to teach. Over the course of our three year relationship, I and my team at the City of Grand Rapids have appreciated the partnership with OpenCities to adapt to new realities and needs, and to hear feedback and suggestions. 

When we started with OpenCities in 2016, we were taking a chance on a younger, lesser-known company (in the U.S.), because we greatly responded to their philosophy, their team, and their tools; and, to be frank, we had friends who believed in them and we trusted those friends.




Over the next two years, we gained expertise about their tool as we expanded and refined our own website, and they, in turn, continued to build their presence in the U.S. using our platform as an example. 

As true partners, we provided them feedback that assisted with their future product roadmap (which we also benefit from), and they responded to our personal design requests in a manner rarely seen from gov-tech CMS providers.




Thanks to the OpenCities tool and the hard work we all put into reinventing the City of Miami website, in 2018, we won fifth place in Government Technology's Digital Cities Survey. Since that time, we've worked even harder, hand-in-hand with OpenCities, to iterate their CMS and incorporate new tools, and expand our own content and design. And the proof is in the pudding: This year, let's just say that our position on the aforementioned Digital Cities list has moved up (winners to be announced November, 18th).
Anything else to add about the company that we haven't already asked you?
The relationship and value OpenCities has brought to our community has changed the way we do business.  Affecting equity and those most marginalized, the digital platform meets people where they are, on any device, at any time, anything they need.  We made the choice to be open at all times and mad that dream come true with the OpenCities platform.  

They have many women in leadership roles, which can be a rarity in the tech world.