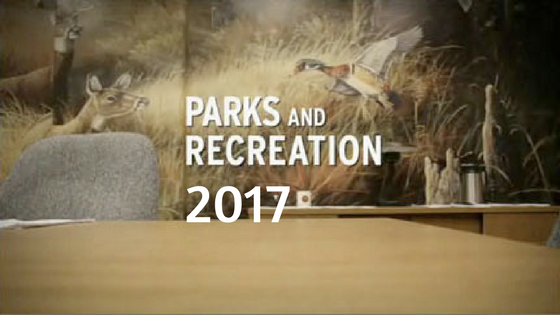 Parks and Recreation's final season in 2015 time jumped to our present and made some pretty wild predictions. Here at ELGL, we're big fans of Parks and Rec, and given that 2017 is quickly winding to a close, it's high time we take a look at how some of the predictions have turned out.
False: Kevin James is Not the New Jason Bourne

Thankfully, this prediction didn't come true. Instead of a reboot, the Jason Bourne franchise doubled down on Matt Damon as their leading man.
True: Cubs WIN the World Series!

I just hope that one of the writers of Parks and Rec bet heavily on a Cubs win and came away stupidly rich.
False: Joe Biden's 2020 Campaign Book

While former Vice President Joe Biden hasn't decided whether or not he will run for president in 2020 (he sure is acting like he will though), you can rest assured that if he decides to run, he'll publish a campaign book with lots of references to–and maybe even a one or 1001 poems about–Amtrak.
TBD: GryzzlBox
In the show, Gryzzl, the tech-giant stand-in for Google, Amazon, Facebook et. al, sends everyone in the town a box full of perfectly individualized gifts. Turns out that the gifts are so perfect because the tech giant has been mining their data with abandon. While we do have data-mining tech giants, we don't get boxes of perfectly personalized boxes delivered to us…yet. Scott Galloway, Professor of Marketing and NYU Stern School of Business, is convinced that we're not too far off from this future. He calls it Amazon Primed.

Half-true: Drone Delivery

Amazon's first-ever customer drone delivery took place on December 7, 2016, in Cambridge, England. While it is true that we now have this technology in 2017, we're probably not going to get an airborne delivery anytime soon so this one is only half true.
Half-true: Game of Thrones Gets a Little Weird

I don't actually watch Game of Thrones, but from all the hot takes I've seen online, a lot of people didn't like this last season of GoT, though I am pretty sure Jack Sparrow wasn't involved.
False: Pulitzer Prize for Listicles

The Pulitzer Prize Board has not yet decided to add listicles as a qualifying category, which is a shame because I think this listicle would be a shoo-in.