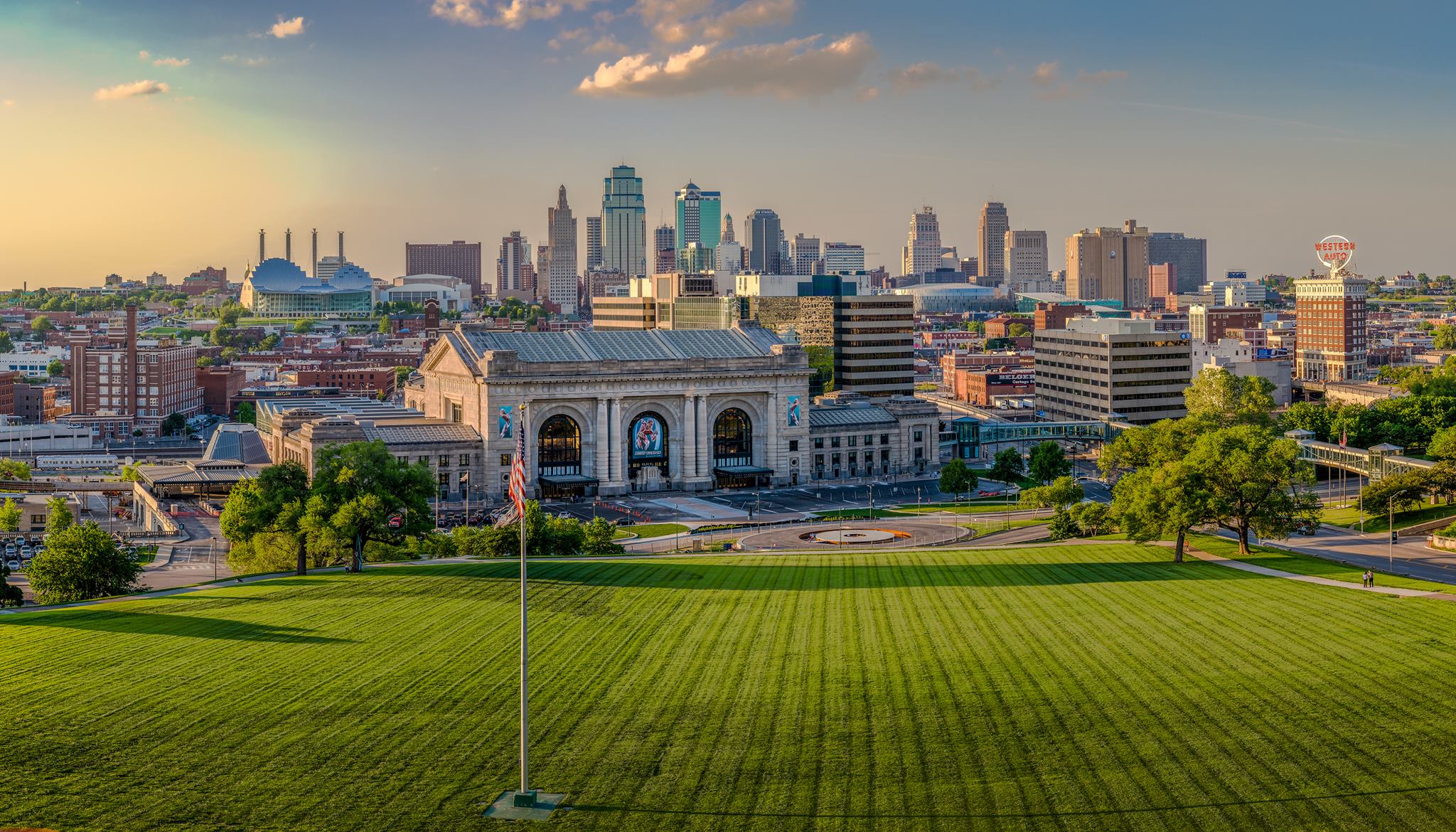 Let's meet our Trending Now! finalists. We started with the City of Hamilton, OH, today we visit Kansas City, MO.  Hat tip to Mark Van Baale for coordinating the city's response.
The 4-1-1 on Kansas City, MO
KC Biz Journal: Two metro cities make it to final four in social media competition
From Mayor Sly James to the Kansas City Water Department, Kansas City embraces social media. The city has an engaging presence full of GIFs, helpful tips, and breaking news.
Full disclosure: ELGL visited the land of Cookingham last year and fell in love with the historic city hall and their knowledgeable staff – Rick Usher, Mark Van Beele, and Eric Roche. (Note: a return ELGL visit is scheduled for September 2016.)
KCMO Fun Facts
The city hall is a 29-story skyscraper with an observation deck on the top. It is the fourth-tallest city hall in the world, and the seventh-tallest building in Kansas City.
Kansas City hosted the 1900 Democratic National Convention, the 1928 Republican National Convention and the 1976 Republican National Convention.
It is officially nicknamed the "City of Fountains"; with over 200 fountains, the 2nd-most in the world, behind Rome.
I Stand Behind KCMO Because….
Tell us why you love Kansas City, MO and we'll include your comments in our voter's pamphlet for the Final 4 voting which begins July 5. Also, each submission will add bonus points to your city's final vote tally.
[contact-form][contact-field label='Name %26amp; Email' type='name' required='1'/][contact-field label='I Stand Behind KMCO Because…' type='textarea' required='1'/][/contact-form]
Social Media Platforms
Twitter is the social media channel we use the most because we have the greatest number of followers (67,000+). We can engage and interact with using this channel. Also, Twitter works well for us since we can engage with people when they need a quick and timely response. Regardless of the time of day (literally this is true), we try to respond in real-time. However, there are times when we allow our social media manager to sleep.
Mayor Sly James and City Manager Troy Schulte are active and very responsive on Twitter. Each is not afraid to share their thoughts on daily city happening and controversial topics.
Facebook is used in tandem with Twitter to share news and information. We use Facebook to share photographs or videos from community events. We may start testing how we can incorporate Facebook Live into our social media communications.
Instagram is a relatively new channel for us. We have created a few videos on this channel (i.e. During the Royals postseason games in 2015) and those were well received. Again, Instagram is best used for its video feature, so we may continue to utilize it as we see fit.
YouTube is where we store the Weekly Report, informational, and event videos. It continues to be a great resource for our video crew who will capture videos and then ask to have it shared on Facebook and Twitter.
mySidewalk (formerly Mindmixer) is a tool we have using for quite some time. It is used to receive detailed feedback from residents on questions we ask about the KC area. Residents participate in a "virtual town hall" and their feedback is used by city leaders in the decision-making process.
Nextdoor has some limitations, but its ability to target neighborhoods regarding specific information (i.e. Public meetings for Council districts) has been useful for us.
Social Media Manager
In the KCMO Communications Office, we have a Social Media Manager (Mark Van Baale) who monitors and manages the City's main Twitter/Facebook/Instagram accounts. He consults and collaborates with social media contacts in other City departments. Many City departments have an employee in charge of managing their social media accounts. Our social accounts City-wide can be viewed here.
Keys to Success
It is simple as this: Community. We reached out to many partners in the Kansas City area (media, City departments, residents, etc.) to help KCMO reach the Final Four. It did not look good a few hours before the deadline (when we were one spot out of the 4th spot), but our community rose up and launched us into the top four. Without everyone's help in Kansas City, we would not be where we are now in the Final Four. Just like our World Champion Kansas City Royals baseball team, we don't quit when the odds are against us!
Top 3 Social Media Campaigns
One of our best ongoing social campaigns involves the Kansas City Royals including their playoff run in 2014 and World Series in 2015. We have a philosophy to support our area professional sports teams — MLB (Royals), NFL (Chiefs), and major league soccer men's and women's teams (Sporting KC and FC KansasCity). We experience see the most interaction and engagement on social media when we share news about our professional team's success. It does not hurt to share some fun GIF's after a win!. We share about our professional sports teams because of the strong emotional connection that so many have for them. We are proud of Kansas City and our sports teams show that KC pride every day. When the Royals became World Champs, it showed Kansas City as a World Champion City that had been a "hidden" secret for so long until now!
Depending on the topic, our monthly #KCStat meetings draw a lot of interest and engagement. For the last two and a half years, we have live tweeted each month's KCStat meeting as performance management stats about various topics such as public safety, infrastructure, etc. We take questions via Twitter during the meetings and respond with an answer that we get live from the panel that is presenting.
During snowstorms, we work collaboratively with several City departments. We have a strategy of sending pre-storm, during the storm, and post-storm tweets. We work closely with Emergency Management, the Mayor, City Manager, and 311 Call Center during snow events to ensure a consistent messages. Our citizen survey results showed a 14% increase in satisfaction over four years as a result of our focus on sharing timely information to residents via social when they needed it the most during snowstorms.
What's Next?!?!
Social media is always changing and our audience desires that we keep an eye on the latest platforms. We started customizing our Twitter avatar two and a half years ago when we created our new KC moniker. Our unique avatars are available for anyone to use and you will often see people using them as their Twitter profile picture. That shows that people are engaged with us on social media and enjoy what we share. As for future social interactions, we may stick our toes into trying out Facebook Live and/or Periscope to see how it works for us for live videos.
Shout Outs!
@MayorSlyJames and his staff who always support us on social. The Mayor is not afraid to take on hot topics and share his thoughts. He is a true leader for our City.
@KCMOManager is our City Manager Troy Schulte and he is always willing to listen to what people have to share on social and provide answers. We are blessed to have a Mayor and City Manager who both understand the value of social media in reaching residents.
@kcpolice has a very active social media presence and they are very good about mixing humor with serious tweets. You absolutely need to follow them for their #kctweetalong when they have it every month! It is must-watch live tweeting!
@KCMOWater won an award in The Pitch alternative newspaper for Best Twitter Personality a few years ago. Many of our City department social accounts have personality which is very important for people to see because it goes to show that there is actually a person behind these accounts. We are not just robots churning out information.
Another shout-out goes to @RuKCMO who is an Assistant City Manager helping to support entrepreneurs and small businesses through the @KCBizCare Center. Rick is dedicated to doing everything he can to promote entrepreneurship in Kansas City as KC continues to strive to become America's Most Entrepreneurial City.
What question(s) should we have asked?
What are your thoughts on the use of GIFs from government accounts when communicating on social?
Short and simple: YES. We are ready for the final round of voting! Rev it up and bring it on!
Jobs, Jobs, Jobs
Want to work with Mayor James, Mark, Eric, Rick and others. Here's a list of current job openings in KCMO.
Supplemental Reading
Knope of the Week: Rick Usher, Kansas City (MO)
Guidepost #18 – Rick Usher, Kansas City, MO
The Ever-Present Legacy of L.P Cookingham in Kansas City
Mayor Sly James calls for rainbow day in KC to honor Orlando