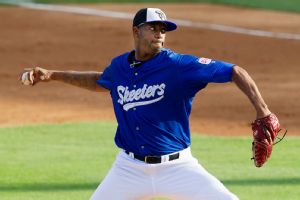 Welcome to today's Morning Buzz! We're featuring fire storms in Washington, rail road negotiations in New York, and mall redevelopment in Florida. We also take a look casinos in Arizona and Metra fees in Chicago. In case you hadn't heard Tracey McGrady officially retired yesterday from his minor league baseball career after recording his first strikeout in the Atlantic League All-Star Game (Go Skeeters!). Today we're celebrating all things minor league baseball! 
 Trending on ELGL
What Can Local Governments Do About Gangs?
A Plate of Local Government with a Side of Maple Syrup with Ashleigh Weeden, Grey County
The Assistant with Susan Sherman, Olathe, KS
7.15.14 Jobs, Jobs, Jobs (Cheeto Fingers Remix)
Upcoming ELGL Events
July 23: Micronetworking: Working with Architects
July 31: Smart Cities Webinar
July 31: Sustainability Chat with Mayor Ballard & Mayor Hales
High Five
1. Has S&P Been Exaggerating Local Governments' Stability? The agency's scoring system created last fall, is being called into question by a financial analyst who  says the new system encourages rating shopping by issuers.
2. States With Better 'Business Climates' Also Have Higher Inequality. While economic inequality has been on the rise across the US over the past several decades there is a notable difference in low tax, pro-business states.
3. TriMet Didn't Technically violate Federal Civil Rights Law with fare Transfer Change, FTA Says. A complaint filed in December charged TriMet with increasing their fares on the weekend, which would require a civil rights investigation. the FTA dismissed the claim yesterday.
4. Homes, Businesses Lost in Racing Central Washington Firestorm. At least 35 homes have burned so far. Nearby residents have been ordered to evacuate the area in anticipation of more damage.
5. Obama Wants Localities to Prepare for Climate Change. The Administration is stressing the importance of climate change to municipalities and could potentially offer help to localities looking to be proactive.
50 Nifty
LIRR Negotiations Resume with Different Tone. The Long Island Rail Road resumed negotiations with its union just four days before a possible strike.
Investigation Says State Managers Manipulated System, Lied to Cover Illegal Promotion. The California State Personnel Board is facing allegations in a new report that a State worker was promoted in "bad faith."
Regulators Deny Permit for Detroit Pet Coke Storage. The State of Michigan rejected the permit from a company looking to store pet coke along the Detroit River near the Ambassador Bridge.
ELGL Northwest
For Franchises, Seattle's Minimum Wage Offers More Questions Than Answers. Many business owners are showing concern about how the new minimum wage law will be implemented.
Portland Mayor Calls Apt. Kruger's Settlement "Distasteful". The settlement, which was signed by the Mayor, dismissed disciplinary action against Kruger for his actions between 1999 and 2001.
Politically Motivated Job Offer By County Commissioners? Clark County Commissioners are facing allegations that a recent job offer for a policy analyst position had political implications.
ELGL Midwest
Macomb County Sewer Repair Charge Now an Issue in Detroit's Bankruptcy. The charges stem from a repair made to a sinkhole in 2004.
Decision on Metra Fare Hike is Down the Road. No fare hike has been proposed yet but may be a necessary challenge for board members soon, facing increasing unmet capital needs.
Cuyahoga County Considering 20-Year Extension of Portion of Its Hotel Tax. The County is considering the extension for the 1.5% portion of their 4.5% tax.
ELGL Southeast
State Shortens Renewal for Durham's Kestrel Heights Charter. The State Board of Education voted unanimously to shorten the Charter, following recent turmoil.
Georgia City to Dissolve Its Police Department. Washington, GA will stop funding for its police department, following a decision by City Council Thursday night.
Site Plan gives Clues to Tallahassee Mall Redevelopment. A preliminary site plan has been reviewed for the redevelopment project, which includes an amphitheater where the food court is located.
ELGL Southwest
Glendale City Council Support's Tribe's Casino Plan. The support comes after recent opposition to the new casino, including a recent five year $3.5 million legal battle against the casino.
North Texas Rejects Fracking Ban. The Denton City Council voted 5-2 against the petition, which will be voted on by the public in November.
Judge Orders Anthony, TX to Allow Collective Bargaining Vote for Police Department. A special election will be held in September to decide if members of the Anthony Police Department can bargain collectively.
Technology
County Courthouse Going Digital. Clark County Clerk's Office is moving toward paperless storage system for their records.
Seattle Considering Municipal Broadband. After a failed partnership aimed at bringing municipal broadband to the City, officials are keeping an open mind to new ideas on the topic.
New TechAmerica Commission to Advise Federal Government on Tech Convergence. the new Commission aims to aid the administration in social media, mobile technology, analytics and cloud computing.
Politics, Politics
House Spending Bill Calls for Deep Cuts to IRS Budget. The spending bill would reduce the annual funding by more than $1 billion.
Biden Tells Liberal Dems at Wayne State: It's Time to Bend History. Joe was in Detroit this week promoting marriage equality at Wayne State University.
Christi: NJ May Consider Housing Immigrant Kids. New Jersey's Governor points the blame directly at the Obama Administration for the influx of unaccompanied children crossing the border but expressed empathy for their situation.