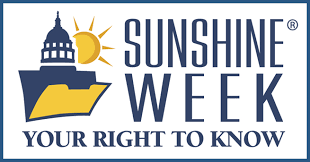 Sunshine Week is, "a national initiative to promote a dialogue about the importance of open government and freedom of information. Participants include news media, civic groups, libraries, nonprofits, schools and others interested in the public's right to know," according to the Sunshine Week website. ELGL chooses to include itself in that list of participants because an innovative and effective government means a transparent government that commits itself to public service in the interest of the citizens that have created the government in the first place. Learn more about Sunshine Week at this link. 

By Bridget Doyle, Community Relations Director – Sterling Heights, MI (LinkedIn – Twitter) 
Sam Taylor, Deputy City Manager – Morro Bay, CA (LinkedIn – Twitter)
At some point in our careers with local government, we all will have to work on responding to a public records request. That might mean being a public records officer yourself, pulling emails to send to someone else for review, helping a co-worker with a request or some other function that is designed to respond to a request.
Based on our experience, sometimes government staff members receive a records request and immediately become frustrated or exasperated. The request is viewed as a chore or a hassle.
But they don't need to be – and they shouldn't be. Public records requests are the right of every citizen interested in the functions of their government. It is our belief that we should work hard to be as responsive and transparent as possible.
Prior to our work as government staff members, we worked as journalists. Bridget worked for the Chicago Tribune as both a daily reporter in the Chicago bureau and a beat reporter for the paper's suburban bureau. She also interned at Standard & Poor's and freelanced for Yahoo! and Naperville Magazine in Illinois. Sam interned and worked at five newspapers in Idaho and Washington, finishing his career at The Bellingham Herald in Washington state before being recruited to work for the City of Ferndale, where part of his duties involve responding to public records requests.
We use our journalism skills every day, and part of that use – we hope – is to help others in government understand the role of the press and citizens interested in what their government is doing.
By the end of this article, we hope to provide you with some tips to make the records request process both less stressful and also to advocate for changing the way you view these requests in the first place. While many requests come from the average citizen, we're focusing this piece on the work of journalists who make requests, sometimes small – sometimes very large.
Journalists make records requests for a variety of reasons, but most likely its either to gain access to files not easily available to the public or to gather data to support a story.  Sometimes it's a story the reporter is already working on, sometimes it's to seek piles of data, compile it and see what kind of information surfaces as a result. This is known by some as a "fishing expedition" – or an effort to see what kind of story you can catch by asking for a bulk of information and compiling the results. The result isn't always exciting, but it's this kind of hard data that helps journalists back up their work.
Bridget's Experience:

As a rookie reporter, hard data was my best friend. Submitting FOIA requests was no nonsense way to access information and support my work. One of my very favorite stories I wrote for the Chicago Tribune stemmed from a friend's experience with a "relocated" car and was supported by a plethora of data obtained from the City of Chicago. My editor loved the story so much it made the front page — and my headline suggestion "Dude, where's your car?" was accepted. It was glorious.
What resulted from the records request was this: about 17,000 cars relocated in the City of Chicago in the most recent year. Additionally, I used the license plates of the relocated cars to reach out to drivers (thanks to on-the-sly help from a great Secretary of State source) via their registered street address and related public information, or telephone contact. Many I spoke with were baffled by the relocating process – I even helped some people find a car they assumed was stolen. Thanks to data provided by the city, my work resulted in a beautifully supported front page story. No, it didn't make the City of Chicago look great – but they were transparent about their data and practices and faired alright. They were given an opportunity to comment and support their practices and I received no complaints from the city after the story ran.
We will continue to see journalism shift and evolve, but it is my hope that journalists will have the time to continue to submit public records requests and closely watch our governments. This helps us all back up our work and best serve our communities. If your government is doing its job well, we should be happy and proud to return requests.
Sam's Experience:
My specialty as a journalist was government and politics, and I viewed myself as an aggressive watchdog reporter. Because of that, I spent almost a decade making sure that I knew both open public meetings laws and public records laws inside and out. It got to the point where I realized I knew more case law on these issues than many attorneys for various jurisdictions. Part of the reason why I got the job I have now was writing stories about violations of these laws. At a certain point, the mayor of my city called me up and asked if I'd come and help fix these issues that led to violations, and to act as sort of an open government ombudsman. That was music to my ears.

But let me share with you things that would occur when I felt city staffers were trying to withhold things from me either in violation of the law or simply stalling or stonewalling. Hint: I didn't get nicer. I didn't back off. Instead, I got more aggressive. My records requests became more sweeping. I was less likely to look past minor transgressions that I might not cover and I also might start writing stories about how these governments were not providing public information in a timely manner.
One of my requests – a "fishing expedition" as mentioned by Bridget – was for all of the email from a mayor for the last two years. That's a lot of work for an agency. But it also led to reporting on that mayor telling staff to ignore building permit rules that were in place for public safety reasons to recruit a new business. That coverage, along with other reporting on that mayor, ended up leading to one of the largest defeats for an incumbent mayor in Washington state's history, when he was defeated by more than 82 percent (full disclosure: his replacement is now my boss, who hired me three years later after I continued my ways as a public pest).
There is no greater disinfectant than sunlight, and so I would work hard to shine that light on these issues. If these governments were willing to abuse their roles with someone who could reach 50,000 people every day, after all, what were they willing to do to the average person who didn't have that mass media capability or the money to file a lawsuit to get what they wanted to know?
There are, of course, good reasons sometimes for withholding information. Records laws often provide exemptions for certain information – and typically that is when the release of a record will either have a negative impact on someone's privacy or on taxpayer money. Releasing attorney-client emails, for instance, could affect a court case prior to trial and be very costly not just for the government but for the community that pays for that government. Medical records of an employee are private and should be. Each state's laws vary on what is or isn't exempt from disclosure.
But most documents typically are not exempt, and so it is not just our job, but our ethical duty to provide that information.
Tips For Better Government
We want local government employees to move beyond the negative connotations of records requests. Here are some tips we think can help:
Put information on your website. The more digital information you have, the less time it takes you to respond to requests. Of all the tips we could provide, this is probably the one that will be most helpful for any government, big or small. Put it all online and make it easy to find. This increases efficiency and will reduce your stress level.
Change your mental state: Kindness and positivity go a long way when working with a records requestor. It not only shows the requestor that you're interested in helping them, but it really helps your own attitude toward records requests. Don't look at records requests as a chore. Look at providing information to the community as a privilege. We should do our jobs in a way where we can be proud of the information we provide.
Be as efficient as possible. When you have to go slow, call the requestor or speak face-to-face to explain why. Most people have common sense and appreciate the open line of communication. Most understand how busy you are, especially if you actually share that with them.
Treat all requests and requestors the same. The gadfly who puts in a request every week has the same right to information as the first-time requestor or a journalist.
Attend training. Education on open government rules and regulations should not only be for records officers or open meetings advocates. All local government staff should receive some level of training. Don't treat it as if you don't need it because you're not the lead manager of requests. Records requests are part of EVERYONE's job duties in local government.
Help elected officials understand openness. Push the ethical value of the People's right to know. Have frequent discussions about these issues. Frame it as being able to brag about your community's openness and transparency. And who doesn't like to brag about that?
Supplemental Reading