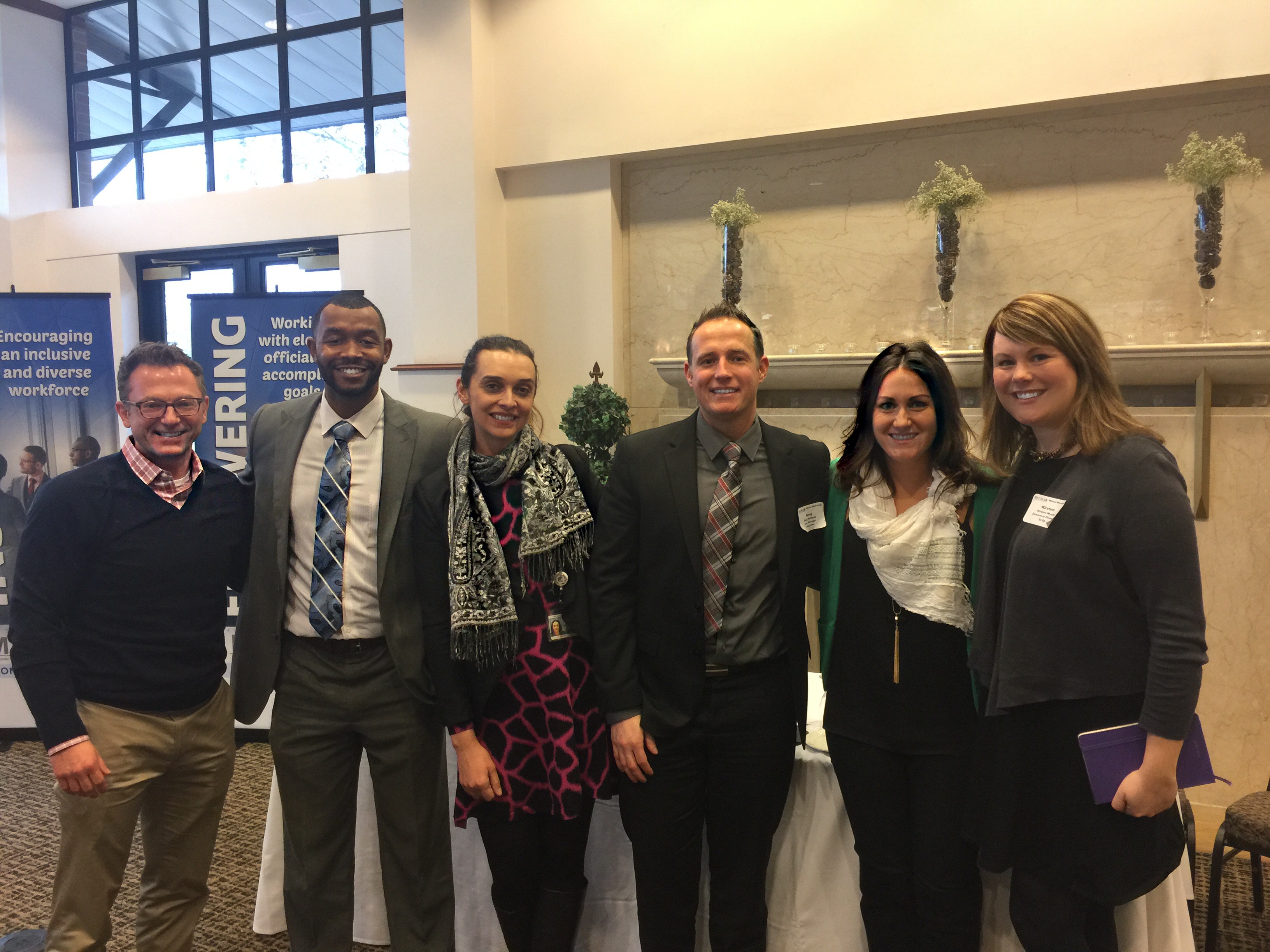 Friday, January 27, 2017 at 3:01 p.m.
Kirsten: I'm in the Chicago airport on my way back to Portland. My time in Columbia was memorable and meaningful. Here are some reflections:
Thursday, January 26, 2017 at 10:40 a.m.
.@kowyatt presenting to MO city managers about "supporting the careers of people who don't look like you" @ELGL50 pic.twitter.com/ofkJrgtzyw

— Bridget Koz (@bridgetdkoz) January 26, 2017
Kirsten: I just finished the keynote at #MCMA17 and it was a fun and engaging experience. Audience questions:
(In response to slides about how language affects our leadership potential) is it bad that I use a lot of those qualifiers, and I'm a man?
How do you deal with multigenerational workforces (I responded with this story).
How do you preserve individuality while building a diverse workforce into a cohesive team.
Do you think that people are avoiding or sidestepping city management as a career because of work life balance?
It's always interesting to see how people react after a presentation about diversity and inclusion. The #MCMA17 group was very welcoming and thankful, which is the best you can hope for… but, I did have a post-session conversation with a city administrator who wanted to talk about "reverse discrimination" and how that made him feel, and one guy called me "sweetie."
.@kowyatt sharing lots of ELGL programs and initiatives with the #MCMA17 crowd. Love these colorful and exciting graphics. pic.twitter.com/BC0WczV7s4

— Bridget Koz (@bridgetdkoz) January 26, 2017
Learning a bit about @kowyatt @kwyatt23 love story at #MCMA17 @ELGL50 pic.twitter.com/4GTc35jZKt

— Bridget Koz (@bridgetdkoz) January 26, 2017
Wednesday, January 25, 2017 at 5:09 p.m.
Kirsten: A long and productive flight from PDX to ORD; got some emails answered, had the chance to post this cool new series from my friend and former colleague Casey Camors, and reviewed the *other* conference blog that's going on right now. Bridget and I will have to set up our game to ensure that the Missouri conference blog is waaaaay better than the Texas conference blog.
Right now, I'm sitting in the Cubbies restaurant at ORD, getting ready to finalize my presentation for tomorrow morning at #MCMA17. I am softly singing "Go Cubs Go" under my breath because it's so damn catchy.
Tomorrow, I'm talking for an hour about "Helping People Who Don't Look Like You To Have Successful Local Government Careers" (that's my session title). It's always a little more nerve wracking to talk about diversity and inclusion at local government conferences than other topics. I'm never quite sure how the audience will respond – whether they'll be more hostile (like the Minnesota audience) or more engaged (like ELGL audiences).
My approach is to stick to my guns, share the ideas and perspectives that ELGL often talks about, and rely on the ELGL faces in the audience who share our values. I'll keep you posted (and you can follow @bridgetdkoz for a blow by blow during my presentation) on how it goes.
And now some perspectives from my flight and layover:
I really want an airline to cut the commentary on the flight. I get that credit cards and food boxes help their bottom line, but I don't want to have my flight interrupted by long, rambling sales pitches.
And along those lines, the drink carts are the worst. This is becoming a Wyatt family obsession. Kent complains about them all the time and now I'm on his bandwagon. There has to be an easier way to serve beverages on planes. If anyone knows why they are still using the carts they used when I was a kid, I would love to know.
I'm having some serious FOMO right now, because the Soofa/ELGL supper club is about to start. Actually, it's more of a Soofa supper club because ELGL's membership in Boston is lagging. In 2017, we aim to grow into this part of the country.
Wifi in ORD sucks. You can only log on for 30 minutes, and after watching a little infomercial. Mine was for Peloton. The last thing I want when I'm sitting in the Cubbies bar, about to order a beer and some fried food, is to watch this ad. Plus the internet is slow. Props to airports like PDX and SFO for their super fast and free wifi. I just had to pay $4.95 to continue using the internet.
Wednesday, January 25, 2017 at 9:30 a.m.
Bridget: Currently waiting to board my puddle jumper from Chicago to Columbia, MO and couldn't be more excited. As mentioned when I blogged about traveling to #ICMA16 in Kansas City earlier this year, Missouri holds a special place in my heart. The #MCMA17 conference is being held at my alma mater Mizzou, another reason I'm especially grateful for the opportunity to attend the conference and present on behalf of ELGL.
Earlier this year, Kirsten and I also presented at the Michigan Municipal League Annual Convention, which gave us both an opportunity to listen to Michiganders and gain a better perspective for the priorities and challenges seen statewide in Michigan. I'm excited to attend a Missouri City Managers Association event, where I'm hoping to gain the same perspective but from a different state. It will be interesting to hear and learn about challenges specific to the State of Missouri and its municipalities while also hopefully connecting the dots on issues we all share an interest in as local gov professionals. I hope to learn new tactics, share ideas and head back to Michigan with a broader perspective.
I haven't been back to Mizzou in a few years and I'm really looking forward to walking the campus, stopping by my old familiar spots and seeing what's new. I've heard Downtown Columbia has really changed since I graduated in 2009. M-I-Z!
Sunday, January 22, 2017 at 9:00 a.m.
This week, Kirsten and Bridget are heading to Columbia, Missouri for the Missouri City Management Association Winter Workshop. Kirsten is giving a talk on Local Government Workforce Development Trends in the morning, and then in the afternoon, Kirsten and Bridget will join a panel for a lively and creative 60 Local Gov Ideas in 60 Minutes discussion. Their fellow panelists include:
Jordan Brown, City of Kansas City, MO
Greg McDanel, City of Maryville, MO, @gmthecm
Sarah Martin-Anderson, City of Kansas City, MO, @sarahmaander
Craig Owens, City of Clayton, MO
Kirsten and Bridget will tweet about their visit using their @kowyatt and @bridgetdkoz accounts, as well as @ELGL50 and @MidwestELGL. They'll use #MCMA17 for all of their conference posts. We hope you'll follow along on their Show-Me State Celebration!