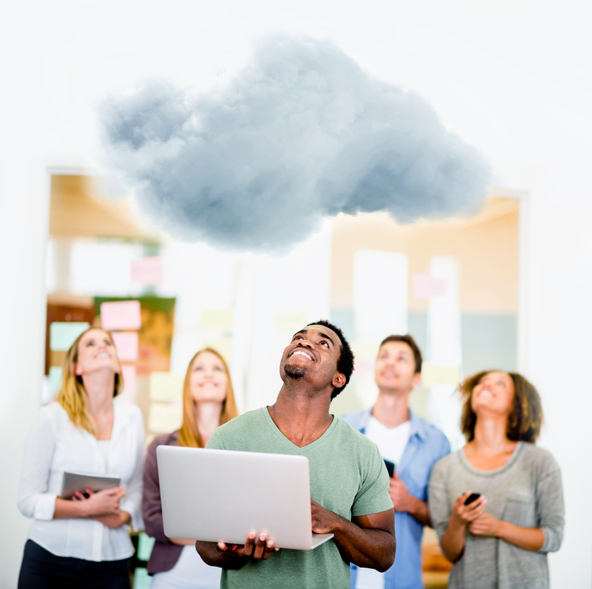 Today's Buzz is by Meredith Trimble, Sr. Content Specialist with Tyler Technologies, Inc., and former Acting Chair, Farmington, CT Town Council (Twitter, LinkedIn)
---
Where I'm going: Touring Connecticut Farm Bureau farms and buying local ingredients
What I'm watching: Community outdoor movies in creative new spaces like our town's polo grounds
What I'm reading: Thanks to new curbside library pick-up, anything and everything!
---
Local government forums are filled with new examples of improving online engagement with community members – something that has taken on new urgency in the past few months. Local leaders have had to quickly imagine and build more reliable community connectivity, not only to provide residents with real-time information, but to ensure continuity of government business online during disruption.
What COVID-19 Showed Us
This need for new ways to connect and operate virtually has had a bit of a side effect, in that it's highlighted the need to replace legacy technology systems, the shortcomings or vulnerabilities of which were quickly laid bare as COVID-19 hit. While attending to current and future needs around strong citizen engagement and remote operations, local governments that make thoughtful investments in modern technology can see returns on investment now while also better positioning themselves to weather what comes next.
Core disaster preparedness and security capabilities are critical in preparing for the unexpected or the unknown "what's next." And, right now, the ability to reach residents through multiple channels including social, mobile, email, and phone is a cornerstone of engagement. Cloud-based solutions that include disaster recovery for enhanced security as well as scalability that accommodates remote work are important to consider.
Test Your Readiness
Is your government ready to move to the cloud? Consider the graphic below.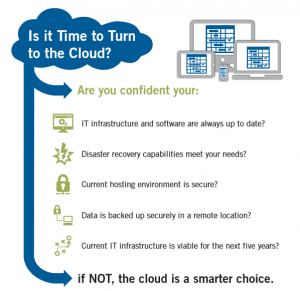 Beyond the above checklist for readiness, it's useful to explore some of the top cloud benefits specific to the public sector:
Reduce capital budget. Purchasing and maintaining the infrastructure required for on-premises hosting is costly. The cloud makes budget planning more predictable and saves money in the long run by eliminating expensive equipment purchases and maintenance.
Minimize IT burden. Maintaining servers on site means IT staffs that are already stretched thin must perform backups, restore software, and maintain data. Eliminating the onus of overseeing on-premises servers frees up IT resources that can be redirected to better deliver services and solve community issues.
Improve security. Experienced cloud providers employ teams of security experts to make sure data is safe. Equally important, the cloud environment provides superior disaster recovery capabilities. The cloud is a more reliable environment because of increased security, automated backups, and server redundancy.
Enhance scalability. To meet evolving public expectations, governments must continuously improve technology capabilities to operate virtually and via mobile apps. Because cloud solutions are designed for scalability, systems and storage can easily increase when the needs of a community grow or change, without costly hardware purchases. The cloud's agility and flexibility are also crucial in times of crisis.
Access the latest technology. Keeping up to date in a cloud environment is not dependent on budgeting for, purchasing and installing new hardware, or waiting for the IT staff to deploy software upgrades. Cloud solutions keep software current while also enhancing remote and mobile capabilities for internal and external connections.
Moving to the cloud is a trend, and the public sector is on board. According to Gartner, up to 60% of government organizations will use an external service provider's cloud-managed service by 2022, doubling the percentage from 2018.
Moving data and systems to the cloud reduces capital expenses, improves IT efficiency and data security, ensures access to the latest technology, improves internal connectivity, and strengthens community engagement. Exploring your government's own readiness is a valuable exercise, especially in today's context and the "new normal" that lies ahead.