Alex Lestinsky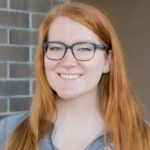 Planner, City of Goodyear, AZ
---
Favorite song from 2018:
New song? Me and My Friends — James Vincent McMorrow
Most played song of 2018? Operator — Jim Croce
Favorite book from 2018:
Just received Dare to Lead by Brene Brown as a gift. Haven't read it yet, but I'm sure it's going to be great!
Proudest work accomplishment in 2018:
Surviving a vigorous workload while going school
People who most positively impacted you in 2018:
Pam (Weir) Davis! She's inspired my whole journey to receiving my MPA. She constantly motivates and inspires me to be a great leader and to take risks and take time for myself and sooo much more.
New Year's Resolution(s) for 2019:
Drink more water and make more friends!
What question(s) should we ask on the next new member questionnaire?
Favorite method of transportation?