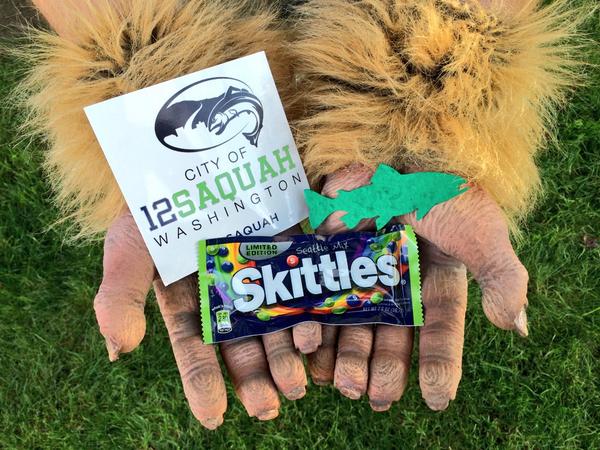 [vc_row full_width="" parallax="" parallax_image=""][vc_column width="1/1″][vc_column_text]What is an Assistant to the City Manager? In between other duties as assigned, council meetings, and a bewildering assortment of public inquiries, ELGL members identify the essential functions of the position.
Background Check
Autumn Monahan
Assistant to the City Manager – Issaquah, WA
Autumn Monahan (LinkedIn & Twitter) currently serves as the City of Issaquah's Assistant to the City Administrator. Based in the Mayor's Office, she oversees several divisions, including Communications, Arts, Grants/Development, Support Services and the City Clerk. She is also a liaison to the Issaquah Municipal Court.

Before joining the City, Autumn worked as an Account Executive for MWW Group, one of the five largest independent public relations firms in the world. During her time at MWW, she worked on a variety of public relations programs for both national clients (such as Samsung and Gardenburger), as well as smaller start-up tech companies. Autumn also worked as a journalist for several years, most recently as the editor of the Sammamish Review, a 48-page community newspaper that's published twice a month. Autumn graduated in 2002 from the University of Washington with a bachelor of arts in communications and political science. As a senior, she served as an intern for The Seattle Times and the Seattle Art Museum.
Lightning Round
My first job was.….
My first job was working for my best friend's family business – a party supplies rental company. We'd fill orders for wine glasses, silverware and even cotton candy machines, and check orders that came back after parties (the smell of day-old wine still haunts me).
The last concert that I attended was….
Jay-Z and Kanye West at the Tacoma Dome. It was my husband's surprise birthday gift. We had to leave after the second encore, as we promised the babysitter we'd be home early. Ah, how times have changed.
I am currently reading……
"The Five Dysfunctions of a Team," "What to Expect – the First Year" and "Delancey: A Man, a Woman, a Restaurant, a Marriage."
Favorite restaurant in your community……
Noodle Boat in Issaquah. Hands down the best Thai food in the Pacific Northwest.
The Job

What are three projects you are currently working on?
We are developing a funding strategy for local transportation enhancements in Issaquah.It's very interesting to work with so many different people on this project – from transportation engineers to finance experts. I'm currently finalizing a voter survey to better understand what our citizens want before we take our next steps. I'm extremely excited that this project will have a tangible, lasting impact in my community – that's what public service is all about!

I'm also working with a team to revamp our internal communications – from a new Intranet to eNews. I'm very motivated to make it easier for my coworkers to communicate, share success stories and support each other.
I recently became the liaison between the Mayor's Office and our municipal court. I've loved learning an entirely new side to the services we offer as a local government. We also provide court services to several neighboring cities, and it was a fun challenge to recently negotiate and finalize contracts with our partner municipalities.
Where does your position fall on the organizational chart?
I report to the City Administrator, and oversee several divisions, including Communications, Arts, Grants/Development, Support Services and the City Clerk. I am also a liaison to our Municipal Court.
How do you interact with City Departments?  
Every day, I'm working with several different departments on multiple projects. It's one reason I enjoy my job so much – every day is different. In the past few hours, I've helped our police department communicate with the public during an incident, brainstormed a fundraising plan for a new skate park and filled in for the City Clerk at a City Council meeting.
The key to working with a variety of departments is to recognize your audience. The more you know about your coworkers and their work teams, the more effectively you can communicate with them.
Networking


Aside from a City Manager, who are three professionals or peers you connect with on a regular basis?
Our current police chief, Scott Behrbaum. As a police officer, School Resource Officer, commander and now chief, he always setting career goals for himself (and achieving them!). I often go to him for advice – and really value his opinion as a leader in our community. He truly cares about supporting his coworkers in their career development, and that enthusiasm is contagious.
My fellow graduates from the Leadership ICMA program. During the two-year course, I formed close relationships with public servants from around the country. I know I can always pick up the phone and call one of my classmates for insight or support.
Our City Clerk, Tina Eggers. My nickname for Tina is "scary smart," because she always has a different (and creative) perspective on how to tackle tough issues. She's an awesome problem solver.
How do you recommend reaching out to someone for career advice?
Internships are a great way to learn more about this field and make
lasting connections. Or, simply ask local leaders to coffee or lunch – and ask about their career path. Don't be shy!
Best three questions to ask when connecting with a City Manager?
From your perspective, what's the role of a City Manager?
Why did you pick this career path?
Who is someone in this field that I should know? Can you help me make that connection?
Did you attend any conferences as a student? Do you attend any now?
I didn't attend conferences as a student. Today, I often attend the ICMA Annual Conference (we're hosting in Seattle this September – come join us!), which is a great way to network and learn about new, emerging ideas.
Getting the Job

Most difficult thing about getting the first job?
Getting your foot in the door is always a challenge. Internships, networking and a strong resume will all help.
I started my career as a print journalist, first as an intern with The Seattle Times and later as a reporter/editor with several community newspapers in the greater Issaquah area. I then worked in PR for several years. When the City of Issaquah created its first Public Information Officer (PIO) position, however, I jumped at the chance to once again serve the Issaquah community, but this time from City Hall.
Thanks to my role as a reporter/editor, I made lots of local connections in Issaquah, and a PIO from a neighboring community told me about the job opportunity. During my interview, I made sure to highlight my knowledge of Issaquah, as well as the communications skills I gained in the private sector.
Three pieces of advice in preparing for an interview.
Anticipate what types of questions you'll be asked, and come prepared with personal stories that can be used as answers. Storytelling is always more powerful than simple responses.
Research your potential future employer. What are some of their largest successes – and challenges?
Come prepared with questions. Candidates that don't ask any questions often don't seem interested in the position.
How many jobs should I be applying for?
As many as you are truly interested in. When you get the job, make sure you are working for a place you believe in!
What job titles should an MPA student be considering?
Look past the title – and find jobs that fit your skill level, experience and interests.
The Transition

One day you're a student and one day you're a gainfully employed City employee, what changed?
During my senior year, most of my time outside of the classroom was spent as an intern. So starting a full-time job wasn't a huge transition.
After serving as Issaquah's PIO for several years, I was promoted to Communications Manager. In that role, I was invited to participate in the City's leadership team meetings, and often worked on special projects for the Mayor's Office. After completing the Leadership ICMA course, I knew city management was a passion and long-term goal for me, so the "assistant to" job was a great next step.
My job today not only includes communication responsibilities (now with help from other staff), but also a wide variety of projects with other departments.
What skills do you rely on most to be successful in your job?

Good listening skills – I try to listen more than I talk. I can learn a lot from my coworkers, customers and peers.
Flexibility – I work with all of our departments on a huge variety of projects. Priorities can quickly change, and I must be responsive to my customers' (both internal and external) needs.
Passion – Over the years, I've served my community as both a journalist and public servant. I'm dedicated to Issaquah, and that passion translates to my work on a daily basis.
Practical experiences vs. academic experiences.
We have great leaders at our city who have trusted me with substantial projects that I could dive into (anything from a website redesign to City Council goal setting), learn by doing and ask questions along the way. As for academic experiences, seek out teachers who have spent time working in the field you are most interested in. Their stories and experiences are invaluable!
As for coursework, I've really enjoyed studying the High Performance Organization (HPO) model. It's become part of our culture here at the City of Issaquah!
Finally, as you select classes to take, don't be afraid to jump into a topic you may not know much about. In city management, you need to be knowledgeable about everything, from finance to engineering.
Supplemental Reading

Leadership ICMA 2014
WA: Charlie Bush, City of Issaquah, Deputy City Administrator
Issaquah to become '12saquah' in support of Seahawks
Assistant To Archives
[/vc_column_text][/vc_column][/vc_row][vc_row full_width="" parallax="" parallax_image=""][vc_column width="1/1″][/vc_column][/vc_row]