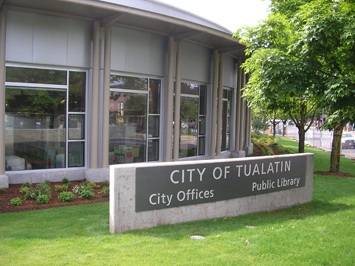 Assistant to the City Manager
Annual Salary: $70,012 – $88,732 DOQ (effective 12/11/15).
Closing Date: 11/1/2015
The City of Tualatin is offering an exciting career opportunity for an exceptional individual desiring to progress in their city management career and to make a lasting impact on the Tualatin community as the Assistant to the City Manager.
This position presents the opportunity to make a difference in both the organization and the general community, impacting how residents, council and city staff work together to achieve a city with high livability and an engaged citizenry. The qualified candidate needs to possess a minimum of four years demonstrated progressively responsible experience in local government, communications, public involvement, public policy, project management, budget or closely related experience. A Bachelor's degree in Public Administration, Public Policy, or a related field from an accredited college or university; Master's degree preferred.
If you have the talents and qualifications needed to be our next Assistant to the City Manager, we are interested in hearing from you!  Be sure to check out the online brochure which more thoroughly outlines the position: Assistant to the City Manager Recruitment Brochure.
Please visit our website and click the link to view the full recruitment notice, brochure, and to apply for the position.
Learn more about Tualatin staff – Knope of the Week: Center for Priority Based Budgeting, Chris and Erik Fabian, Jon Johnson, and Don Hudson and The Assistant with Alice Cannon Rouyer, City of Tualatin.