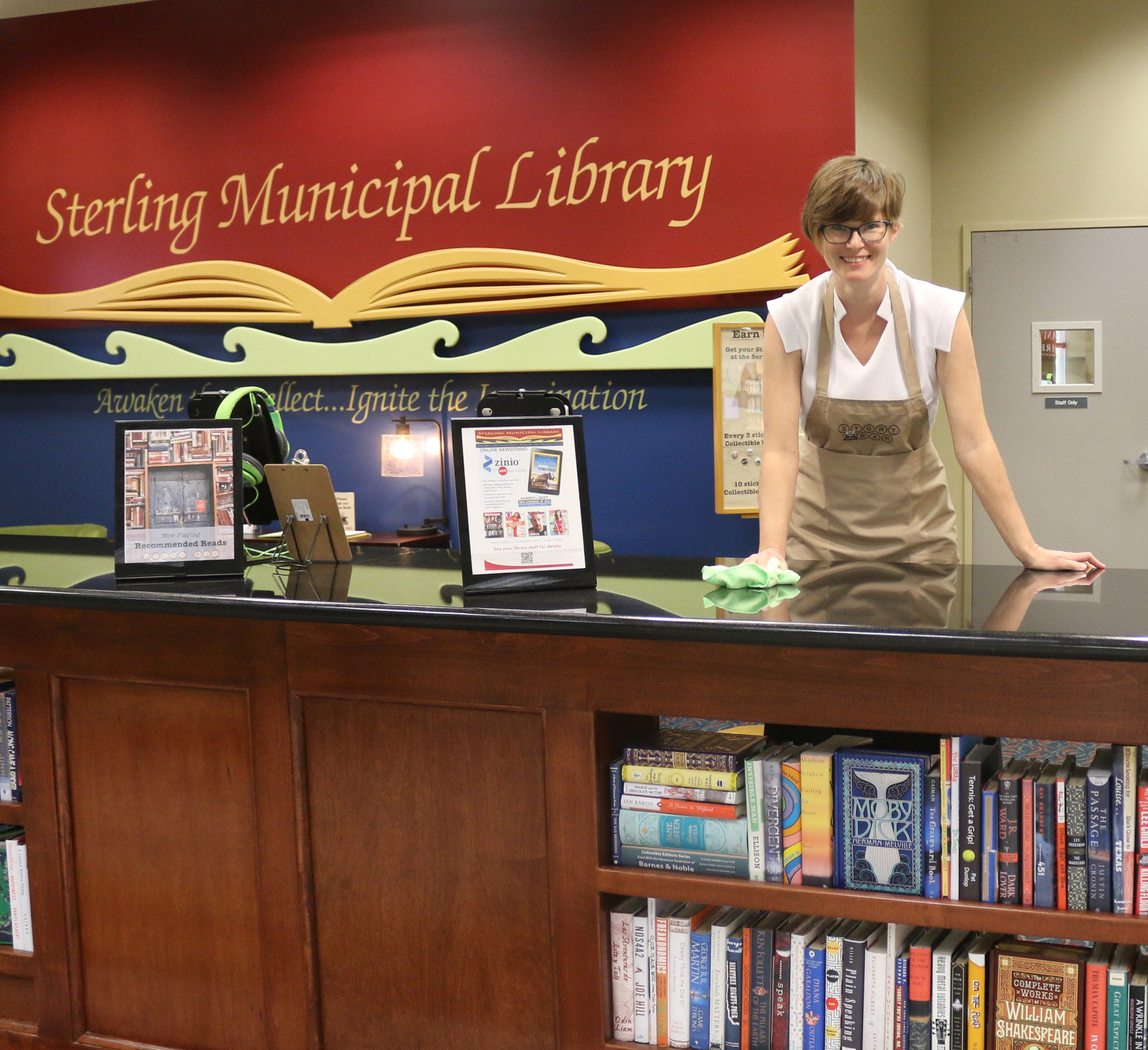 It's Final Four Week! Vote and comment about the Sterling Municipal Library. Join ELGL for daily score updates from the Final Four. We'll update this post throughtout the week.
---
Sterling Municipal Library, Baytown, TX
Connect: Facebook, Instagram, Twitter, and World Wide Web

---
Sterling Municipal Library is great because their books, service, and maintenance is amazing. Great books and very peaceful place to hang out around.
The SMLibrary in Baytown has FANTASTIC programs that help motivate our residents! Thanik you SML!!!
Memories upon memories, before social media. The Sterling librarians were always so lovely & helpful, Every time I went there to study. Thanks, lovely ladies for the great customer service that is sadly lacking in today's day & age.
Sterling Library is very kid friendly. Every Monday they hide "word bird" somewhere in the library and kids get a prize for locating it. Word bird is a crocheted blue bird, and he/she is quite well known. There is a book club for all ages, as well as activities including crafts, science projects, Lego night and others. The friendly staff are always on hand to answer questions. My granddaughter loves to go to the library, it is a bright, happy place filled with people looking for fun and knowledge.
I have moved with work often. Libraries are high on the list for my needs to make a new home. Baytown is #1 for me. I have comparisons & Baytown wins every time. The selection is excellent. Read about a new book…walk in & there it is. And the staff is the best. I feel like I have just visited with a friend when I leave there. I pass Harris County libraries to go to Baytown. It has to be the selection, service & friendlier atmosphere. Baytown Library has it all!
I grew up here where going to the library was an awesome experience not a chore. I remember as a child reading time with the other children. The faces in the library here were like an extended family eager to help with homework and projects etc. love them.
I love this library because I've been visiting it since I was a child. It always brings back great memories, like the summer reading program–which they still hold, by the way! I also love the children's area. It has definitely improved since my childhood days. It's a wonderful place to take my children. 🙂
Baytown epitomizes warmth and stylistic function in its design, furnishings and services. Texas could not be more proud of this library and the people of Baytown consider this library the shining star of Baytown.
This library is so organized. They make it so easy to read book which are part of a series in the "correct" order, because the spine label informs which number in the book series a particular book is. For authors like John Sandford with his two mystery series this is very helpful since between the two series there are at least 30 books, and reading later books spoils some of the suspense of the earlier books. Second, they always seem to have the books I want to read on the shelf and when reserved, assuming the book is on the shelf, the hold is almost always fulfilled within 24 hours.
I grew up in Baytown and the Sterling Municipal Library was a big part of my childhood. We rented movies there, checked out books, I had my piano recital there. I studied and gathered all of my info for my papers and reports throughout my school years.
It has the greatest children's preschool story time. I love to take my grandchildren, as I did my own children years ago. The librarians are terrific!!!
It's a place where everyone has access to books and wifi. It's the one place where all walks of life can come together to read in silence. It truly feels like home. They constantly hold events to get the community involved and our children interested in books.
I love the Sterling Library because it brings back the many fond memories I have going there with my grandmother. I attended readings in the summer and went almost weekly to check out new books. My grandmother has read almost every book in the genre she loves at this library. The Sterling Library will always have a special place in my heart.
SML does so much for the kids in that area who don't have alot. They provide good computers with internet access and have multiple programs during the week to get kids interested in reading and learning. The staff is great and always helpful. I would spend so much time there when I was younger and just have good memories of the place.
The facility host fun events for the family, including random events like the one for the eclipse viewing last year. They have up-to-date technology that students may not easily have access to like 3D printing, Apple computers with film/photo editing capabilities, iPads to introduce toddlers/pre-school kids to technology at an early age and much more. They have reading times for preschool kids and toddlers that my babies enjoy, including a bilingual day which is perfect since I want to make sure my second generation Mexican baby knows how to speak Spanish to his grandma. Their staff always have a great attitude and are very friendly!
I have grown up in Baytown, Tx and been here all 56 years of my life. I came here as a child and had a library card since then. I also served on the Library board for 12 years. It is a true icon in this city.
The city of Baytown Library is awesome!!! Because you can do just about everything here, you can check out a book, use the computers, rent movies and they even have a story bar in here, where u can actually sit on a bar stool and read books…They also have an awesome childrens area for reading books or doing work on the computers…Theres too much to list at what all you can do here at Sterling Municipal Library in the great city of Baytown, TX…
Sterling Library was very important to both me and my family…it was a center for, of course, books, but also art (our family checked out a variety of great art reproductions that were beautifully framed) and cultural and community events. Also a great place to meet friends! But mainly, for me, it was a sanctuary full of one of the things I love most in this world: the chance to live, travel, and experience different lives, places, and ideas. All in a book. It's magic.
I have been coming to Sterling Library for over 6 years and have watched this place continue to grow but most importantly update the activities and media here. It began with my children, interactive programs to encourage them to read and much more, now they LOVE to go to any library and know what to do upon arrival. The employees have always been attentive and helpful. and that has kept me coming back!
They have an excellent staff at the library. The most updated technology and current materials for everyone to use or checkout. The library also offers US Passport services for the Baytown and the surrounding areas. You are able to submit your UP passport application at Sterling Municipal Library for processing. There are a total of 50 acceptance agents in Harris County that process passport applications. Our Sterling Library in Baytown is one of those acceptance agents. Making it easy and convenience for our community residents to obtain a passport. Come and visit our library. I guarantee you'll love in with our Library.
I love my library because it is always changing and keeping up with the latest technology and techniques to teach everyone of all ages. There are many programs for everyone to engage in, the staff is super friendly and they remember who you are! I have been going for 20 years now and no other library compares!
The Sterling Library Staff continues to inspire children and young adults to use the library sources for information. They constantly are developing programs that are of interest to the young citizens of Baytown as well as all others. The staff helps make this library great.
They have a ton of programs for kids. It is a big help for low income and struggling families like mine. We are able to engage our children in all sorts of learning activities thanks to the Baytown library. We may otherwise not have the chance.
The library is wonderful, yes. But the staff… hands down, some of the best staff I've ever met within this library! They are what help these walls hold up and conquer each day of this library like there's no tomorrow. I honestly can say that this is my favorite library! It fits my needs 100%. Even for my children.
I've been going to this library for over 10 years. I love the size and the amount of books. I love the way the children's area is set up and how cozy it is! I used to have to go there to use the internet and the employees were always so helpful with any questions or requests! even their dvd collection was great! oh, and I love the theme nights they've been putting on like the harry potter trivia night, top notch!!
Everyone is friendly and kind and helpful. Our library is chock full of innovative employees who always keep things interesting and new and fun. Our library peeps are always willing to answer questions and go the extra mile to assist in any way possible. They are very knowledgeable and informative on good and current reads. I believe we have the BEST library around and the BEST librarians to boot! You just can't beat my favorite place!
The Baytown library is beautifully organized, easily navigated, and staffed with knowledgeable, helpful employees. It is top-notch in every way. I have utilized this library for over 50 years as it helped me through all phases of my education. The Baytown library is a true source of pride for our town.
The Children's Section of Baytown's Sterling Municipal Library contains many leveled books, computers and interactive games that promote socializing, pre-reading and fine motor skills, In addition to this fabulous section, it also conducts weekly entertaining and educational activities for babies, toddlers, and kids of all ages. My grandchildren love coming to their library!
As an immigrant, the library was the perfect to me. Here, I was able to learn English, read books, and feel comfortable. From the distinct smell of books as soon as you enter to the wonderful staff, the Sterling library is nostalgia personified. It is an amazing place for all.
I grew up going to this library. During the summer, we would go every week for the activities they had set out for all the children. In high school, I volunteered here and got to help out in those same activities I attended as a child. Now in college, I still go to this library every week. It's so big and quite, perfect for finding a study spot. Their collection of books is amazing! I'm here all the time switching up my books enjoying my love of reading. This is honestly the best library I've ever encountered and will forever be a second home.
WOW…! Where do I start?! I ALWAYS feel SO WELCOMED here; the staff is ALWAYS helpful (they even laugh at my awful jokes); they help me locate interesting books, their general knowledge is admirable, their programs are varied, and FUN, especially the creative handiworks (I NEVER had the opportunity to indulge in handiworks, so, for me, this SO MUCH FUN, even eye-opening! And, the list goes on and on—I think you get the picture: this library literally is a GREAT positive supplement to my life!!
I love Sterling Municipal Library because it has a lot of material about the town's history. It is easily accessible, which makes it easier for researchers, such as myself!
The staff is always helpful. I also love being able to reserve a book on-line and it is ready for pickup either the same day or the next.
I love this library because I grew up visiting, and the librarians never failed to aid me with finding a book that was right for me. After moving away from Baytown to a bigger city, I only realize now how valuable this library truly was to our community!
The Sterling Municipal Library was the first library I ever visited. It was a positive, formative experience for me as a very young child. I always felt welcome, I learned to love books. I loved the summer reading program. I was in awe of the audio visuals. I visited the library whenever possible and it was my "go-to" place for school book report materials and anything for which I needed information. (We didn't have the Internet, when I was a child. 🙂 ) I remember head librarian Flora Whilhite, of blessed memory, personally helped me find books for a scout project. All communities should have a "Sterling Municipal Library." They are community treasures and we should support them every chance we get.
Jerry Girgich is onboard with the Baytown library, why would you not vote for them????
The friendly staff are super knowledgeable and willing to help you in any way possible. The atmosphere is phenomenal for all ages. All of the programs they offer for our community are super inviting and such a fun experience! Come check them out, you won't be disappointed.
As a neighbor of the Battle of San Jacinto Monument, I love Baytown's beloved Sterling Municipal Library because I can find historical original resources such as books, photos, etc. for the early periods.
This includes Stephen F. Austin's first 300 families into the territory. I also enjoy the original documents on the merging of the three cities (Goose Creek, Pelly, East Baytown) into one city (Baytown).
Here's why I love my library.. They have always been so warm and welcoming. The employees are always so helpful. Not only are they just a place to check out books, but always have something going on for every age group in the community.
The people here are always so welcoming and helpful. If you have any questions or concerns regarding a school assignment or topic you want to learn more about, these lovely people are always more than happy to help. There also many different clubs and activities found here such as book clubs, sowing clubs, and 3D printing. Overall, this library has many different resources that you may need.
Baytown has the best read and most creative teen librarian in the galaxy!

The Sterling Municipal Library has been a convenient location with access to a multitude of books since I was young. I have always enjoyed a trip to the library; the staff are kind and the selection of books is well sized, with options for anyone and everyone.
I grew up in this library! The size, collection, and programming just amazes me daily!
It's a great place for our community to learn and expand their horizons. Great staff and programs for the children.
I love going in and just sitting down and reading a book. I mean literally holding one in my hands in the technical age where its all phones and tablets i love the smell and feel of books.
Sterling Municipal Library is so convenient; especially when I have a class at nearby Lee College. The staff is friendly and helpful and I can always find what I need or get help finding it.
Every time my boys and I visit the library, we have the best time. The staff is friendly and always attentive. The childrens section has the best selection of books and fun activities for the kids. I love our library in Baytown!
The #BaytownLibrary staff are AMAZING!
I love my library because when I was little they had the summer reading program where we could win prizes if we read books. This was an amazing incentive and made my love of reading grow. When I had my son I would take him here and he loved just as much as I did. Sterling library has been a huge part of the Baytown community!
They have the best computers. I don't have a computer and knowing I can go to the library 7 days a week makes me feel great. They have the best help and they never give up. Thank you Sterling Municipal Library!
It's a great place to do homework.
Baytown Library is THE BEST! There's always something for every age group. If you want to be entertained, enlightened, or energized, the Baytown is the place for you!