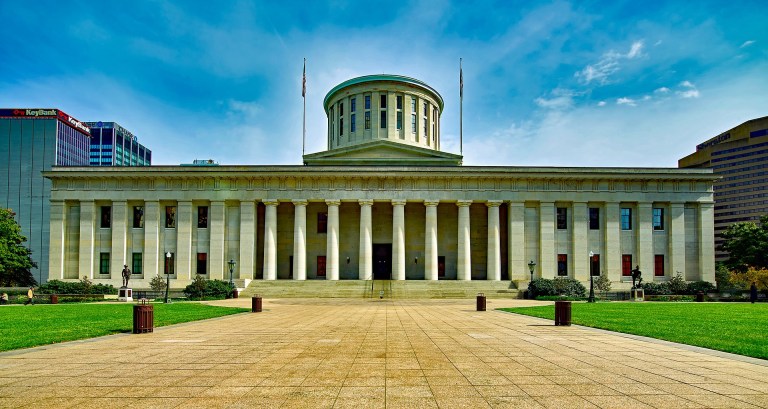 This ELGL guest post is written by Rachel Keyser with ViewPoint Cloud as part of ELGL's Jam of the Month on software-as-a-service (SaaS).
Sign up to attend the October 31 webinar with Tim Smith from Orange, CT to learn how he modernized city operations with cloud based technologies. (Webinar will be recorded and available in the webinar library).
---
Why Cloud-Based Software is the Future
While cloud technology has existed since the late 20th century, it has only become popular in the government sector in recent years. Overcoming initial fears, many leading governments are now embracing adoption of the cloud as a top priority. A 2017 Gartner survey of Government CIOs around the world reported that cloud services and solutions are the technology investments most crucial to achieving their organization's mission. For those still unfamiliar with the 'cloud' and cloud-based solutions like Software-as-a-Service, let's dive into what these things mean and why they are so important for the future of governments.
What is the cloud?
Before understanding what SaaS is, it's important to understand the 'cloud'.  While cloud computing has seamlessly integrated into our modern lives, the name itself can be misleading. Being in 'the cloud' does not mean that anything is being stored or transported through the air. Simply put, cloud computing refers to delivering services (like software, databases, networking, etc.) through the internet rather than through personal computers or on-premise servers.
When you store something on the cloud, you're storing it in a network of remote servers maintained in safe environments across the world, typically by companies like Microsoft or Amazon. While this may seem like an odd concept at first, consumers and providers have migrated toward cloud-based computing because it's often cheaper, more secure, and more reliable. If your data is stored in multiple places by some of the most technologically sophisticated organizations in the world, it's likely safer from harm (theft, natural disaster, etc.) than if it were stored and protected only with local resources.
What is Software-as-a-Service (SaaS), often called cloud-based software?
Software-as-a-service is one common example of cloud computing, and may be the most relevant to 'non-techy' government users and buyers.  While many people might think they're unfamiliar with 'SaaS' or 'cloud-based software', in reality, they probably use these products every day. Fundamentally, SaaS  reflects where a software is hosted and how the software accessed. Gmail, TurboTax, Netflix, Pandora, DropBox, and countless other softwares can be put into this category, as they are hosted on the cloud and accessed through an internet browser.  In short, SaaS products have the following features:
Remotely hosted

. The software source code and user data is stored on the cloud (i.e. on distributed server farms), usually by large companies like Microsoft or Amazon. This means the data is replicated across different geographical locations, so if something happens to one location the data is still safe.

Subscription based.

Instead of paying one upfront cost to own a version of the software, the software is licensed, typically on a monthly or annual basis.

Web accessed

. The software is accessed through the internet via a web browser like Chrome or Safari.

Remotely updated.

The company that owns the software can update it  remotely and automatically. Every time you refresh your browser, you're using the latest version of that software. You don't have to pay extra for updates or security features, you get them immediately.
Note: Cloud-based software, web application, web app, software-as-a-service (SaaS) can all be used fairly interchangeably, however SaaS usually specifically denotes a paid product with subscription pricing.

What are the Benefits of SaaS?
Better technology.  Because cloud-based software has become popular more recently than traditional software, SaaS companies and products typically use more modern technology frameworks than their counterparts. The flexible nature of how the software is written and hosted also lends itself to the practice of iterative development, which means the software is continuously being improved to include new features or fix problems based on user feedback and testing. Updates are shared automatically through the internet, meaning the software improves as you use it, and there's no need to purchase updates.
Low-maintenance. Traditional software often needs to be deployed and maintained by IT staff, consultants, or the vendor themselves, often including expensive customizations. Because SaaS is hosted on the cloud, you don't need any special hardware or on-site infrastructure (a win for IT staff!) for deployment and maintenance. This also translates into cheaper, faster implementation.
Flexible & User-Friendly. SaaS software is often designed to be more intuitive for 'non-techy' people, empowering end users to have more control over how they use the tool. Instead of calling your IT staff or vendor to make simple changes, SaaS products enable any end-user to make many changes themselves.
Lower-risk. Buying new software can be a challenging process, especially if you're operating under the assumption that you'll only get the real 'value' if you continue using the software for many years into the future.  With SaaS, you're getting a subscription model with simpler configuration and no hardware, so the commitment is often lower than expensive on-premise solutions. You have more freedom to change directions in the future, like if you want to scale to more departments and users, or even if you find another product that works better for your needs.
Common Myths Debunked
"SaaS software is reserved for small organizations when they can't afford something better".
Small or large, organizations should seek to find the product that best suits their needs for the best price. This may be a cloud-based software or not, but neither is necessarily better than the other for a government's particular need. SaaS software is often more modern, less costly and easier to maintain than traditional software, but these benefits should be weighed against the functionality compared to other products.
"SaaS solutions are not customizable"
SaaS software is usually a Commercial-off-the-shelf (COTS) product, which means it's ready to be used without additional coding. However, just because the software is ready to be used 'out-of-the-box' doesn't mean it's not customizable. SaaS products are built to be flexible rather than modular, or in other words, they're moldable to your organization's needs and less prescriptive of a certain workflow.
"Using a SaaS platform is insecure and may put user data at risk"
Given the rise in cyber attacks and local governments being especially common targets for digital crime because their security is often weaker, it's no surprise that cybersecurity is a top priority for governments. Cloud-hosting providers often have extra protection for government data, like Microsoft's Government Azure platform, and many IT leaders serious about security prefer to store their data with these providers. Very few governments have the ability to dedicate the same amount of resources to security and maintenance as Microsoft or Amazon, so in most cases a SaaS platform is a security upgrade.
"Using a SaaS platform means you give up the rights to your data"
Any contract with a SaaS provider should make it crystal clear that the data is yours and spell out the process for how to access your data when you need it.
How Can Governments Be More SaaS-Friendly?
Government procurement processes are often complex and antiquated, meaning they're less friendly to new technologies. But there are a few ways to make your government more open to SaaS solutions:
Embrace technology + process innovation.

See the process of incorporating new technology as an

opportunity to improve processes overall

.

Educate yourselves

. Learn cloud and SaaS basics so you have a better idea of what you want in a product & know what questions to ask (reading this is a good start!) .

Design SaaS-friendly RFPs

. Many RFP templates still reflect technology standards that are 5 or 10 years old – time to update!

Make it communal.

Get all relevant staff and stakeholders (e.g. members of the public) involved and keep the conversation inclusive (i.e. friendly for 'non-tech' people).
---
What Should Governments Be Looking for in a SaaS Vendor?
Look For
A product that does what you need

as its core competency

Evidence of company philosophy that aligns with your values

Responsiveness (in the sales

process & customer service)

Transparency in product (ask for a demo environment!), services, 

and pricing

Modern technology frameworks
Avoid
Solutions that are a "patchwork" of older platforms

Expensive, unnecessary customization

Long deployment times without clear benchmarks

Companies with a history of failed deployments or projects

Tech that is outdated or no longer supported
---
How Will SaaS Empower the Future of Governments?
The rise of cloud computing in local and state governments is ushering in a whole new era of progress. Cloud-based softwares are allowing governments to share in network benefits by creating a digital community of governments. For example, sharing performance analytics and business intelligence across communities will help create peer-to-peer benchmarks for process evaluation and improvement.
The agile philosophy of modern SaaS companies is also contributing to a paradigm software toward more collaborative partnerships between technology providers and governments who want to build great things together.  New competition and open marketplaces that provide honest, clear, centralized information will enable government buyers to look beyond traditional corporate giants to companies who align with their values and vision for the future.
---
Read more about SaaS in this month's deep dive into this topic: ELGL Jam of the Month: SaaS