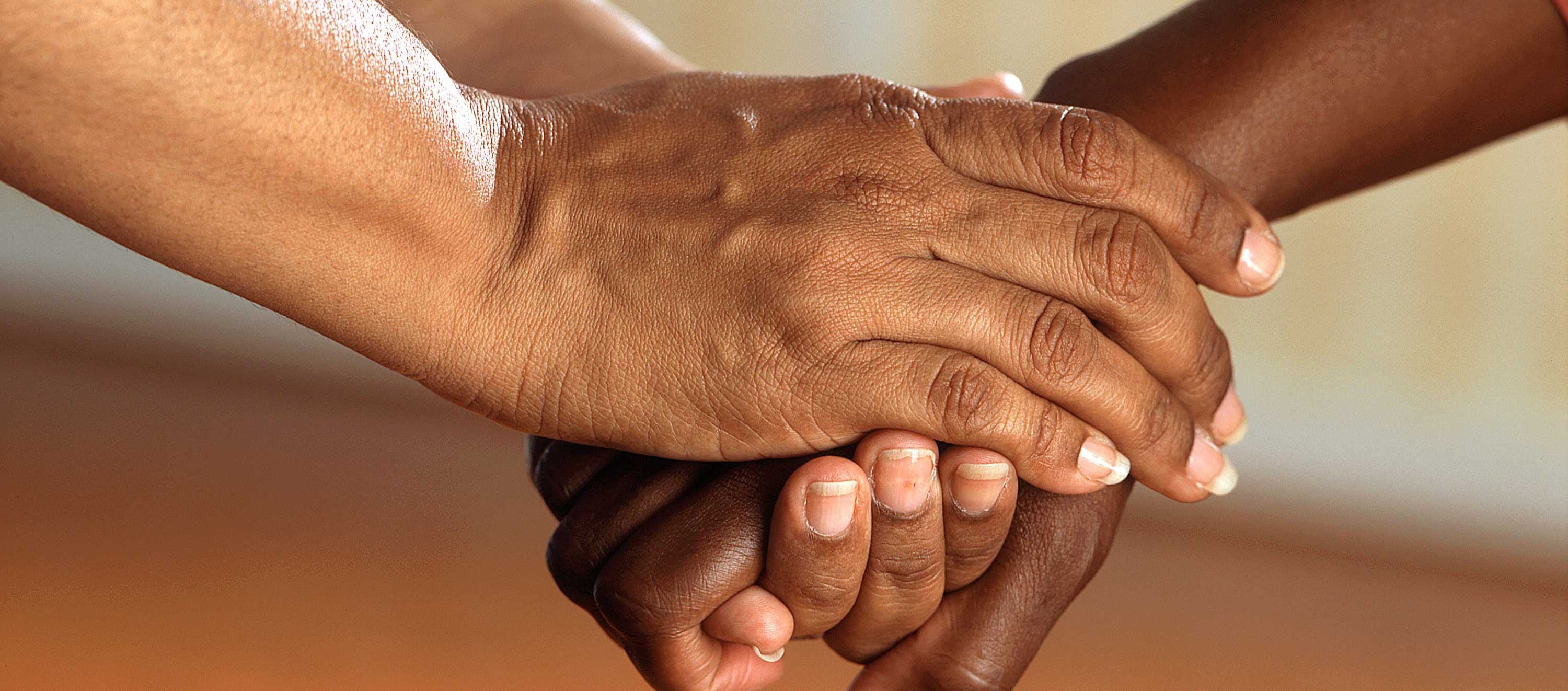 ---
Brought to you by Stéphanie Beauregard, Practice Lead and Engagement Manager at Bang the Table.
---
Do you remember the last time you completed a survey? I do. I wanted to express myself and give my opinion, plus I was able to complete it quickly. Unfortunately, I never received an update, nor could I find more information about the survey results or its impact. Sometimes, rarely, I see an update in a Facebook feed thanking petition participants, but that's about it for feedback. How much longer will we share our thoughts, feelings, opinions and concerns without seeing the resulting effects or outcome from our participation? When will we tire of this one-sided conversation?
As more organizations engage citizens and communities, the public will soon be solicited from all sides. At this point, it is important to consider crossing the border of engagement and venturing into the bond of trust.
Trust, as defined by organizational scholars, is our willingness to be vulnerable to the actions of others because we believe they have good intentions and will behave well toward us. In other words, we let others have power over us because we think they won't hurt us and will in fact help us.  – Sandra J. Sicher and Shalene Gupta
We begin with consultation as we open the door for comments from our community. Our next step is Engagement – using interactive tools to allow participants to view other people's comments and interact with each other. Developing a bond of trust is the third frontier. How do we ensure we are not just using participants as machines to provide feedback, but rather become partners in our decisions?
Trust develops in connection with four essential elements:
Expertise: What are your special skills?
Good will: What are your intentions? Are they positive?
Reliability: Do you live up to your promises?
Authenticity: Are you acting from a place of openness and vulnerability?
By acting patiently and concretely on these four elements, you will develop a bond of trust with your audience.  For example, you demonstrate your skills by reporting your knowledge on the subject. Your intentions in working on the project are clear and benefit the community. You respect your deadlines and your promises of results. Finally, you are vulnerable enough to say that you do not have the answer to a question and to introduce yourself as a project leader or consultant.
The figure below presents points to consider for the four pillars of trust, in connection with an online engagement project.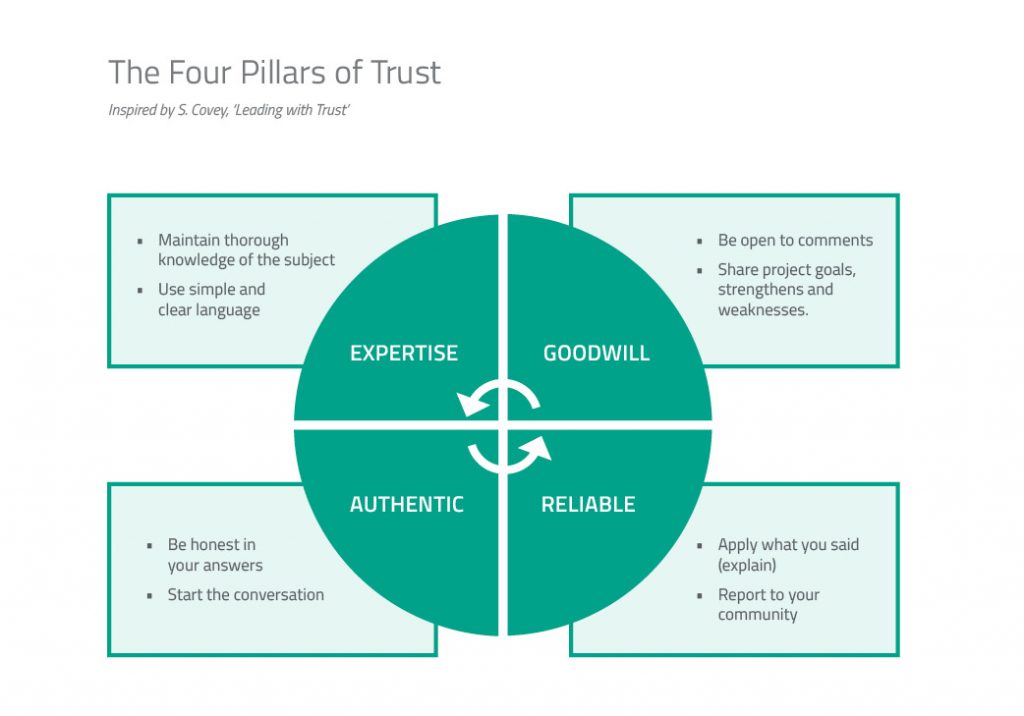 Ref.: Inspired by S. Covey, Leading with Trust
Creating a relationship of trust will require an investment of time and resources. In seeking the trust of your community, you will no longer consider your consultations as just another step in the process, but as an opportunity to build long-term relationships with the community. Instead of thinking of a project linearly in an action sequence, you will think of it as a series of conversation loops.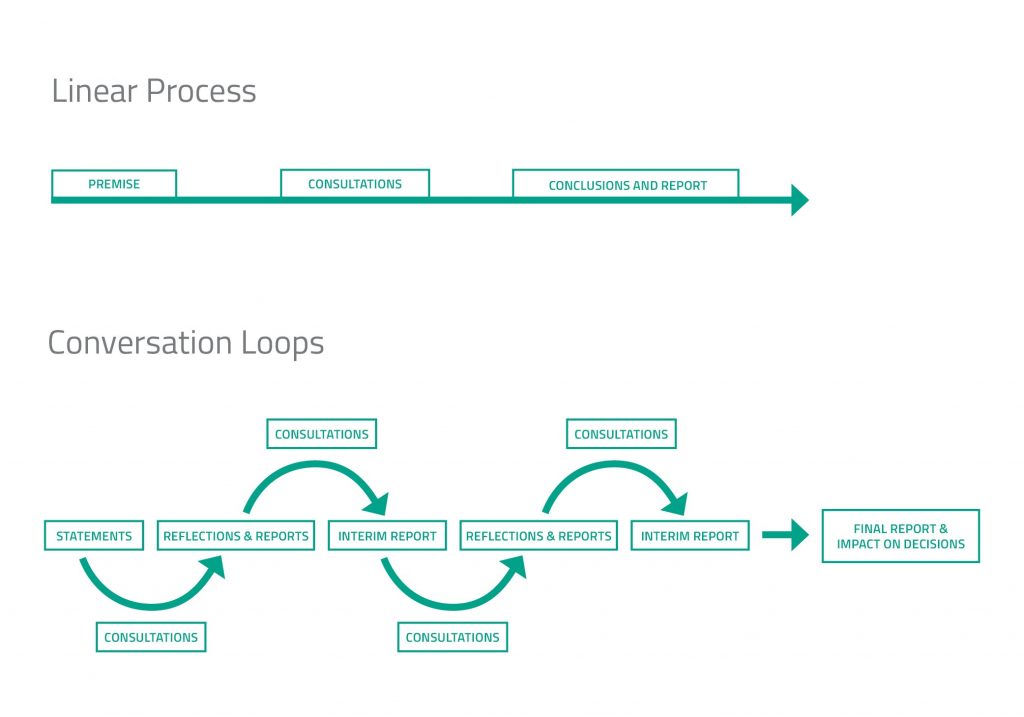 Conversation loops can be difficult to maintain in the community when using traditional face-to-face communication methods. How do you reach people again after a public meeting or event? With good planning, creating conversation loops is easy and efficient when hosted online. With a variety of online tools available to help you gather and share relevant information, you are able to reach your audience easily as your project expands and develops.
You can also actively invite the participants back to visit your project to learn about the results (interim or final) of the consultation. Building trust by letting them know that their contribution has had a real impact on your organization. They will be more likely to participate again if they feel that they are partners in your decisions and not just a contribution tool.
Share information
News Tool: This tool allows you to post updates about your project such as, results after public meetings, an article in the local newspaper or the announcement of a presentation to the board. Keep your community informed about everything that goes into your project.
Project Timeline: Describe the steps in your project as clearly as possible. Return to post more information as the project develops.
Important Dates: Post events related to your topic in a calendar that is easy to read. Put a link to an online registration tool if available.
Interim Report: Compile the results of your consultation and publish the preliminary results on your project. This can be very useful when you know that the next stage of the project (for example, the final decision) may take a long time. Thank your participants and provide as much detail as possible about the results. Repeat the exercise at each step if you publish different tools during your project. Try making a short video. It's effective!
Who is listening: Be vulnerable. Introduce the people who will read the results and consider them in the analysis and reports.
Maintain the relationship
Send an e-newsletter: Write an e-newsletter that you can email to all participants in your database. Remember that people don't always come back to a page where they have participated, but appreciate receiving information about the impact of their participation. In order to grow your database, use as many of the feedback tools as you need to register on your site.
Publish in your promotional and marketing tools: the promotional and marketing tools that you have put in place should not only serve to attract comments but also to report the results and impacts of the mobilization.
Social Media: Publish regularly on social media about your different projects. Invite people to visit your project again when you publish an update or a report is available.
Pushing engagement to the point of developing a strong partnership with your community will require a plan, resources and time. But the payoff of gaining your community's trust in your organization is well worth the investment.
To learn more on building trust with your community, join Stéphanie Beauregard, Practice Lead and Engagement Manager at Bang the Table, as she explores the differences between requesting citizen participation and building trusting relationships with continuous communication and always closing the loop. She helps us answer the important question of "How do we ensure we are not just using participants as machines to provide feedback, but rather become partners in our decisions?"
---
Stéphanie Beauregard – Practice Lead and Engagement Manager at Bang the Table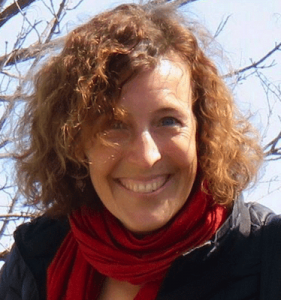 Stéphanie joined the company in 2019 because Bang the Table attracted her as much for its expertise in public participation as for the dynamism of its team. Among other things, Stéphanie has worked for nearly 10 years for the Federal Public Service in External Relations and Partnerships and has been self-employed for a few years. She joins Bang the Table with experience and expertise in public participation, engagement, communication and training including the certification of the International Association of Public Participation.
Her role is to assist clients in developing their knowledge of public participation in order to develop online environments that are respectful of communities and most attractive. Stéphanie works in both French and English from Gatineau, Ontario.