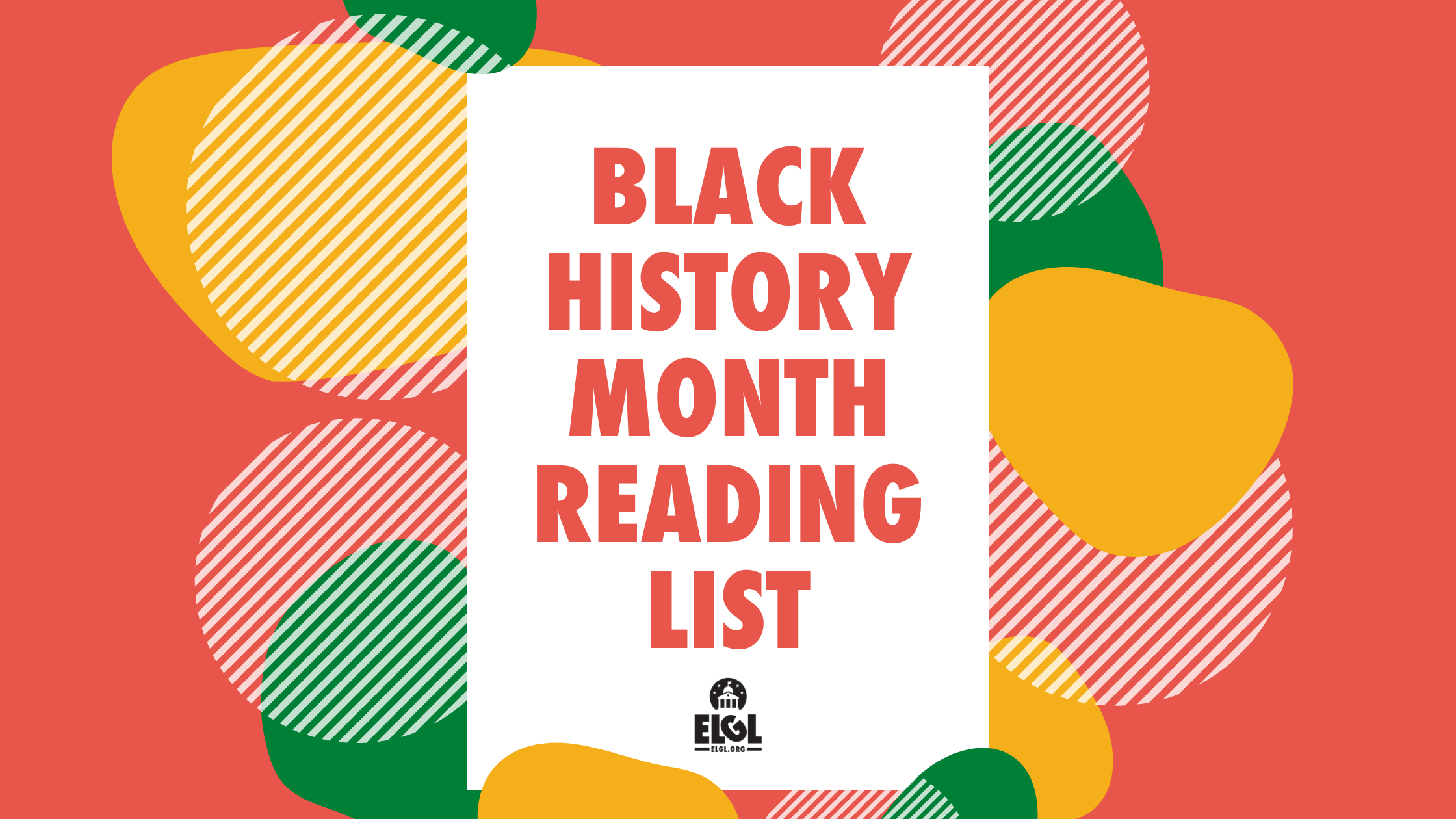 Happy Black History Month!
Our staff at ELGL are excited to share some of our favorite reads from Black authors. This compilation of reads showcases books from many genres. This list highlights a variety of experiences and stories from Black authors. We have books from fiction to nonfiction, science fiction, mysteries, and even horror stories. This list is only the tip of the iceberg when it comes to literature that could be featured and discussed this month.
Honoring Black authors and experiences comes at a particularly important time in our country. There are numerous places throughout the country that are banning books written by Black authors, thereby denying children and young adults the ability to see themselves and/or understand the rich cultural history, contributions, and experiences of Black people in the U.S. We encourage you to read these books with your children to help create a more just and equitable society where Black experiences and JOY are valued, appreciated, and celebrated.
We would love for you to share some of your personal reads with us too! What books did you read or are reading now? Send us an email and we will add it to the list!
This book list features Black authors and all books amplify black stories. If you choose to purchase a book, choose to purchase from a Black-owned Bookstore. Oprah Magazine put together a list of 125 Black-Owned Independent Book Stores by state.
We hope you help us celebrate Black History Month. Happy Reading!
The Hill We Climb, Amanda Gorman
Wow, No Thank You: Essays by Samantha Irby
The Proposal, Jasmine Guillory
The Classic Slave Narratives (1987), Henry Louis Gates, editor
Just Mercy: A Story of Justice and Redemption, Bryan Stevenson
Our Black Year, Maggie Anderson
Well-Read Black Girl, by Glory Edim
Between the World and Me, by Ta-Nehisi Coates
The Fire Next Time, by James Baldwin
Citizen: An American Lyric, by Claudia Rankine
Barracoon: The Story of the Last "Black Cargo", Zora Neale Hurston
Native Son (1940) by Richard Wright
You Should See Me in a Crown, by Leah Johnson
The Office of Historical Corrections: A Novella and Stories by Danielle Evans
Babel-17, Samuel R. Delany
Zone One, Colson Whitehead (or any of his non-zombie books, if you'd rather!)
The Changeling, Victor LaValle
Easy Rawlins mysteries, Walter Mosely
#VeryFat #VeryBrave, Nicole Byer
Parable of the Sower, Octavia E. Butler
Mycroft Holmes, Kareem Abdul-Jabbar
Old Farmer's Road, Isaiyan Morrison
Life on Mars, Tracy K. Smith
Don't Play in the Sun: One Woman's Journey Through the Color Complex, Marita Golden
The Vanishing Half by Brit Bennett
Children's Books
Bedtime Bonnet, Nancy Redd
New Kid, Jerry Craft
Hair Love, Matthew Cherry
You Should See Me in a Crown, Leah Johnson
Black Boy Joy, edited by Kwame Mbalia
Antiracist Baby, Dr. Ibram X. Kendi
Tag-Along Moon, Floyd Cooper
Stamped (for Kids): Racism, Antiracism, and You, Jason Reynolds and Ibram X. Kendi
I Am Every Good Thing, Derrick Barnes and illustrated by Gordon C. James
---
Note: The ALA Office for Intellectual Freedom provides confidential support during censorship challenges to library materials, services, and programs. Anyone can report censorship, even if they do not require assistance. Report censorship by filling out this online form, or contacting OIF Assistant Director Kristin Pekoll at 800-545-2433, ext. 4221, or via email: [email protected].