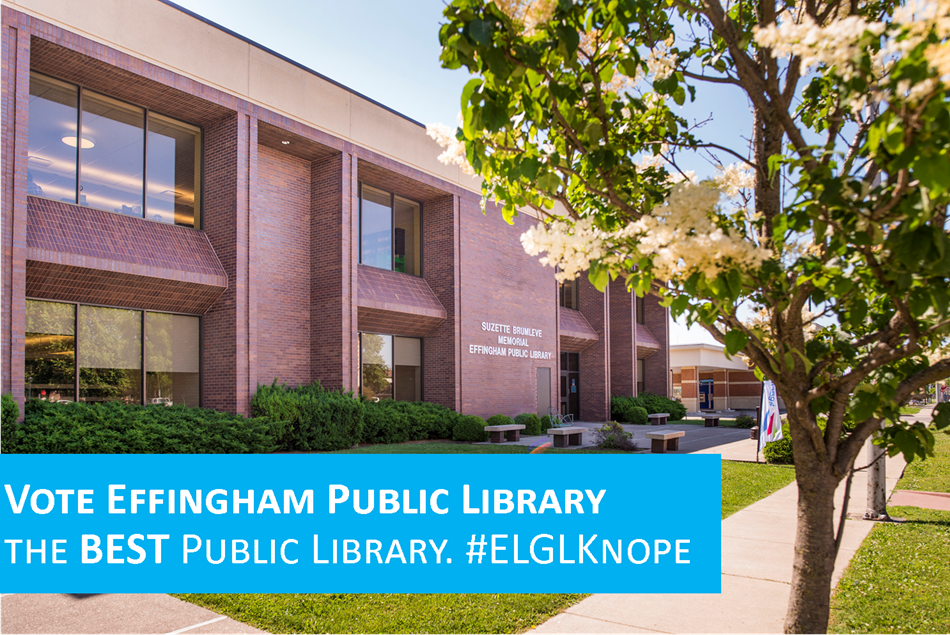 We're highlighting the candidates for the Leslie B. Knope Best Public Library award.
---
Lewisville, Texas is located in the heart of the Golden Triangle of North Texas, the area made up of Denton-Dallas-Fort Worth.
The Lewisville Public Library is celebrating our 50th birthday this September! The Library began as a community library run by volunteers out of the basement of the old Presbyterian church.
The Library was once housed in an old post office building. Now we have a beautiful 77,000 square foot building, with the most awesome Children's Wing!
The Lewisville Public Library Helped launch Edge for Public Libraries when selected as a library to participate in the assessment's soft launch in 2013. http://www.libraryedge.org/
We often get confused with the Lewisville Branch Library of the Forsyth County Public Library in North Carolina.
Fun features of our Library: dome in Children's Wing, bicycle FixIt station, FitDesk, charging stations, Alphabet Chair and other art.
Last year we hired a Bilingual Librarian dedicated to Spanish language and bilingual programming and outreach.
The Lewisville Public Library welcomes over 20,000 visitors per month.
There's lots happening at the Lewisville Public Library! This spring, we will open our Library Learning Garden where kids who attend our Prime Explorations STEAM classes can learn about gardening, growing food and more. Also this spring, we're opening a digital media lab, and our new makerspace called The Hive, featuring 3D printers, laser cutter, table-top CNC machine, sewing and embroidery machines, and more!
---
Effingham Public Library
Connect: Facebook, Instagram, Twitter and World Wide Web
The Effingham Public Library is celebrating 135 years this year! We have previously been named: Effingham Ladies Library Association (1883-1937), Effingham WPA Library (1937-1943), Effingham Public Library (1943-1951), Barscht Memorial Library (1951-1956), and Helen Matthes Library (1956-2015).
We moved into our newest building in 2015, the building was named the Suzette Brumleve Memorial Effingham Public Library in 2016 after a generous donation from the Brumleve family.
EPL has had 10 straight years of growth in circulation numbers.
The Book Box Vending Machine is a repurposed vending machine that dispenses books and is housed at the Effingham County Courthouse. In its first year the Book Box has shared more than 5,000 books. Created to increase opportunities to build literacy in the Effingham area, the Book Box is part of Effingham Public Library's strategic plan to reach underserved populations. Maintained by the staff and volunteers at the Effingham Public Library, the Book Box dispenses a curated selection of donated books, completely free of charge.
In the summer months we house and maintain a hydroponic garden in partnership with Effingham High School. We have experimented with pH balances and the growing of lettuce, herbs, jalapeño peppers, and cherry tomatoes. 
EPL's Book Bike was initiated in late 2017, and will be hitting the streets of Effingham in the summer of 2018.
The Forget-Me-Not Resource Center at the Effingham Public Library has been up and running for over 2 years. The Forget-Me-Not Resource Center connects dementia patients and their caregivers with the education and tools that they need to navigate this difficult season. No library card? That's okay, Shannon Nosbisch and Amy Sobrino, founders of Effingham Area Alzheimer's Awareness has worked with the EPL to provide a check out card specific to these resources.
Amanda McKay, Library Director, was ILA Librarian of the Year in 2014. Catherine Bailey, Programming Outreach Manager, has received the Deborah Dowley Preiser Marketing Award (2016) and multiple national marketing awards from ALA/LAMA
Andrew Dougherty, our Marketing Coordinator, came up with Books for Walking that matches downloadable audio stories to walking-trail distances in Effingham.  
EPL houses an art gallery in an old bank vault featuring local artists each month.  
In the summer, EPL offers downtown sculpture walks as well as in-person architectural tours of Downtown Effingham with local historian, Phil Lewis.
Unique items to check out include: board games, exercise equipment, fishing poles, and a seed library – where patrons can check out seeds, grow the plants in their gardens, and at the end of the season they collect seeds to return to the library to replenish its inventory.
---
Sterling Municipal Library, Baytown, TX
Connect: Facebook, Instagram, Twitter, and World Wide Web

Jamie Eustace, Director, Sterling Municipal Library, Baytown, TX, writes about creating surprise and delight in the library. Reimagining Libraries: Baytown Library Writes its Own Story
---
Provo City Library at Academy Square
Connect: Facebook, Instagram, Twitter, and World Wide Web

The library building was originally built in 1892 as Brigham Young Academy. Inventor Philo T. Farnsworth first sketched the mechanism that made television possible while attending school here.
After the high school closed in 1968, The Academy Building was left in disrepair for decades. Thanks to a grassroots effort, the people of Provo passed a $16 million library bond in 1997 to save the building and restore it as a library.
While the building was abandoned, a pair of intrepid neighbors snuck in and removed a stained glass window because so many other windows had been broken. When the building restoration began years later, they brought the window back in near perfect condition. By stealing it, they saved it.
Our library director, Gene Nelson, served on last year's Newbery Committee, helping to select The Girl Who Drank the Moon as the 2017 Newbery Medalist. He has also served twice on the Caldecott Committee.
On average, 1.5 million items are checked out from the library each year.
The library has two art galleries, an ESL center, a ballroom, and a castle-shaped story room. We've also just begun construction on a professional film lab.
Our most popular event is our annual Fairy Tea for children and caregivers, complete with a ballet, fairy promenade, 300 yards of tulle, and a chance to meet the Fairy King. Even with five sessions and 1000 available tickets, we sell out in about an hour.
We love our local authors! Our area is a hot spot for fantasy, teen, and children's authors like Brandon Sanderson, Shannon Hale, Jessica Day George, Brandon Mull, Ally Condie, James Dashner and so many others, and we're proud to call them our own.
---
Chapel Hill, NC Public Library
Connect: Facebook, Twitter, and World Wide Web

---
Upper St Clair, PA Library
Connect: Facebook, Twitter, and World Wide Web
From the preschool Play to Learn Center, where families make play date to engage in preliteracy activities with their children


To the Explore to Learn Center, featuring lots of STEAM activities for school aged experimenters,


To the newly renovated non-fiction collection, with materials arranged in subject neighborhoods in a open and inviting discovery layout,


The library is the place to go for educational programs, musical events, discussion groups, or simply a friendly chat.  

---
Hillary Rodham Clinton Children's Library & Learning Center
Connect: Facebook, Instagram, Twitter, and World Wide Web
The Central Arkansas Library System started as the Little Rock Public Library in 1910. The library turns 108 on February 1.
Our library system now offers a Tech Card for students in enrolled in the Little Rock School District to allow them access to our digital resources even without a traditional  library card.
Children's Library includes a teaching kitchen, garden, greenhouse, and a beehive.
Includes a computer lab with fourteen computers, teaching kitchen, large activity area, individual and group study rooms, theater, and community room in addition to a collection of more than 21,000 books, DVDs, and CDs.
Hillary Rodham Clinton and President Bill Clinton attended the dedication of Central Arkansas Library System's (CALS) Hillary Rodham Clinton Children's Library & Learning Center.
---
Bennett Civic Center Library – Livonia, MI
Connect: Facebook, Twitter, and World Wide Web
One of our Summer Reading commercials was featured on the Late Late Show with James Corden. Our video can be found here and James Corden's video can be found here with our library being featured at the 

2:00

 minute mark
Our library recently hosted a TEDx event.
We have an active Harry Potter Club that features Quidditch matches.
We have an ongoing Noontime Concert Series that is consistently well attended.
We hosted an event with the presenters of Under the Radar Michigan that filled our auditorium.
---
Platteville, WI Public Library
Connect: Facebook, Twitter, Instagram, and World Wide Web
The Platteville Public Library is the smallest library to make the round of 32. Small yet mighty! Platteville is a town with an approximate population of 11,000 and is home to the University of Wisconsin- Platteville as well as the World's Largest M!
Platteville recently built a new library building, doubling the size of the old building, opening June 2017 to great acclaim and admiration of our community. Attached is a publicity celebrating the opening of the new library building.
The Library has gone viral several times for our entertaining displays. The most viral post was last February with a book display commenting on the Oscars mix-up. The book display was viewed by millions of people and featured in news articles across the country as well as popular meme-sharing sites.
The Library is also the originator of the "Self Checkout" April Fools joke that went viral several years ago. This is a yearly library tradition every 

April 1st

 at the Platteville Public Library.
Author Geoff Herbach is a Platteville native and his Felton Reinstein trilogy is set in a town inspired by Platteville.
---
Evansville Vanderburgh Public Library
Connect: Facebook, Instagram, Twitter, and World Wide Web
In 2017, EVPL was considered one of the 30 finalists for the National Medal for Museum and Library Services.
As we dive deeper into the connection that digital aspects can provide, we're having a lot of fun proving that the library isn't just a "shhh" facility, but rather a place to connect, expand your mind, and have a lot of fun!
EVPL has a branch certified to help the public in registering for passports.
One of our most exciting programs in 2018 is being facilitated by Charles Sutton, a librarian at EVPL.  He's working to provide "A Year of Hip Hop" to our community, collaborating with local artists to provide art displays, community activities like movies on the lawn, and a recording studio/platform for local musicians to highlight the talent that exists within our community.  It gives us the ability to explore the eco system of artists in Evansville, but also assess how we can provide resources to underserved community members.
A Year of Hip Hop has it's own Twitter account.
Honestly – we're just really jazzed to have found out about the Leslie B. Knope award, and the real winner at the end of the day is our community who have come together and bonded at a deeper level.  We're very fortunate to be located in a city with news stations, radio stations, and a paper that supports us.
We're also the real life version of Pawnee, minus the Paunch Burgers.
---
Williamsburg, VA Public Library
Connect: Facebook, Twitter, and World Wide Web
Over 120,000 people attended programs at Williamsburg Regional's two library locations last year.
The Williamsburg Regional Library has a 268-seat professional theater in one of our locations where we host the award-winning Dewey Decibel Concert Series, now in its 18th year.
The Williamsburg Regional Library celebrated its 100th anniversary in 2011, and has had three locations before coming to its present spot, including one in a historic house in Colonial Williamsburg.
WRL offers 6 adult book discussions that meet monthly, including a popular graphic novels group.
Last year Williamsburg Regional Library circulated nearly 1.2 million items to users.
About 70% of our city and county residents have a WRL library card.
---
Cedar Rapids, IA Public Library
Connect: Facebook, Instagram, Twitter, and World Wide Web
Each year the Cedar Rapids Public Library hosts the Mid-Winter Renaissance Faire in our Downtown Library. Hundreds of people come from all over the area to experience it. There is live music, games, trivia, turkey legs, lords and ladies, archery, a King and Queen, and yes, sword fights in our commons. See picture above.
The Cedar Rapids Public Library opened its two locations in 2013, five years after a massive flood destroyed the main library.
The Library hosts over 100,000 visitors each year for meetings or special private events, including an average of 16 weddings per year.
The Downtown Library has a green roof—referred to as the "LivingLearning Roof" with two massive outdoor rooftop containers which capture rain water for irrigation. There is enough space for 150 people to sit in chairs at a wedding or special event on the roof.
The Ladd Library (on the city's west side) is located in part of a former Target building. It now shares its parking lot with a furniture store and a pizza restaurant.
The Library circulates Spark Kits designed to engage patrons in special activities. These include sewing kits (a small sewing machine, a book and some fabric) and coloring kits (coloring books and colored pencils).
In 2017, over 200 people volunteered over 8,500 hours at the Library.
---
Lied Scottsbluff Public Library
Connect: Facebook and World Wide Web
---
Gadsden, Alabama Public Library
Connect: Facebook, Twitter, and World Wide Web

The GPL has three locations, a library park and a library cafe.
In 2017, we worked on 1,065 events with a total attendance of over 20,000. Population of Gadsden is 35,000.
Some of our more unique programs are:

Parent Reading, which goes into the local detention center to work with incarcerated parents to send books and DVDs to their children each month, and
Our Guys Read program which sends male mentors into the fourth grade classrooms to get boys excited about reading.

The annual GPL Prom, Once Upon a Prom, raises money for library programs. This year the event raised close to $10,000! Check out the photos.
The library hosted a bone marrow registry drive along with three blood drives.
The library cafe is a partnership with the local school system and is staffed by special needs students.
Pictures from the Harry Potter Birthday Party.
The library book bike travels during spring and summer giving away books!
---
Chattanooga Public Library
Connect: Facebook, Twitter, Instagram, Pinterest and World Wide Web
The first Gig Library in the US – the first to offer public access to gigabit broadband internet.
Houses a smashing new professional recording studio at our downtown branch with industry standard equipment and professionally-lead classes. Check out "Loud Library" – a feature produced by and broadcast on PBS affiliate WTCI.
CPL is one of the original Carnegie libraries and our very first location opened in 1905. That location moved to what is now the downtown branch.
Sewing machines were our top circulated item of fiscal year 2017
Other non-traditional circulating items include wifi hot spots, family passes to the Chattanooga Zoo and Tennessee Aquarium (Rivers Of Reading)
The library is opening an musical instrument lending library with Chattanooga Girls Rock.
Plans are in the works for a tool lending library in the coming year.
Reached a circulation milestone in 2017 with one million circulations for the first time!
21st Century Library podcast featured the Chattanooga Library.
The downtown branch is also an official Passport Acceptance location with Librarian passport agents on staff. The head of that effort here was recently named by the US Department of State as The Passport Acceptance Agent of the Year!  This is such a successful offering that we have created a separate department to handle the demand.
---
City of Iowa City, Iowa Library


Connect: Facebook, Instagram, Twitter, and World Wide Web
ICPL first opened its doors on Jan. 21, 1897 on the second floor of the C.O.D. Steam Laundry.
Iowa City is a UNESCO City of Literature.
The famed Iowa Writers' Workshop at the University of Iowa means many amazing writers have visited ICPL.
Our Bookmobile will celebrate its first year of service on June 1, 2018.
Every year, the ICPL Book Cart Drill Team marches in the University of Iowa Homecoming Parade.
Our pages have a tradition of naming all new book carts. Current favorites are Wheel Patrick Harris, Cart Simpson and Mario Cart.
We do not have anyone named Tammy on the Library payroll.