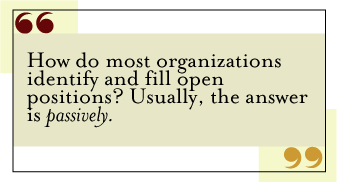 Julie Underwood (Twitter & LinkedIn) is the Assistant City Manager of the City of Daly City, CA
As I find myself approaching 20 years in the profession, I have moved from being mentored to mentoring. And in many respects, I continue to be mentored, by my city manager, department directors, peers and colleagues. I subscribe to the philosophy of being a life-long student, always looking for opportunities to learn and grow.
The mentoring and coaching that I have received from previous bosses have helped me with a range of issues, including handling difficult management situations, articulating my message, defining my role, and finally, advancing my career.  Having a team of people that I can call on for advice has helped build my confidence and ultimately, helped me to be a better leader.
As I look around my organization, and as more of our managers retire, we are faced with continually examining our "bench-strength." Some departments have put a tremendous effort in succession planning. In those departments, we are fairly confident that when the department director leaves, these departments will be well prepared.
But not all departments have done this as effectively (and we're not getting in the various reasons why here). When this happens, it means sitting on interview panels to bring in new talent with the goal of grooming them to step up when the time comes.
As I sit on these interviews, I've come to realize that we really should include mentoring/coaching questions on our list of questions. Questions like…
Who has mentored you in your career?

What was some of the advice they gave you?

Who are you mentoring or coaching right now? Where are they in their career?

Describe attributes and skills successful mentors have.

Have you been actively involved in succession planning?

What strategies have you implemented to strengthen your organization's next generation of leaders?
In the January-February issue of Harvard Business Review, Dartmouth professor and author Sydney Finkelstein wrote an article titled, "Secrets of the Superbosses." In Finkelstein's latest book, he highlights the practices of a group of business leaders who he calls "superbosses" for their unique ability to groom talent. Basically, the success of superbosses is measured by how many leaders they've helped grow and develop.
The demand for talent is increasing and so is the demand for mentors. And frankly, it's time that leaders are evaluated by how well they've prepared the next generation to lead. To determine if you're superboss material, take this quiz. Would you be able to earn the title of superboss? 
Supplemental Reading