Statecraft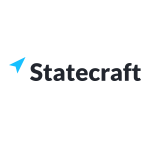 Statecraft is a San Francisco-based government analytics company. We partner with cities and states to solve real problems by using data they already have.\n\nStatecraft helps measure, predict, and improve key performance metrics such as housing production, job creation, and tax revenue collection. Our technology solutions cover data integration (merging multiple sources into a single integrated database), advanced analysis (predictions, alerts, optimizations), and interface design (dashboards, reports, visualizations, maps).
Send Message to listing owner
Statecraft
I'm an extroverted introvert exploring the Bay Area and finding my way in the local government field. I love analyzing processes, eating ice cream, showing how fun local government is, and learning about different cultures through culinary experiences. Also, I'm a crazy cat-mom.