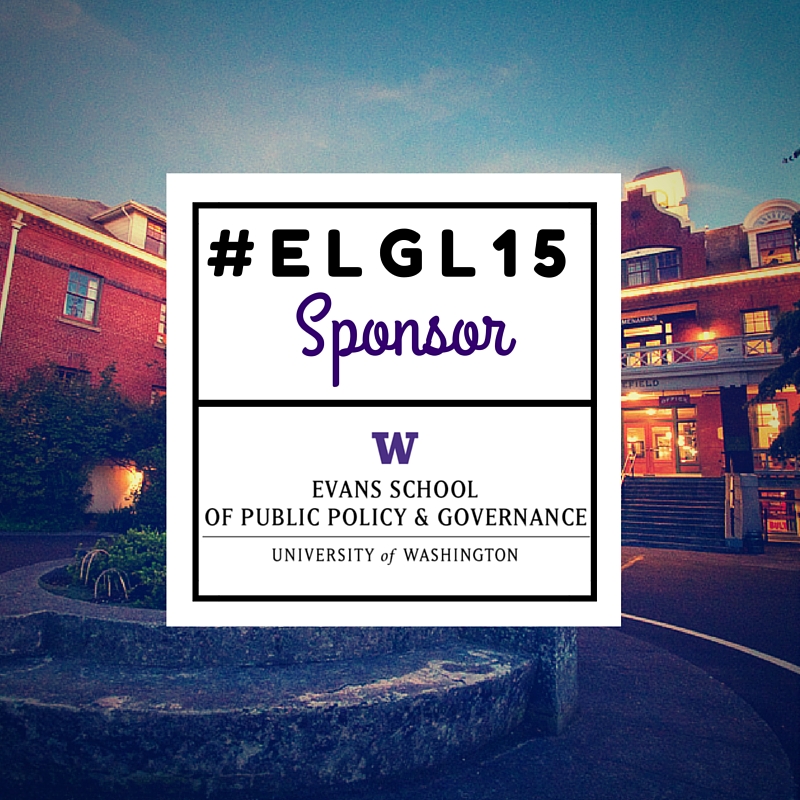 For the last few weeks, the ELGL Volkswagon bus has been busy crisscrossing the nation to highlight graduate school opportunities. We first stopped at Grand Valley State University, then the University of North Carolina at Charlotte, and now, we land in the Evergreen State at the University of Washington Evans School of Public Affairs.
As part of our increased presence in Washington, ELGL is committed to working closely with the Evans School to engage current students and graduates of the program. We owe a HUGE thanks to Tamara Lynn Schaps, Evans School of Public Affairs, Director of Career Services, for working with us in communicating upcoming events and job postings.
Background Check
Connect: Facebook, Twitter, World Wide Web, and YouTube
The Evans School of Public Affairs has built a reputation as one of the best public policy schools in the nation. The school is defined by a tradition of rigorous study, innovative research, and, most importantly, a commitment to public service. Our graduates and faculty provide the ideas, expertise, and leadership that guide government agencies, nonprofit organizations, and private companies around the country and throughout the world. The Evans School offers three degree programs: Master of Public Administration, Ph.D. in Public Policy and Management, and Executive Master of Public Administration (Executive MPA). ELGL member Rhyan Van Horn is a graduate of the Executive MPA program.
General Info
Full-time or part-time program: Both
Number of students enrolled each year: Generally 180 MPA students and 4 Ph.D. students
Online classes offered: In state vs. out-of-state: 48% of 2014 students are residents of the State of Washington, 41% are out-of-state, 11% are international students
Q & A
Three top selling points of the program.
A core curriculum that integrates public policy analysis and management of organizations in the public, philanthropic, and nonprofit sectors.
A world-class faculty who are experts in areas such as nonprofit management, environmental economics, education policy, and public finance.
Our students are able to customize their graduate studies and pursue an interdisciplinary curriculum through coursework in the more than 110 graduate programs across the University of Washington, and work with practitioners who seek out students from the Evans School through internships and academic research.
Examples of alumni working in local government (name and position). 
Local Government
Michael Grayum, Mayor of DuPont, Washington
Will Ibershof, Mayor of Duvall, Washington
Lloyd Hara, King County Assessor
Joe McDermott, King County Councilmember
Lynne Griffith, Chief, Washington State Ferries
Thomas Schneider, Fire Captain, Yakima Fire Department
Chris Rule, Associate Planner, Sound Transit, Seattle
Jill Simmons, Director, Office of Sustainability and Environment, Seattle
Oregon
Douglas Couch, Public Utilities Specialist, Portland, Oregon
Jerald Taylor, City Manager, City of Manzanita, Oregon
Preston Polasek, City Administrator, City of Lafayette, Oregon
William Garber, Deputy Director, Oregon Secretary of State, Audits Division
Keri Handaly, Community and Watershed Steward, City of Gresham
Ryan Kinsella, Financial Analyst, City of Portland
Three biggest challenges for those entering the program.
Balancing time management with all the opportunities the Evans School offers: meeting new and engaging classmates, diving into the curriculum, working with faculty on cutting-edge research, exploring internships, taking advantage of being in Seattle.
Integrating precise quantitative analysis with clear and concise writing.
Narrowing down interests: The Master of Public Administration degree can go in many different directions (different functional specialties, policy areas, organizational contexts, geographic areas). We encourage students to seek advice from faculty, students, alumni, and staff.
Give us three tips on finding the right graduate school.
Define your academic and professional goals
Identify the merits of your program(s) of interest
Recognize how the program for which you are applying can serve as a means for you to achieve your goals.
What would alumni describe as the most difficult parts of the program?
This varies between students. A meaningful graduate student experience will nudge a student out of his/her comfort zone, adding value in ways that bridge career goals and core competencies.
Do you recommend prospective students gain a couple of years of work experience before going to graduate school?
Not necessarily. Certainly the process of obtaining a job and dealing with the complex set of constraints that come from full-time employment will help sharpen one's ability to set realistic goals and help motivate students toward their area(s) of specialization and professional development. It can also be beneficial to get a graduate education early in one's career. About 25% of our students have less than two years of professional experience, and about 25% have over four years of professional experience. Our less experienced students can learn from the more seasoned students, and our more seasoned students are inspired by the ambition of our more junior students.
Name three skills that entering students are most often lacking.
The Evans School helps our students develop their skills. Some entering students have excellent academic credentials but lack significant professional development. Some may have reached a plateau in their careers, which we can help them transcend.
Outside the classroom, give us an idea of the places that graduate students can often be found.
The Evans School computer lab/student lounge, open 24 hours a day during the academic year
Participating in events sponsored by the many Evans School Student Interest Groups
What classes would make up a typical first semester?
Microeconomic Policy Analysis
Microeconomic Management Analysis
Managing Politics and the Policy Process
Managing Organizational Performance
Public Budgeting and Financial Management
Quantitative Analysis I and II
Public Policy Analysis
Program Evaluation
What are the most recent additions to your course offerings?
Philanthropy and Society
Economics of Health Policy
Resilience and Emergency Management
Campaign Management and Political Communications
What question(s) should we have asked?
Q: Do you offer financial awards?
A: Yes. Historically between 25 to 33% of students offered admission will also receive a merit-based award.
Q: Are students and/or alumni available to speak with prospective students?
A: Yes. Our Student Ambassadors and Alumni Ambassadors welcome the opportunity to connect with prospective students.
Supplemental Reading
On Campus Profiles