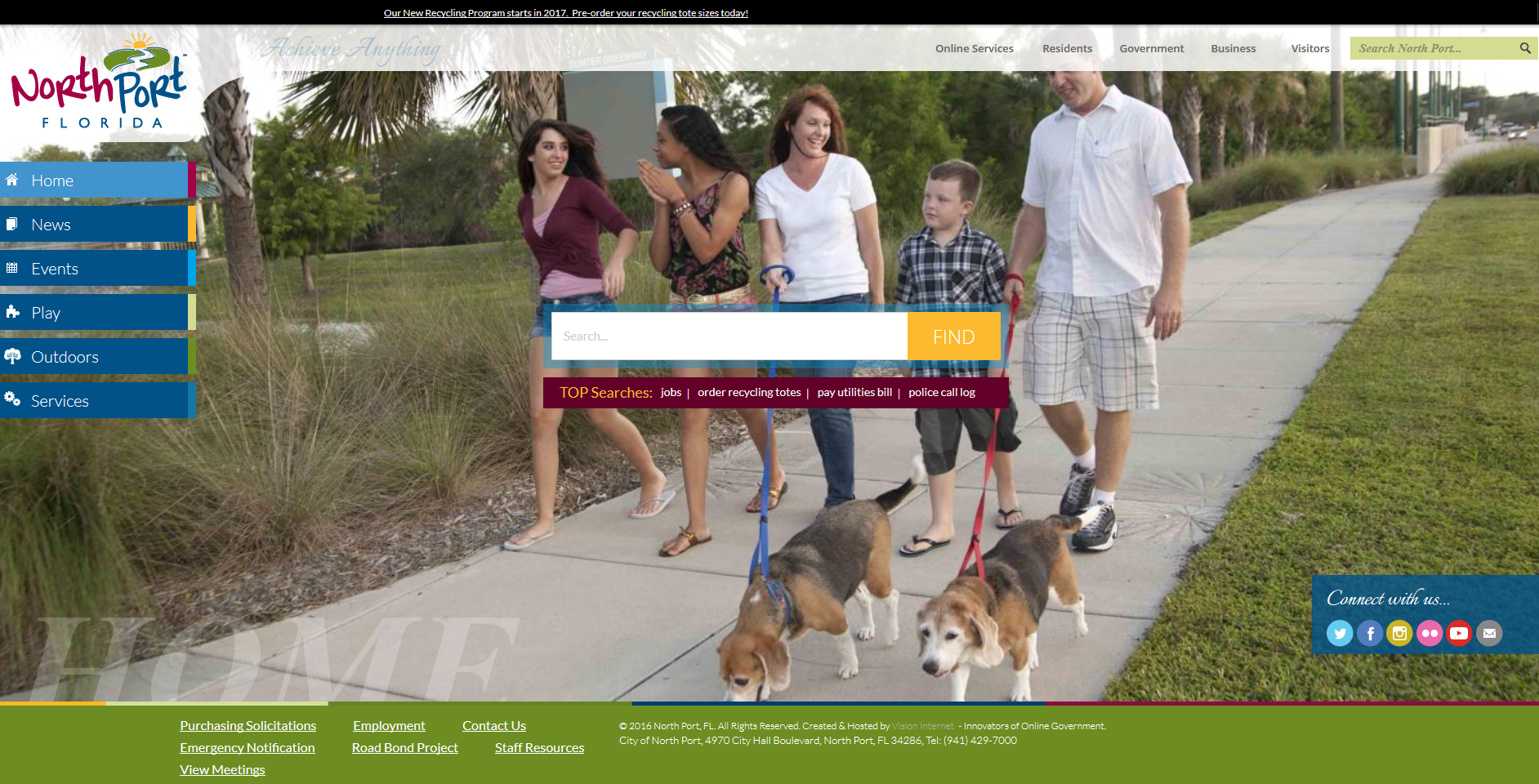 Ashley Fruechting is Sr. Director of Marketing & Strategic Partnerships for Santa Monica, Calif.-based Vision Internet, a leader in government website development with more than 600 government, non-profit and education clients across the U.S. and Canada. 
By Ashley Fruechting – LinkedIn and Twitter
The advent of social media channels like Facebook and Twitter have opened an effective new method for local governments to connect with citizens. Many municipalities have taken to social media with enthusiasm and have seen citizen engagement soar. The success of social media has led some leaders and elected officials to ask: "do we really need a website if our social media does so well?"
At Vision, we've been creating effective local government websites for over 20 years, so it may seem biased if we say: "yes, you need a website," but we strongly believe that you do. Earlier this year, we opened the topic up to a panel of local leaders during our "What Local Governments Get Wrong about Websites (And How to Get It Right)" webinar. During the webinar, Justin Heyman, Director of Information Technology for Franklin Township, New Jersey, Steven Wright, Director – Office of Public Information and Communications for the City of Mesa, Arizona and Erin Bryce, Community Outreach Manager from the City of North Port, Florida, all weighed in on why a website is more than a "nice to have."
You Need a Website for Business Applications
Residents can't pay utility bills, get a business permit or apply for jobs on a social media channel. These, and other business functions, are key services that citizens expect to find online. While social channels do an excellent job informing and starting conversations, they can't deliver when it comes to providing the core functionality that municipalities must provide. Steven Wright explained in the webinar, "We do have a high emphasis on social media, but it is always pointing back to our website because that's our primary interaction for business applications with our residents…Our digital newsroom is especially critical, and you can't reproduce that in any type of a social media application."
The City of Mesa, Arizona focuses its website on critical business applications and news
You Need a Website for Search and Branding
Erin Bryce noted that she sees some small businesses pulling back from websites in favor of social media. They think, "We don't need a website, we'll just put everything on Facebook." When it comes to local governments she has seen the same thing happen. But, she argued, "You have to put your feet in your audience's shoes. You have to look at how your audience uses your website and how your audience uses social media." While they may visit a social media site for information, they rely on search engines to find answers, and search engines will return answers from your official site, whether it's up-to-date or not.
In addition, your website communicates your community brand in a way that your social media channels can only touch on. "Your brand lives and breathes on your website," Bryce explained. "Your website defines who you are. It's your customer experience…it's who you are and what you're about." Social media channels should complement and point to your websites, but they cannot do the heavy lifting that your website can do. "You can only say so much in 140 characters," she concluded.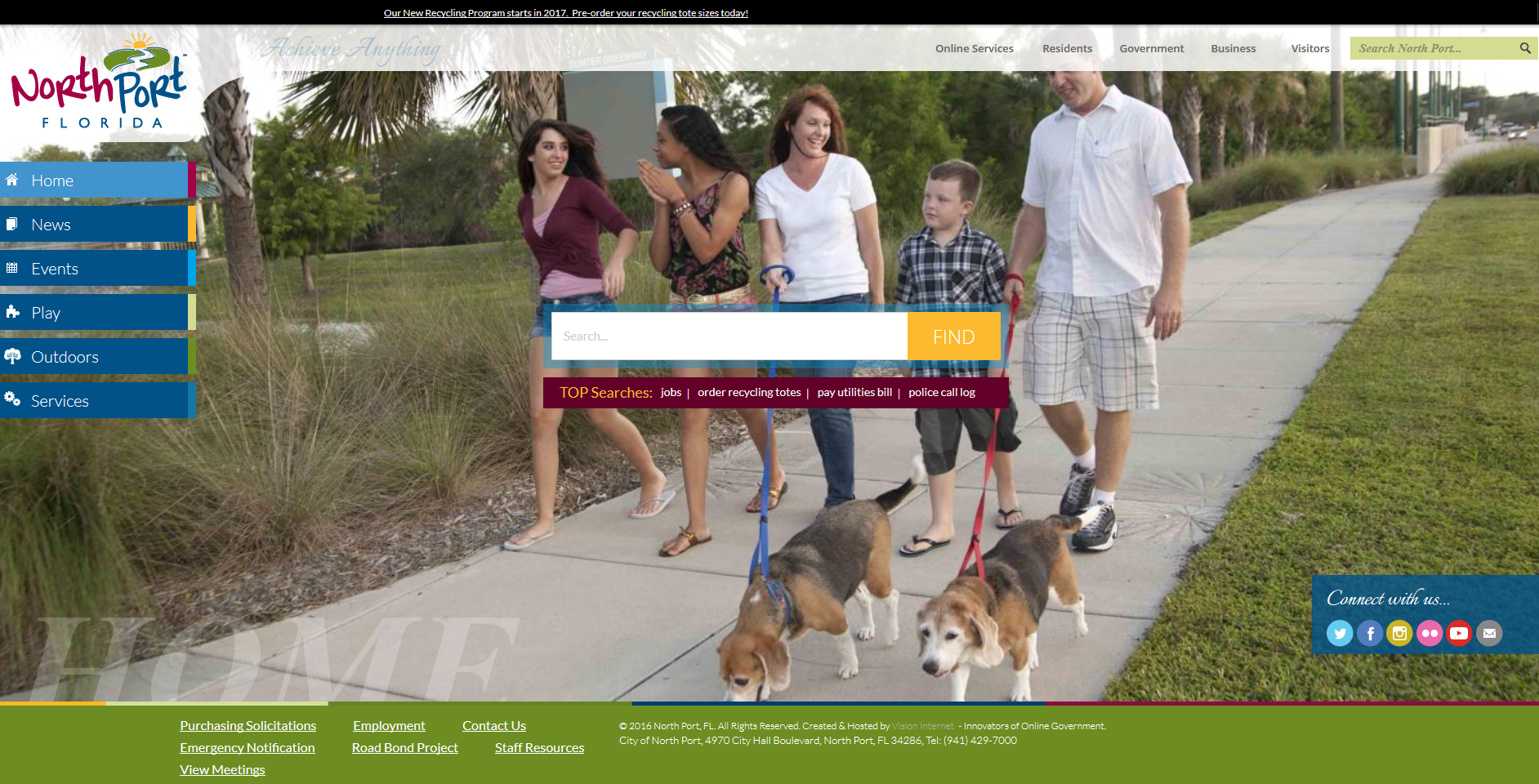 The City of North Port, Florida uses its website to communicate its brand.
You Need a Website to Control Your Content
As attractive as social media channels are, they give local governments little control over the content that they post. Algorithms, policies and advertising rules could change at the drop of a hat, without your organization having any say in it. In the webinar, Justin Heyman said he asks leaders, "Would you take a free, non-supported business critical application that you don't have a contract with the vendor, and stand up your entire business on it? If the answer is 'no' I don't know why you would replace your website with Facebook or Twitter because that's essentially what you're doing." Even though it seems unlikely, "we have no way of ensuring that Facebook will be around tomorrow" and no assurance that the agency's content will remain accessible in the future.
The Township of Franklin, New Jersey ensures that they retain ownership of their content by posting news articles on their website
You Need a Website to Anchor Your Communication Strategy
Social media is a powerful tool that has many potential benefits in engaging and informing your residents. It cannot, however, replace the many functions your local government website should perform, from business applications to search and branding. In addition, social media companies provide no assurances for the future of your content and little control over the rules that govern it. More effective by far is a strategic, integrated approach that marries the reach and immediacy of social media with the depth and functionality of a website. Together they can deliver a deeper and more powerfully satisfying user experience. Watch the entire webinar to learn more about what local governments get wrong about websites, and how to get it right.
Supplemental Reading