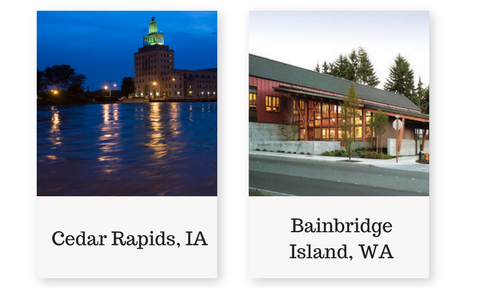 [vc_row][vc_column][vc_column_text]Over the past two weeks, ELGL members and friends took part in ELGL City Hall Madness, narrowing the field from 64 to this week as we head into the Sweet Sixteen. Vote in the head-to-head match-ups to determine which city hall advances to the Elite Eight. Voting ends at midnight EST on February 17. Follow along and fill out your own bracket as we release the winners from each round.[/vc_column_text][vc_column_text]
Winner: Cedar Rapids, IA
[/vc_column_text][vc_separator color="violet" border_width="2″][vc_column_text]
Word on the Street
From Doug Schulze:

Bainbridge Island City Hall, Bainbridge Island, WA 

City Hall represents the values of the community with its unique architectural design, public art incorporated into the design, and central location within the downtown mixed use center. The building inspires creativity and reminds those of us who are fortunate to work in the building of the deep history of the community.
---
 From Sandi Fowler:
Cedar Rapids, Iowa, City Hall is more than a former Federal courthouse built in 1933. It is a testament to the resiliency of a community overcome by flood waters. In 2008, the Cedar River inundated the heart of our community of 128,000. The entire downtown flooded, 10 square miles underwater, more than 18,000 residents evacuated. Now, more than 8 years later, Cedar Rapids, the second largest city in Iowa, is again a thriving economic engine, a cultural hub, entrepreneurial haven, and cereal capital of the world. Cedar Rapids City Hall was located in an iconic building on an island in the Cedar River from 1927 to 2008. One of only two City Halls in the world on an island – the other being Paris, France. After the devastating flood, we relocated to the former Federal courthouse on the east bank of the river, transforming a tired building into a newly renovated, proud City Hall. Making Cedar Rapids City Hall even more special is the newly restored New Deal era mural in the City Council Chambers. Painted in 1936, the mural was painted over twice due to controversial depictions of a lynching, when the judges presiding in the Federal courtroom were tired of being harangued by defense attorneys who said the images were prejudicial to their clients. Now beautifully restored, the mural surrounds the Cedar Rapids City Council as they govern a thriving community that showed the country how to come back better than before from natural disaster.
---
Submit your comments using this comment field (below):
[/vc_column_text][vc_separator color="violet" border_width="2″][vc_column_text]
Tournament Dates
Week of January 30: Round of 64
Week of February 6: Round of 32

Week of February 13: Sweet 16

Week of February 20: Elite 8

Week of February 27: Final 4

Week of March 6: National Championship
[/vc_column_text][vc_separator color="violet" border_width="2″][vc_column_text]
Press Clippings
[/vc_column_text][vc_separator color="violet" border_width="2″][vc_column_text]
Spread the word using #ELGLCityHall. Win bonus points for your favorite city hall by leaving a comment on what makes it so great.
[/vc_column_text][/vc_column][/vc_row]