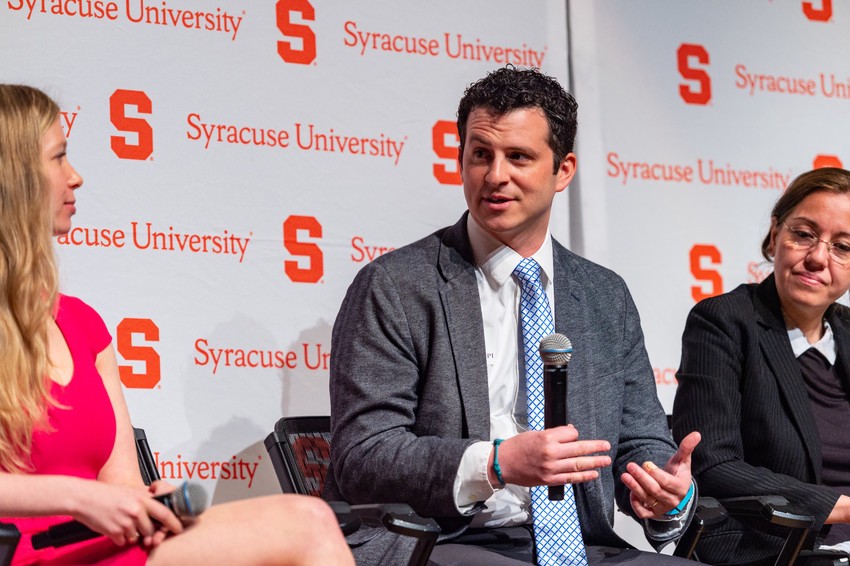 This is the fifth installment in a multi-part blog series by Sam Edelstein about the role of a Chief Data Officer.
---
When I first became Chief Data Officer, I was a team of one. In order to do a lot of the work I wanted to do, I needed to find partners both locally and nationally to help do some of the work. The water main risk project was a good example of partnership. We were able to define a key problem, get buy in and staff help from the department, and ended up working with a team of very talented PhD students who were interested in getting experience working on data science projects with municipal governments. We have worked with classes and and hosted hackathons as well, all with the aim of raising awareness of the work, getting help on expanding the types of projects we can take on, and ultimately helping the organization.
Below I'll detail some of the specific ways we partner, but I'll also mention here that if you're lucky, you'll find a person or two locally who has held a similar type of position and can offer guidance and support. For me, that person has been Mark Headd, the former Chief Data Officer in Philadelphia. His thoughts, guidance, and support have been important to me as I've tried to grow into this role, and I'm lucky that he happens to live in Central New York.
The results of the events gave us a sense about what some people would want to see when it comes to reporting potholes or showing where snow plows are on a map. We've used that information to inform some of our decisions. They also allow us to show off our open data portal (where the data is hosted for each event) and lets us talk about the challenges we face in an open way.
While we have done work to plan hackathons on our own, it also made sense to partner with existing civic technology events. The key one in Central New York is called Hack Upstate which hosts a hackathon locally every six months. They get about 200 attendees for each event, so partnering with them allows us to reach an audience, and it also gives the participants a real world problem to work on.
Student consultants
We are lucky to have a top-tier university — Syracuse University — within our borders. I am a bit biased since my grandma and dad are both alumni, I graduated from there twice, worked there, and taught there.
During my time teaching as an adjunct, a lot of students asked if they could intern in my office. Having the extra help is exciting because we have plenty to work on, but managing a bunch of students who all have different schedules and levels of commitment to the tasks was going to be overwhelming.
Luckily, the School of Information Studies has a program called iConsult, led by the Associate Dean Art Thomas. This program serves as a student consulting firm that works with non-profits and small businesses in the area. I asked iConsult if they could manage some of the projects we wanted to tackle using some of the students who approached me about an internship.
So far, it has worked well. The teams from iConsult have helped us maintain code that helps predict water main break risk, built prototypes for databases used by departments, dashboards for departments, and more. This relationship takes management as any would, but having specific goals, dedicated students to help, and flexible timelines all make it successful.
We've done similar projects with Jonnell Robinson, the Community Geographer at Syracuse University. With her students, we have been able to collect and map data on sidewalk curb corner quality, map upcoming infrastructure projects, and more.
Class Projects
We work with classes who want to do projects regularly, as well. Again, with a long list of work to do and not enough staff to do all the work, but with a top-tier institution a couple miles away, partnering makes a ton of sense.
The challenges of class projects are that there does need to be a fair amount of staff time dedicated to the project, the class is generally learning the material as they go on and the project takes a semester so there are no quick turnarounds for a project, and often there is no one to maintain the analysis or code once the semester is complete.
That said, we have been successful in a couple of ways. We worked with grad school students as part of a class at the Maxwell School to develop a report of best practices related to our open data policy. We worked with another set of grad students from Harvard's Kennedy School to develop a report on data privacy as it relates to smart cities. These were discrete projects with talented students that didn't have a tight turnaround and had a logical hand off point.
We also have worked with Marcene Sonneborn's class at the School of Information Studies to develop a website that shows information about properties and code violations. Knowing that this would take longer than a semester, part of the challenge to the students who have worked on the project is to open-source the code and then build on what was produced in the previous semester. That way, students can learn about maintaining and updating code, rather than creating everything from scratch. This is more how things work in the real world once the students get a job, it allows us to better understand and maintain the code, and the project continues from semester to semester.
Local government organizations
My position wouldn't even exist if it weren't for an initial grant from Bloomberg Philanthropies to fund the City's Innovation Team. That is what brought me to work for the city, and ultimately get placed into the Chief Data Officer role.
Bloomberg Philanthropies and the Innovation Teams program, as well as the What Works Cities program have allowed us to learn from experts who work in other local governments, or who work for places like the Sunlight Foundation, the Center for Government Excellence, Results for America, and more.
Other organizations like ELGL offer more connections with people trying to build similar types of programs in their local municipalities, and either give space for people to commiserate when times are challenging, or more frequently generating new ideas through their podcasts, blogs, and more.
The Civic Analytics Network hosted at Harvard and run by Stephen Goldsmith offers Chief Data Officers the chance to work together, think about higher level policy goals we should push for together, and can get really technical about approaches to data governance, ETL pipelines, coding tools, and more.
These organizations offer so many resources that we have relied upon to launch our open data portal, get our performance office off the ground, and tell our story when appropriate. The people in all the organizations are passionate public servants, and many of them are now friends of mine, too.
Internal partnerships
The last type of partnership is potentially the most important — and that is partnerships with internal stakeholders. In my role, I could supervise a bunch of projects that I think are important but have no buy in elsewhere, and they would either fail from the beginning, or when complete, would just sit on a shelf.
My role reports into the Mayor's office, not to IT. That means that to get access to databases or other data, I often make the request of the IT department. Building a good relationship with those that hold the keys to the back end technology has been critical. Explaining the types of work we are doing, ensuring we are keeping the data secure, and advocating on behalf of the IT department to ensure the software we are procuring allows us to access the data that is collected is the only way we can be successful.
We also partner with other departments. Whether it is building a risk model for water main breaks, a snowplow map, an analysis of census data, or dashboards for the performance office, understanding what the data means to those who collect it each day and know it best is important. Without knowing what specific columns in a dataset mean, or when a department typically closes out service requests, or what limitations we should put on a recommendation from an analysis because the department only has so many resources, we can't deliver a useful product. To understand these important details, we will often conduct interviews, show data visualizations that reflect what we are finding in the data, and go on ride alongs to watch staff recording data and learn more about their processes.
We built a model that predicts fire hydrant water flow rates. Based on interviews and observations, we learned that though the information is important, it is only really useful if it is mapped within the existing software the fire department uses when it is responding to a fire. It is not practical for them to bring up a separate screen that only shows water flow rates for fire hydrants while en route to an incident. That meant working with additional entities to ensure the data is presented well, and can be updated.
---
Supplemental Reading
Podcast: Innovation Doesn't Have to be Fancy with Sam Edelstein & Brendan Babb