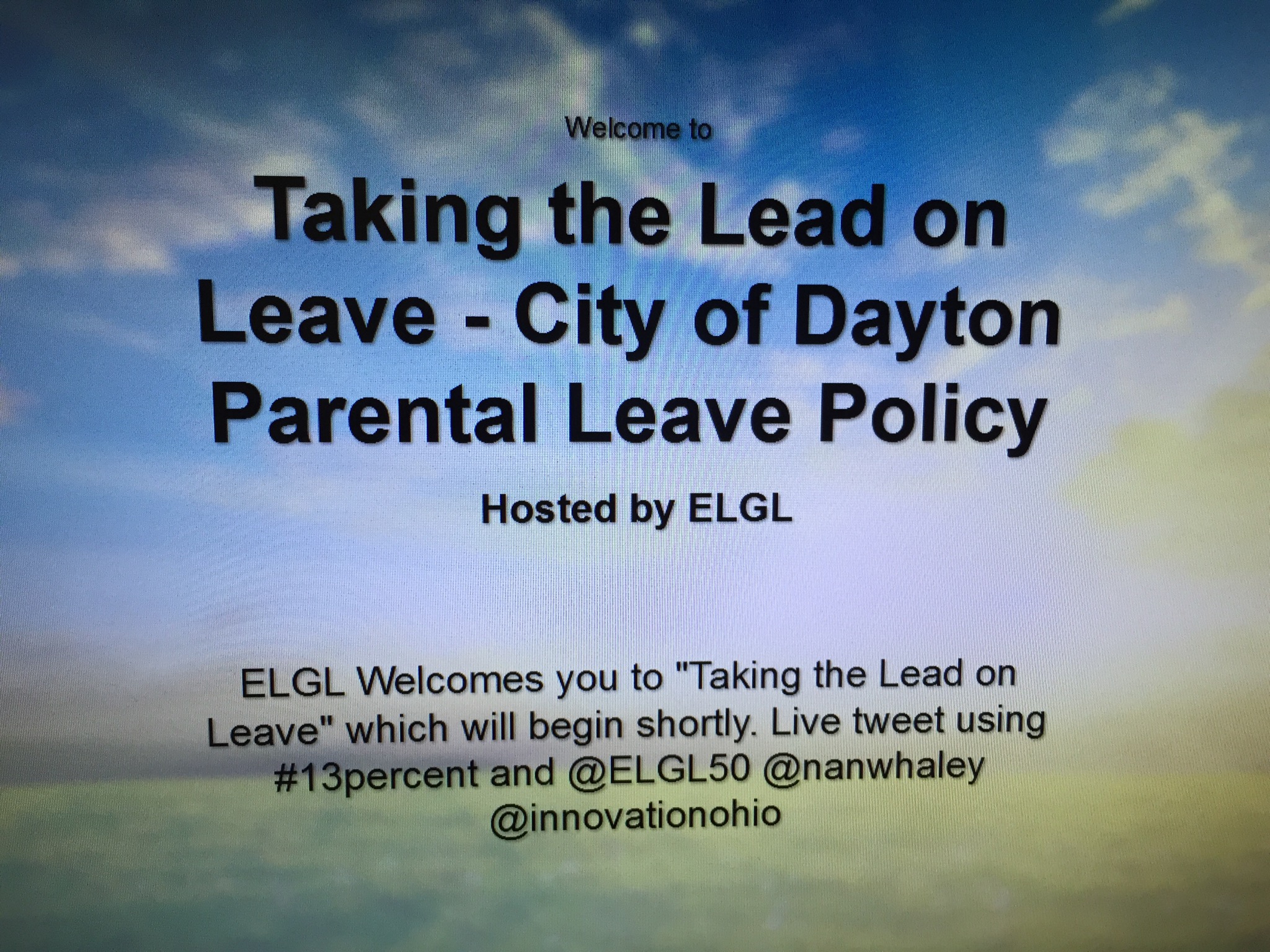 Paid Parental Leave Report – Innovation Ohio
Click here to watch the recording of the webinar.
ELGL recently hosted a free webinar with leaders from the City of Dayton, Ohio on their new progressive parental leave policy.
Our guest presenters were:
Nan Whaley, Mayor City of Dayton
Kenneth Couch, Director, Human Resources, City of Dayton
Keary McCarthy, President, Innovation Ohio
Ariel Walker, Senior Policy Aide to Mayor Whaley
Takeaways
Part of measuring the success of the policy will be conducted during exit interviews.
Mayor Whaley believes, "Success = #paidleave is a step in workforce feeling invested in; number of women "off-ramping" decreases."
Forward thinking approach: cityofdayton recognizes the 20% training costs for every employee, so #paidleave makes $$ sense.
Accrual of benefits puts younger families in a bind at the front end, which is why #paidleave is important for new parents.
Interesting – #paidleave polls well across all political demographics.
In first quarter of program, eight cityofdayton employees used #paidleave policy 1,900 total employees 0.4% of employees.


cityofdayton says important to make #Paidleave gender neutral. By strengthening entire families we strengthen the #13Percent initiative.
#paidleave logistics: employees complete leave card prior to birth/arrival of child. Must use accrued time, provide notice.
Paid parental leave 'was a no brainer' for cityofdayton. Simple way of retaining quality workforce.
Bam! nanwhaley introduced #paidleave policy on August 26 to celebrate National Women's Day.
Quote from nanwhaley, "I began to have a recognition that we weren't being very good to families."
nanwhaley introduced #paidleave in DaytonOhiocom and now CincinattiOhio is following suit.
#PaidParentalLeave is beneficial for not only women and families, but makes good business sense.
Access to #paidleave improves employee retention, job satisfaction, productivity.

Supplemental Reading