This guest blog is brought to you by one of our winners for the 2019 Meagle Award, The City of Wentzville, Missouri! The Meagle Award recognizes the best places to work in local government.
---
In 2018, the City of Wentzville set out to be the "Best City in the World." A lofty goal for sure and one that aptly came to life when the City Administrator had an "aha moment" after eating an ice-cream sandwich. (That must have been some ice-cream sandwich!) However, as odd as the story may sound it led us to some pretty awesome awards, a few innovative employee-focused policies and a new way of thinking in terms of employee retention and recruitment.
The short story: After eating said "inspirational ice-cream sandwich," Wentzville's City Administrator sent an email to a core group of administration and human resources staff titled "I Have an Idea." We were all confused and excited, and maybe a little scared. In the initial meeting, he shared his goal to be the Best City in the World. We may have looked at him like he was crazy, but what took place over the next few months is nothing short of inspiring. 
Following our initial meeting, we established a focused approach to becoming the Best City in the World. We tackled four different areas in order to achieve this goal:
Creative New Benefits

Internal Engagement

Marketing and Recruiting

Awards and Recognition
Creative New Benefits
We brainstormed in a meeting early on about all the different benefits we could offer. We researched the benefits other cities and counties were offering that were "outside the box;" we even looked at what private-sector organizations were doing to see if there was anything we could incorporate. We threw out any and all ideas. Next, we organized the ideas and deleted a few that were too outlandish (we love our pets, but Bring Your Dog to Work Day was sadly not a good fit). We came up with almost 80 ideas that we organized by things that were free, things we could do immediately, and things that might be cost-prohibitive. The list was then analyzed by other staff, including the City Administrator, and we started narrowing down the list a little at a time. In the end, we introduced a few core benefits that we felt would help with both retaining current employees and recruiting new ones. These include six weeks of paid parental leave, expanded bereavement leave (including cohabitating partners), vacation for part-time employees, voluntary pet insurance (see we love our pets!) and more.
The City of Wentzville has worked hard to add many work-life balance/benefits for its employees. We offer a book-share program, chiropractic care and cochlear implant coverage, ergonomic workstations and standing desks, standing meetings, an onsite Weight Watchers program, gym and fitness classes, a 529 payroll deduction, Bring a Child to Work Day, free passes for local events, free recreation center membership, free smoking-cessation products, and more. Through our internal "Best City in the World" team, we are continually in the process of reviewing additional low-cost benefits that aid in boosting morale, retention and recruitment.
Internal Engagement
In order to be the Best City in the World, we knew we needed to start from the ground up. So, we began by analyzing our current practices and processes as they relate to new and current employees. We made changes in a number of areas and continue to tweak these processes ‒ specifically as they relate to new employees, in order to ensure they feel engaged from day one. Here are a few of the things we incorporated initially:
Enhanced the City's new employee orientation, with our new W.O.W. Training, which now includes a Local Gov 101 section for those who are new to the municipal world.

Updated the performance review process.

Long-term career goals are now reviewed; employees are able to provide direct departmental feedback regarding processes and procedures, employees set annual goals and more.

Added 30-day check-ins, to continue keeping employees engaged

Provided Lunch and Learns through the Employee Green Team

Brought back our Citywide tour for new employees

Supported teambuilding efforts
Marketing/Recruiting
We knew support from our current employees was crucial. We know how awesome they are, but do they know we know how awesome they are? HR identified several employees who thrive in their jobs. The majority of these employees have also moved up quickly, as the City prioritizes hiring from within. These employees shared what they loved about their jobs, what projects they were working on, what they would tell someone else about working for Wentzville, etc. These interviews were then shared on social media (with great engagement) as part of our outreach and recruitment efforts.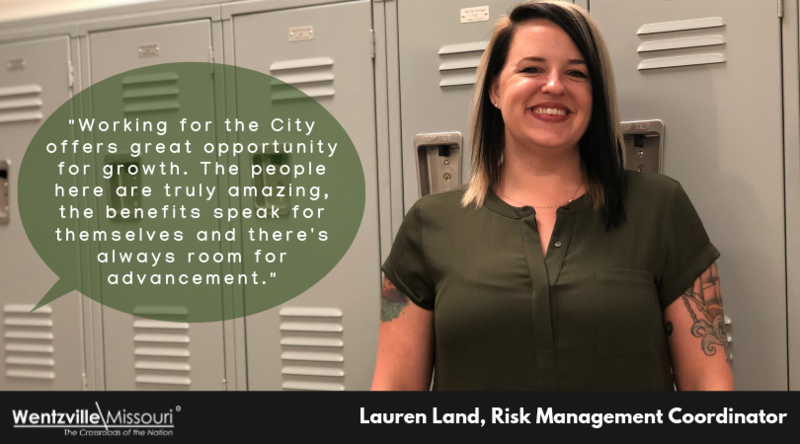 In line with these recruitment efforts, we have also made job fair attendance a priority. We are often the only municipality present at these job fairs (such as intern recruitment events on college campuses), but we are OK with that. Wentzville supports the idea that we have to expand our recruitment outreach into younger generations. We have held two consecutive years of Bring A Child to Work Day, we participate in the St. Charles CAPS program, we've made multiple presentations at local high schools, and more. In the CAPS program, students fast forward into their futures and are fully immersed in a professional culture, solving real-world problems using industry-standard tools. As part of the program, the students participate in internships and are mentored by actual employers (that's us!), all while receiving high school and college credit.
Awards and Recognition
In analyzing our potential creative benefits, enhancing our internal engagement and ramping up our marketing and recruiting efforts, applying for awards and recognitions seemed like the next best step in accomplishing our overall goal.
While we have yet to be recognized as the "Best City in the World," we have received the following recognition over the last year:
2019 St. Louis Business Journal "Best Places to Work" Finalist

2019 St. Louis Post-Dispatch "Top Workplaces" Winner

ELGL Meagle Award:

2019 "Best Local Government Workplace" Winner in the Medium-City Category

Green Cities Challenge Finalist
"At the City of Wentzville, we are dedicated to providing the best employment experience in local government. We are honored to have received these types of recognition. We work hard to create an environment where City employees genuinely enjoy coming to work every day, which translates into increased productivity, effective teamwork and, in turn, ensures a high level of customer service for the community we serve," said City Administrator David Gipson.
Wentzville may not have nap pods or Segways, but we do have an incredible team of employees. We have put our people first, in order to serve our community with the best possible employees. Our employees, therefore, put our residents first. This helps us all to embrace the City's mission as a "community of neighbors working together to build a better future."