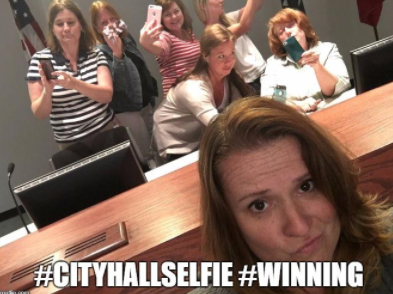 [vc_row][vc_column][vc_column_text]
This is a guest post by city of Gahanna, OH city administrator Jennifer Teal. #CityHallSelfie day is August 15, 2017. This year, award winners will receive a trophy and a selfie stick from Bang the Table.
---
The City of Gahanna, Ohio was so proud to receive the "Funniest Selfie" award in the #cityhallselfie challenge last year. We had a great time taking dozens of selfies, and engaging our staff, residents and even our City Council in the effort.
We were already lucky in Gahanna to have a fun-loving staff and great team spirit at City Hall. But participating in #cityhallselfie day helped take that to the next level. In fact, it was the catalyst for a number of other fun, team-building events that we've done since then.
After the selfie contest, City staff organized a number of fun and engaging events throughout the year, and even created a "Committee of Fun" to continue the efforts.
At Halloween, we took our annual practice of allowing employees to dress in costume to the next level with a Roller Coaster costume manned by six members of our senior leadership team.
In November, we held a City Hall tailgate party to celebrate OSU football with departments decorating and bringing delicious treats. The afternoon ended with a campfire and s'mores in the Herb Garden adjacent to City Hall.
The Committee of Fun amped up our competitive and holiday spirits with a holiday door decorating competition that had staff sneaking into City Hall in the dark of night to one-up their neighbors' decorations.
The doors to Council Chambers were even set up as a City Hall "Elfie" station!
This spring we had an egg hunt with motivational "pay it forward" type messages in the eggs—and of course, lots of  chocolate.
And most recently, the Committee of Fun organized an enjoyable summer afternoon treat with dodgeball and snowcones using our Parks and Recreation Department's inflatable GaGa pit.
This year of camaraderie and fun has been a great one in Gahanna, and in many ways it started with our first #cityhallselfie!
---
Supplemental Reading
Route 50:  Why Local Governments Are Taking CityHall Selfies

Kansas City Star Article: "It's #CityHallSelfie day, so you can officially have fun with that"
KTAR News: Phoenix to be a part of national event called 'City Hall Selfie Day' on Monday
Texarkana Gazette: Texas-side officials hope folks take part in City Hall Selfie Day
ICMA Knowledge Network: Increasing Citizen Engagement with #CityHallSelfie Day and 3 More Engaging Ideas
North Carolina League of Municipalities: Celebrate #CityHallSelfie Day on Monday
Glendale City News: City Hall Selfie Day is Coming August 15th
Ann Arbor Library: National #CityHallSelfie Day
CityCode: #CityHallSelfie Day is Coming