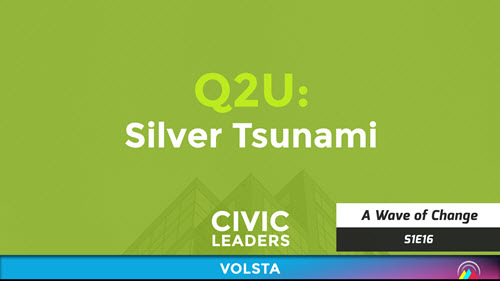 Civic Leaders Q2U is where we ask questions to you–the audience. Civic Leaders is an exclusive local government web-interview series hosted and operated by Springbrook Software, an Accela company, produced by the VOLSTA Media Network, and syndicated on ELGL. 
Each month the show shares a candid look into the challenges and triumphs experienced by passionate public employees that are committed to their calling.
SILVER TSUNAMI
Is your agency ready for the coming changes?
Today's Q2U follows up on our recent interview episode with Heather Johnston, GFOA President and Burnsville, MN City Manager. She had this to say about the coming management crisis in local government:
"We have a lot of people who are retiring and with those retirements there is a loss of knowledge. Along with that we've got a new generation that we have to make sure that we are helping them understand the exciting opportunities that are available [in] government, especially the local government level. I think it's our challenge to be able to recruit and retain that new generation, help them understand why what we do is so exciting and why they have so many different opportunities to be creative, to be innovative and to really make an impact on their community."
Our question to you. Does your agency foresee a similar crisis? And if so, what are you doing to ensure that valuable knowledge, skills and leadership aren't lost in the transition?
Share your response by tweeting to @CivicLeadersHQ or write in the comments section below: