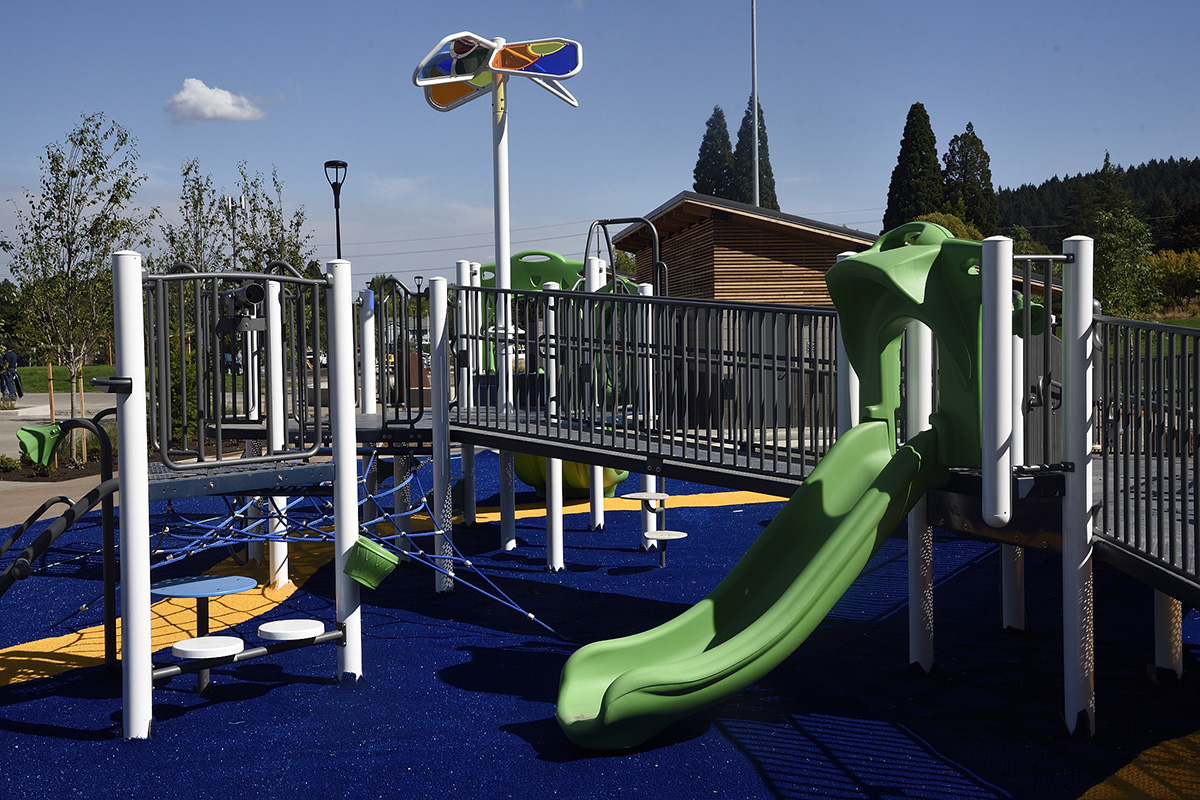 This guest blog is by ELGL member Katherine Stokke, the Operations Analysis manager with the Tualatin Hills Parks & Recreation District in Oregon.
---
Children swing on the playground.  Couples walk their dogs on the nature trail.  Athletes kick soccer balls on a field or whack pickleballs across a court.  These are just a few of the sights I enjoy on my breaks when I walk around the recreation complex where I work.  
Not just any job enables you to step out and immediately see your impact in the community, your organization's mission in action.  
It's a major perk of working in parks & recreation.  I work at Tualatin Hills Park & Recreation District (THPRD) managing the Operations Analysis department, where I get to help guide business decisions around how to make my community healthier, more connected, and more sustainable.  
As our general manager, Doug Menke, points out, we are that rare branch of local government where the public actually looks forward to using our services!
So how do we ensure we're providing those services in a fiscally responsible and equitable way?  After all, we're helping to conserve open space, teach kids how to swim, and ensure many other crucial elements of a thriving community.  
Here at THPRD, we strongly emphasize collaboration.  We provide lots of opportunities to work in cross-functional teams, even for departments that are typically more insulated from operations (like mine).  
It helps us break down silos, make more informed decisions, and work as a team toward our priority goals.
We also value external collaboration and inclusion.  We've expanded our park design process for more community engagement, and we provide inclusion services in 100% of our programs.  
Our Mountain View Champions Park features ADA accessible play equipment, community garden plots, and Oregon's first sports field designed for athletes of all abilities.  We work with community partners to program inclusive events at this park, such as a Silent Egg Hunt for youth with sensory needs.
Of course, not all collaboration is an easy win.  Take, for example, implementing fee increases.
In our line of work, fees are part of the reality of being responsible stewards of public resources.  But raising them can be tough.
So how did THPRD go about it when we knew fees for exclusive use of our fields were not aligned with our resource allocation policy?  
Our Sports department manager, Julie Rocha, convened a public task force of representatives from our sports affiliates to make sure we were working with those who would be most impacted.  
My department opened up our spreadsheets to them in total transparency, showing them our field maintenance costs, hours of usage by all user groups, and comparable rates in the area (special thanks to our analyst, Corey Johnson, on this!).  
We gathered additional feedback through a public survey, then we worked with the task force to develop a field fee increase schedule that we believe supports our financial sustainability and social equity goals—no small feat.
This type of approach can take longer, but it builds crucial buy-in throughout the process.  I believe we reach a higher quality outcome when we take time to tell our story and listen to underrepresented voices.  
We give and receive data to convert it into knowledge and action. Isn't that the heart of collaboration? I believe so.  And I love seeing the fruits of that labor each time I step outside.
---
This blog shared as part of the #ELGLKnope award program focused on the best local government parks and open spaces in the United States! Nominate your favorite place today, and vote in the bracket challenges during March 2019!