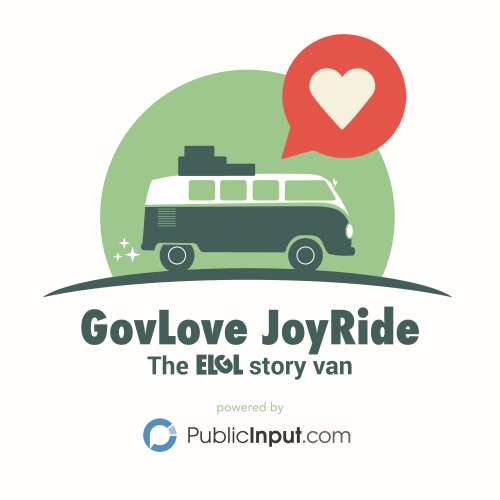 ELGL uses multiple platforms to engage the brightest minds in local government. One of those ways is GovLove, a weekly podcast that examines the profession of local government and discusses the future of the sector and how it can be improved to attract the best and brightest.
From City Managers to interns and everyone in between, GovLove interviews the people that work in local government to learn more about their path into the public sector and highlight their work. We explore policy issues that impact local governments and the innovative solutions being used to address them.
While live recordings of GovLove have taken place at various conferences across the country, most interviews are conducted between one of the awesome rotating cast of hosts and a subject matter expert and later released to the listenership. Never have we opened up the doors and let our listeners interview each other and themselves.
…until now…
For the first time ever, we are bringing GovLove to you at #ELGL19! You'll have the opportunity to participate in the mobile JoyRide Story Van powered by Public Input.
With the goal of capturing and preserving your stories, we hope to build connections between listeners and further the local government profession. The JoyRide Story Van will be available to participants at #ELGL19 throughout the conference.
Think NPR's StoryCorps van but local government focused (yes we will have a super sweet van turned into a recording studio). You'll have the opportunity to pick between three tracks that were chosen based on the core values of ELGL. You can do one of the tracks or you can do all of the tracks! You can interview a friend(s) or do it alone.
Each track will have 4 questions related to the core value. You can answer all the questions or just one. This really is a choose your own adventure. The most important part is that you have fun! 
The tracks for the van are:
Green: Educating for a better today & brighter tomorrow
Blue: Innovating & improving the community engagement status quo
Yellow: Building community & reaching beyond the usual voices
So you might be wondering where these stories will go. Good question! We plan to compile the stories based on track into a full length episode for all the GovLove listeners to hear.
In addition, we will use select stories to help spread the mission of ELGL whether it be at an #ELGLInspire or Supper Club in a partner city. Your stories are the stories of local government and we can't wait to hear them.
I also want to shout out our incredible partners at Public Input that made this wacky vision come to life.
For those not familiar with Public Input, they are an online engagement and communication toolkit to help local government reach beyond the usual voices, engage residents where they are, and build public trust.
Do me a favor and show them some love on Twitter and when you see anyone from the Public Input team during the conference, give them a high five for being a huge supporter of ELGL and for all that they are doing to enhance the work we do as local government professionals.
A reminder that #ELGL19 will be in Durham, NC on May 15, 16, and 17. Tickets are $300 so don't delay – register here. In addition to the GovLove JoyRide Story Van, we have a great line up of speakers on innovation, analysis, workforce development, and more.
And if you want to get caught up on all things GovLove before participating in the JoyRide Van, you can find us on iTunes, SoundCloud, Stitcher and Google Play Music! And don't forget to follow us on Twitter to stay up to date on all things GovLove! 
---
Questions about the JoyRide Van or GovLove? Send Alyssa a tweet or email!