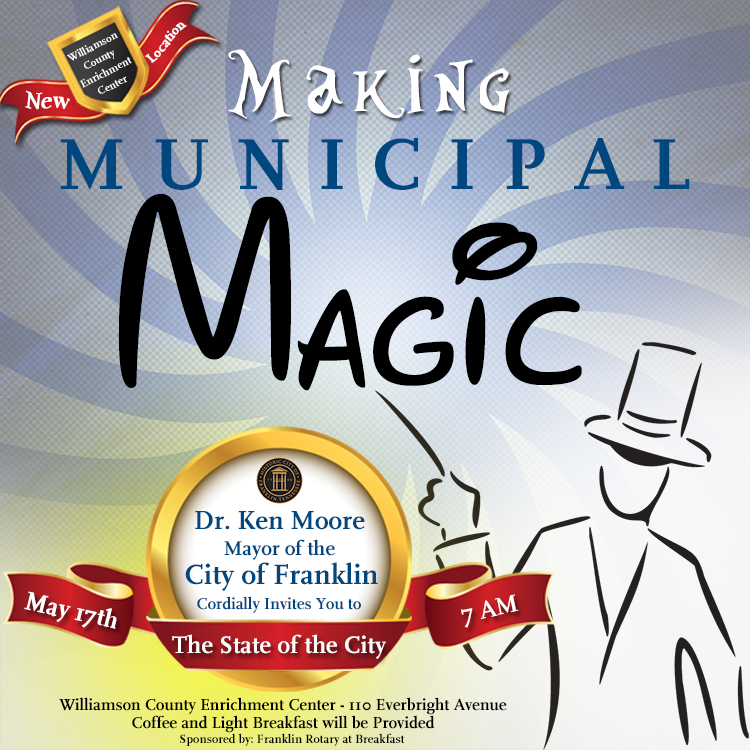 [vc_row][vc_column][vc_column_text]
This guest post is by Milissa Reierson, the communications manager for Franklin, Tennessee.
[/vc_column_text][vc_video link="https://www.youtube.com/watch?v=hR8x1Iz9DvE" el_width="80″ align="center"][vc_column_text]The City of Franklin, Tennessee, population 76,000, recently held their annual state of the City event, but it wasn't a boring facts and figures presentation.  Each year the Mayor, Dr. Ken Moore, works with his Communications team to make this presentation more engaging and entertaining for the audience.
This year with close to 300 people attending the presentation, Mayor Moore put on a top hat and performed some "Municipal Magic."  The Communications Manager, Milissa Reierson was inspired by Vine/YouTube star Zach King and collaborated with Communications team members Digital Media Producer/Editor Stephen Price, Cable Operations Supervisor Stefan Juran and camera man/part-timer Robert Mott to write and produce the "magic" tricks within the video.
"I pitched the idea and everyone was on board," said Reierson. "We have a very talented team and we sat down and wrote the magic around the city department accomplishments from the previous year.  Our editor, Stephen Price used Adobe After Effects for the magic, but emulating Zach King was a challenge. We decided to pay homage to all the magic shows of the past like Bewitched and I dream of Jeannie with a little Disney thrown in.  We figured if they could do it in the 60s, we could too."
The first magic video highlights the city's accomplishments over the previous year.  The team ended the Mayor's speech with another "magic" video highlighting the services of City employees who make the municipal magic happen for the City.[/vc_column_text][vc_video link="https://www.youtube.com/watch?v=K46i2pS1JPk&t=34s" el_width="80″ align="center"][vc_column_text]"We have been utilizing our communications team's creativity for the State of the City for the last seven years," said Mayor Moore.  "We have played on many popular themes including 'Words with Friends,' 'Carpool Karaoke,' 'Comedians in Cars getting Coffee,' although our video was called, 'City Servants in Cars looking at City Projects.'
One of our more popular videos was the Happy Video, where I got to go out into the community and use the popular Pharrell Williams song.  That video went viral and was seen around the world.  I have fun with it and our community enjoys the videos and learns a little in the process."
To see more videos from the City of Franklin go to www.youtube.com/cityoffranklin[/vc_column_text][/vc_column][/vc_row]