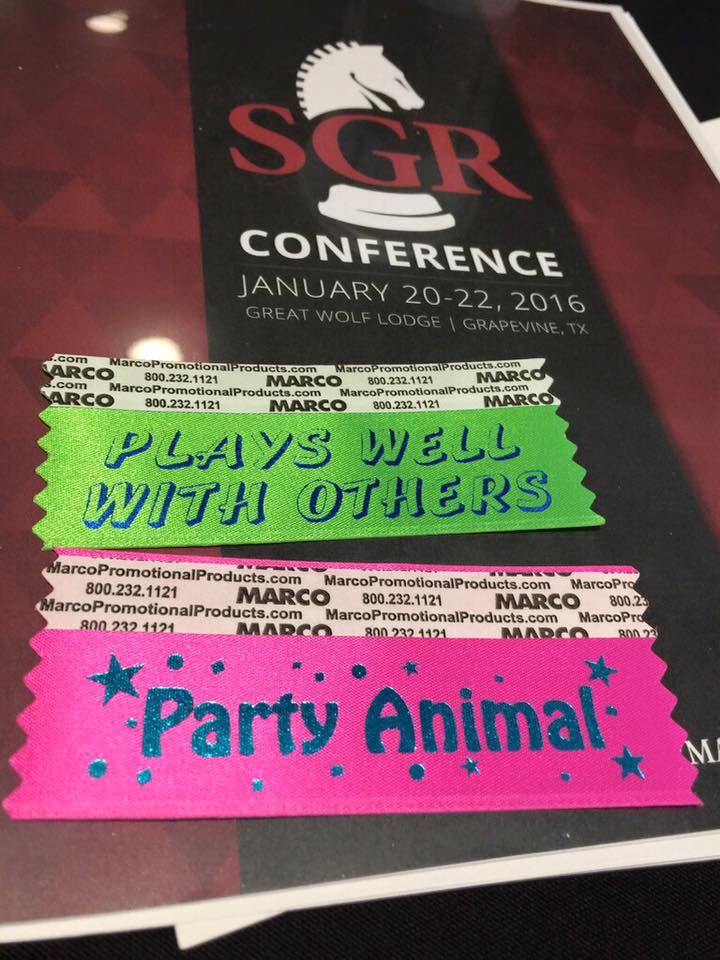 ELGL co-founder Kent Wyatt provides a behind-the-scenes look of the magic at the Strategic Government Resources Conference.
Done in the DFW
Before we depart the DFW, let's put a bow on the trip. (Yes, I am not wearing socks.)
Hat tip to Ryan Adam and Matt Monedero for entertaining us this morning. (Note: If you want a tour of Fort Worth, TX, don't ask Matt. Testy tour guide.)
We dined with the locals at Paris for breakfast. It's the first time I've seen a real biscuit in a number of years. I would have ordered a six-pack of biscuits for the flight if I known that Matt was picking up the tab.
We rounded out the eating binge for this trip with a lunch at Mash'd. Some strawberry moonshine is sure to help ease any pre-flight anxiety.
Security Alert!
Turns out that back sweat brings extra attention when going through airport security. Just below my neckline the heat sensor picked up something unusual. After a brief check, turns out it was just my back sweat. Close call.
ELGL Model
The 2016 ELGL onesie is modeled here by Owen Adams, son of Ryan Adams. Owen may be in the running for the youngest Knope of the Week.
Cursive Writing
Paul Allen, Gallup, challenged us to write a sentence in cursive. Here's how mine turned out.
 
Pizza Party
That's what we have planned for this afternoon. ELGL and SGR are hosting a mini-conference about the important role of self-awareness in leadership.
Everyone Is Smart
Paul Allen drops an Einstein quote on the SGR crowd.
Playing Basketball
Great find by Matt Yager.
Cop Responds To Noise Complaint Of Kids Playing Basketball By Lowering Rim And Dunking On Them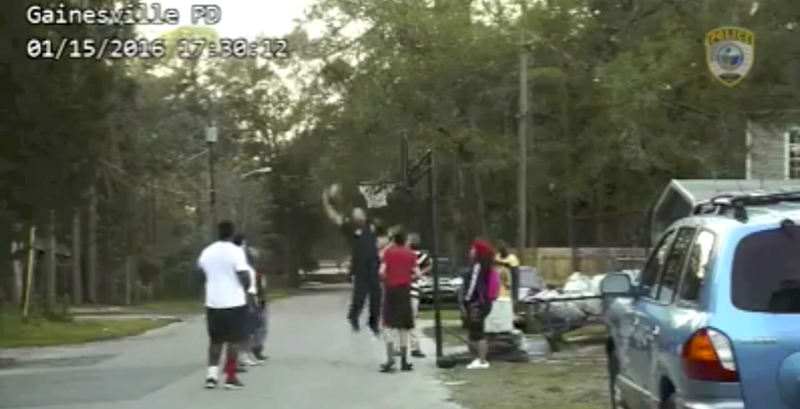 Breaking News!
We interrupt this blog to take a listen to the new Macklemore song – Macklemore's New Song Is The Nine-Minute 'White Privilege II'
Strengths Finder
Paul Allen, founder of Ancestry.com, now works at Gallup with a focus on the StrengthsFinder tool. More than 13 million have taken the StrengthsFinder tool.
We Found Him
John McCarter is, in fact, alive.
He seems well – no bruises or scratches.
Ancestry.Com
The founder of Ancestry.com and current Gallup Global Strengths Evangelist is today's headline speaker. Let's learn a lil' about him.
Paul Allen is Gallup's Strengths Evangelist. His job is to partner with worldwide leaders to transform companies, governments and nonprofit organizations by increasing engagement and well-being through a strengths-based approach. In his world-wide presentations, Paul speaks to audiences on the rise of the "strengths movement" and how learning and using strengths can transform individuals, teams, organizations and communities, helping them to achieve long-term, positive outcomes.
Prior to joining Gallup, Paul started several technology businesses during a 22-year career as an entrepreneur. He co-founded Ancestry.com in 1997 and served as its first CEO. During his time at Ancestry, Paul developed an online community that connected millions of genealogists to one another as part of the Ancestry.com platform, which quickly made the website the world's leading genealogy company.

Strengths Finder
Paul Allen, founder of Ancestry.com, now works at Gallup with a focus on the StrengthsFinder tool. More than 13 million have taken the StrengthsFinder tool.
 Show love to Paul and Gallup by following them on Twitter — Paul's Twitter and Gallup's Twitter.
Friday Morning Quarterback
What'd you miss last night?!?!? A whole lot, but most of it, I am not at liberty to discuss. You can gain some insight into the festivities by checking out these pictures, my Twitter feed, and ELGL Instagram pictures.
Wake Up! Wake Up!

Good morning! We're awake and ready for day 3. Today will be chalk full of action – Paul Allen, founder of Ancestry.com, ELGL Mini-Conference, pizza, and perhaps, a trip down the Great Wolf Lodge water slide.
So, if you are stuck inside because of the snow, hang tight, we'll be bringing you all the action.
P.S: John McCarter is missing again.
Wine-O
Three cheers for Grapevine, TX wineries. Solid wine selection and I don't think anyone got sick from the sweetness of the wine.
Turns out that most Texas wine is made from California, Oregon, or Washington grapes.
Umbra Winery was my top choice of the three wineries that we visited. I really wanted to nab this bar top but had trouble plying it away.
Note for the reader: You can add this to my growing 2016 Christmas list.
Vintage
Check out this new vintage stemless ELGL wine glasses. Pretty, huh? We'll release information soon on how you can land one of these in your home.
If you just can't wait, you can sneak into Matt Monedero's apartment/house/yurt and snag one.
Matt! Matt! Matt!
HUGE props to Matt Monedero, City of Fort Worth, TX for organizing the 2016 Wine Walk. Very classy affair. Everything was perfect except Matt forgot to bring me a coat to wear while walking in between wineries. Matt selected three excellent wineries, moved us along to each spot, and handled the wine glasses without breaking any of them.
Matt's best highlight was using a steak knife to bang on the wine glass. Great way to get people's attention.
John McCarter Update
We found him. According to John, he just sent "a million emails."
Hear more from John – Guidepost #12 – John McCarter
One Session Until the Wine Walk…
Presenter starts by mentioning that he has a "comprehensive PowerPoint presentation. It'll be like drinking from a fire hose." Oh boy…hang on to your seats.
Hold On…
To your seats. Kirsten and I were selected to do a role play during a session at the SGR Conference. Nothing like a lil' local government role play to spice up the marriage. Valentine's Day came early this year.
Paging John McCarter
Are you eating all the brownies?
Rewind
Check out our Periscope feed to relive the SGR panel with Kirsten Wyatt, Susan Sherman, and Matt Mueller.
J. Cole Break
You should know that J. Cole is my new favorite musician, so let's take a break to watch one of his videos.
Get started on watching the J. Cole mini-series on HBO. You won't regret it.
Periscope Alert!
At 10:45 a.m. today, we'll be Periscoping a little of the ELGL panel session at the Strategic Government Resources (SGR) Conference. Plan your lunch or smoke break around it.
Book and Movie Recommendations
Lunch speaker recommends the following two books: Uncontainable | Kip Tindell's New Book and Leadership BS.
Movie recommendation: Temple Grandin (TV Movie 2010). Learn a little about Temple in this Ted Talk.

FUN FACT!
Current speaker Ted Benavides is the husband of Glenn Heights City Manager Aretha Ferrell-Benavides.
Ted Benavides currently serves as a faculty member for the University of Texas at Dallas (UTD) in the School of Economic, Political and Policy Sciences' Public Affairs Program.
He also served as a Senior Vice President for the Waters Consulting Group from 2006 to 2008 which does executive search, compensation studies, and organizational analysis for public sector organizations.
Ted Benavides served from 1998 to 2004 as city of manager of Dallas, Texas. Mr. Benavides was responsible for administering all programs and services for the city's 1.2 million people and overseeing an annual $1.9 billion municipal budget and directing a workforce of 12,000 employees.
Meat Tornado
I am becoming a vegetarian after eating my first meat tornado at Hard Eight BBQ.
1/2 lb. of beef brisket
1/4 lb. of bacon covered shrimp
1/4 lb. of chicken
2 ribs
1 scoop of mac and cheese (I know that doesn't include meat)
1 Miller Lite (apparently Texas is not familiar with IPAs)
The morning after the meat tornado has been rough. My clothes reek of BBQ smoke, my stomach is expanding, and my appetite is zero.

The Brooks Bennett
You've read about Brooks on ELGL, we met him this morning and confirmed that he does exist. Link: The Assistant: Brooks Bennett, Round Rock, TX
And, good thing that we bumped into Brooks, as he tipped us off to the work being done by Athens-Clarke County, GA.
Athens-Clarke County produces its own 'hype' video
Here's another gem from the County.
Center Stage
ELGL takes center stage today with a panel discussion and a wine walk in Grapevine, TX.
Here's info on the panel.
Panel Topic: Models of Success 
Moderator: Molly Deckert
Matt Mueller – Town Manager of Little Elm, TX
Kirsten Wyatt – ELGL
Susan Sherman – Assistant City Manager of Olathe, KS
Fail
Due to these hibernation hours at the Great Wolf Lodge, the onsite Starbucks doesn't open until 7:30 a.m. This automatically eliminates Great Wolf Lodge from hosting #ELGL16. We need the coffee flowing early and often.
I wish I had the energy to bring you more witty observations from the SGR Conference but without coffee, it's not going to happen.
Photo Album
We'll be updating the photo album over the next couple of days. Warning: there will be no swimsuit pictures.
No pictures yet, but we have spotted ELGL members Jon Amundson (City of Richland, WA), Susan Sherman (City of Olathe, KS), and Leslie Herring (City of Olathe, KS and KU MPA Student)
Book Report
If you are like me and read non-fiction books, instead of the make-believe fiction books, I have the book for you, The Short and Tragic Life of Robert Peace: A Brilliant Young Man Who Left Newark for the Ivy League.
"When author Jeff Hobbs arrived at Yale University, he became fast friends with the man who would be his college roommate for four years, Robert Peace. Robert's life was rough from the beginning in the crime-ridden streets of Newark in the 1980s, with his father in jail and his mother earning less than $15,000 a year. But Robert was a brilliant student, and it was supposed to get easier when he was accepted to Yale, where he studied molecular biochemistry and biophysics. But it didn't get easier. Robert carried with him the difficult dual nature of his existence, trying to fit in at Yale, and at home on breaks."
Undercover Boss
Last time we checked in with Undercover Boss was to watch the Dutch Bros. founder at #ELGL15. John Richmond invoked Undercover Boss to highlight authenticity at Waste Management.
First Pitch
We've landed in the conference room just in time to hear John Richmond. He's a Ph.D so Kirsten will be able to get a diagnosis on her ongoing stomach problems.

Llama Llama Red Pajama
As you can see, we have a busy agenda outside the conference.
Let's Get Hyped!
After downing a cup of United Airlines famous coffee, we're ready for some local government learning.
We break out the 2015 SGR Conference to get our gameface on for this year's conference. Extra points if you find Bridget, John, and Ryan in the video.
The style of video may look familiar as it is a Jordan Bunch Production which also produced the #ELGL15 video.
On Today's Agenda
1:00 – 2:00 PM: CONFERENCE CHECK-IN
2:00 – 2:30 PM: WELCOME TO THE SGR CONFERENCE Ron Holifield
2:30 – 3:30 PM: THE POWER OF AUTHENTICITY John Richmond
John is a prosecutor specializing in human trafficking. For over a dozen years, he has investigated and prosecuted forced labor and sex trafficking cases in numerous jurisdictions. His knowledge and experience have led him to serve as an expert on human trafficking for the United Nations, judges, prosecutors, law enforcement, and non-governmental organizations. John also enjoys making memories with his wife and three children.
3:30 – 4:00 PM: WRAP-UP Ron Holifield
4:00 – 6:00 PM: NETWORKING RECEPTION HORS D'OEUVRES AND CASH BAR Lobby
Reader Question
Hey Kent — how'd you pass the time on the flight?
Hey Reader — I fired up the spotty airline WiFi and rummaged through my podcast list. If you enjoy snark and football, you should consider listening to the SI Media Podcast with @PFTCommenter
I am also keeping an eye on the passenger sitting in the aisle seat across from me. Why am I watching him? His Confederate flag screensaver has me wondering how he is spending the flight. Maybe he's tweeting for #YallQueda. Maybe he's preparing for an upcoming Civil War reenactment. Maybe he's joining ELGL. Who knows.
Cheers!
The big release…here are the three wineries included in the Wine Walk on Thursday night. H/T to Matt Monedero for handling the logistics and for personally tasting each of the wines.
We're told each winery has a sweet wine and dry wine. I'll be staying far, far away from the sweet wine.
Fun Fact: Commemorative wine glasses will be given to all attendees.
#ELGL15 T-Shirts
I am lugging a few #ELGL15 t-shirts (size ladies medium) with me. If you need one, find me at the conference.
Fired Up…Ready to Go?
No Beats by Dre for Mrs. Wyatt, she's rocking the original Apple iPod earbuds. Can't you hear the bass and treble coming through your computer.
While Kirsten rocks the beauty sleep, I'll give you a blow-by-blow of the first leg of our flight from Portland to Denver. I know…it's going to be hard for you to get work done this morning.
Back to Back to Back
ELGL is ready for a third consecutive appearance at the Strategic Government Resources Conference in Grapevine, TX. This year we are bringing our swimsuits so we can spread the local government gospel at the Great Wolf Lodge pool. (Yes, the conference is at a Great Wolf Lodge, and no, my kids do not know and you should not tell them.)
Here are a few ways that you can partake in the fun.
Matt Monedero has taken the extraordinary step of guaranteeing fun for all attendees. ELGL is not liable for what this entails.
Accommodations
Thanks to the good folks at SGR this year we are staying at the conference hotel which is the Great Wolf Lodge. You may have heard about it when your kids begged you to take them their. Here's a couple reviews of the rooms.
"Cute cozy rooms with "kids camp" area with bunk beds."
"My daughter's Girl Scout Troop spent the night at Great Wolf Lodge. They had a great time riding all the rides and going in the wave pool and lazy river.'
BCS Championship
Fun Fact: The BCS College Football Committee meets at the Gaylord Hotel which is across the street from the Great Wolf Lodge.
Rewind
Before we post too many pictures from this year's conference, let's rewind to 2014 and 2015. Here's my favorite picture from the two years.
Part Deux: John McCarter, Ryan Adams, and Bridget Doyle represented ELGL. Our favorite picture:
Just think, the man making that unusual face is now a father. Congrats, Ryan Adams!
Part Uno: Ben Kittelson, Kirsten, and myself attend the SGR Conference in 2014. That time we didn't stay at the Great Wolf Lodge, this time, we are. Rock It!