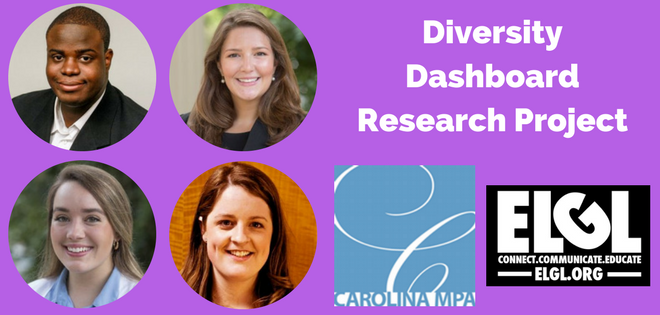 This is the second intro post from the UNC MPA Project Team that is collecting data for the ELGL Diversity Dashboard project. Last week, we met Toney Thompson. We've asked our team members to do weekly blog posts on their project, research process, and the overall goal of collecting better and more informative data about the race and gender of people serving in CAO and Assistant CAO positions in local government.
---
Libby Seguin
UNC MPA Student – Email | LinkedIn | Twitter
---
My name is Libby Seguin and I am a first year MPA student at the University of North Carolina – Chapel Hill. I was born and raised in Upper Arlington, Ohio (recently featured for their customer service expertise), a suburb of Columbus. I went to THE Ohio State University for undergrad (Go Bucks!) and then moved to Washington, DC where I was a legal assistant at a law firm for two years.
I've always wanted a career where I "help people" and that phrase has taken many meanings and shapes since high school. I knew I wanted a higher degree, and thus my transition to Chapel Hill to get my MPA was seamless.
I have to admit something: we only got a short sentence description for this project. It was titled "Gender and Race of Top Leadership" and from there we received the following:
This research project seeks to measure the representativeness of the leadership of local government entities within North Carolina. The UNC MPA team will be gathering data from all North Carolina municipalities regarding the race and gender of top leadership. This data will be compared to recent census information. The project will continue to inform data collection processes on diversity in local government leadership.
Rewind to my first day of class in August: our entire UNC MPA cohort is the most diverse group I've been a part of. I felt a sense of relief that I finally get to learn about diversity and race in a systemic way and hear opinions and perspectives from people who grew up differently than myself. I also realized quickly that government officials and legislatures are extremely influential people in their towns, cities, and state. More women need to run of office. More minorities need to run for office.
Tongue twister: being a "representative" should mean that you are representing the people you represent.
That's why #13percent is so important. But there's something more too: we need data to back up our claims. That's why this project is so refreshing, exciting, and a little nerve wrecking. I know nothing about North Carolina (insert Sarah's expertise) so it's hard for me to make connections between the counties I'm researching and the people who live there, and even placing the county geographically in the state. I'm still using GPS to get myself home!
We as a group are really looking forward to this project. Seriously – we are all close friends. This is the cherry on top to a great class, great professor, great project, and great ELGL mentors all working on #13percent. Who knows – maybe you'll see all of us run for office one day?
---
We'll share posts from the UNC MPA project team each Friday! Stay tuned to learn from each member of the project team, and also for more information about the project model the team is creating for ELGL.