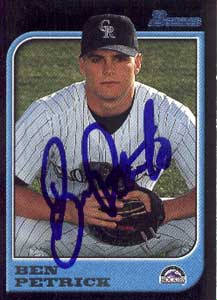 Ben Petrick to Speak with ELGL
http://www.youtube.com/watch?v=99cyiDGHHOo
Another great speaker has been lined up to speak to ELGL in 2014! Ben Petrick of Hillsboro, Oregon will be speaking at a lunch forum on April 10, 2014.  
Ben, a native of Hillsboro, Oregon, was a professional baseball player for the Colorado Rockies and Detroit Tigers.  His career was cut short when he was diagnosed with Parkinson's Disease and could no longer perform at a high level.  He has recently released a book talking about his diagnosis and finding the strength to battle Parkinson's and be a father and coach.  
Sure to be an interesting talk about perseverance and dealing with adversity, mark your calendars for noon on April 10, 2014.  More details on location will be released closer to the date.
Supplemental Reading