ELGL Members, you now have a directory full of awesome people to explore!
Great news! ELGL is happy to announce that we are launching our ELGL Member Directory. This will be a unique way to look up members based on states so you can find other ELGL members in your region. 
The directory will show your company name, email address, job title, location (state and country only, no street or city addresses will be shared), and the first concert you ever attended. An example can be seen below.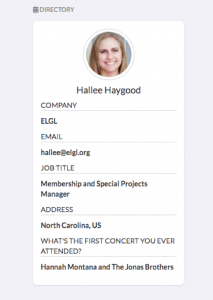 The directory is not available to the public – it can only be accessed by ELGL members with a valid membership who have logged in to the ELGL member portal. 
Here's how to update your information so your profile is all bright and shiny for the new directory: 
You can adjust your profile information by signing into your JoinIt account with ELGL. The first step is to sign into the portal at https://www.joinit.org/o/elgl. You will select the green button that says "your membership" once you have been signed in.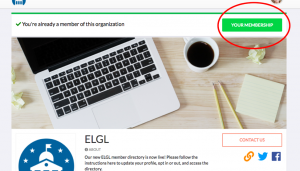 After signing in you can scroll to the bottom of your profile to see the  button that says "edit membership info." This takes you to all of your information and allows you to edit your data. 

After this it will show you each section of your profile and you can tailor it to your individual information. We have also added a new question at the end about your first concert, giving people a fun way to connect with other members. Once you have finished you can select "update membership information." (I'm dating myself as someone on the "Millenial/Gen Z" line with the Hannah Montana and Jonas Brothers concert, but I hope everyone appreciates my excellent taste.)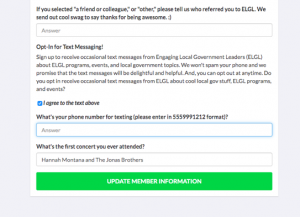 I've included some screenshots and FAQs below to help you – if you have any issues, reach out to me at [email protected]. We hope you enjoy! – Hallee
FAQ
How do I reset or create a password?
Go to the ELGL member portal . Enter the email address you used for your membership. Follow the instructions to set a password.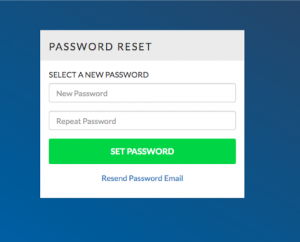 My membership information is wrong! Help! 
Log in to the ELGL member portal and click "view membership." You can change your profile information there. It may be inaccurate because you haven't yet updated in the new database, especially if your last renewal was before August 2019 when we migrated to the new software. ELGL staff cannot update profile information on your behalf; you must log in to provide demographic and organizational information yourself. 
Help! It says I don't have a membership!
No problem. It will probably say something like "no membership found." But you can fix this by clicking on the link that says "transfer membership." Don't worry this won't change your membership, it simply gives you the editing power on your profile, which makes it so that you can fix your directory profile.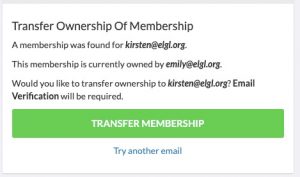 Does the directory show where I live? 
No. The directory will only show your state and country fields, not your town, mailing address, or physical address.
How do I add a picture to my profile? 
This can be done by clicking on the "update membership settings" seen in the third photo. After going to your directory profile your name will be listed with an empty photo spot. By clicking on the photo space it will take you to the place to add your photo. Your screen should look like the one below with the options to drop or select a file.