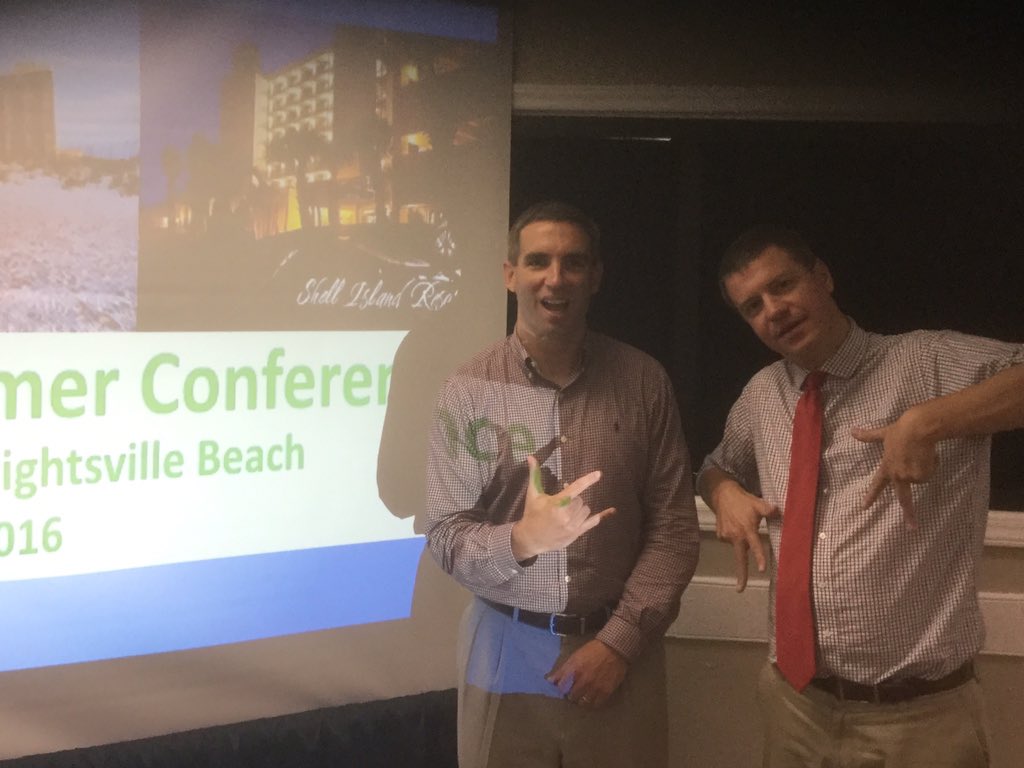 ELGL is visiting Wrightsville Beach for the North Carolina Local Government Budget Association (NCLGBA) summer conference. In this column, ELGL co-founder Kent Wyatt will reflect on the experience.
By Kent Wyatt – LinkedIn and Twitter
July 15
Props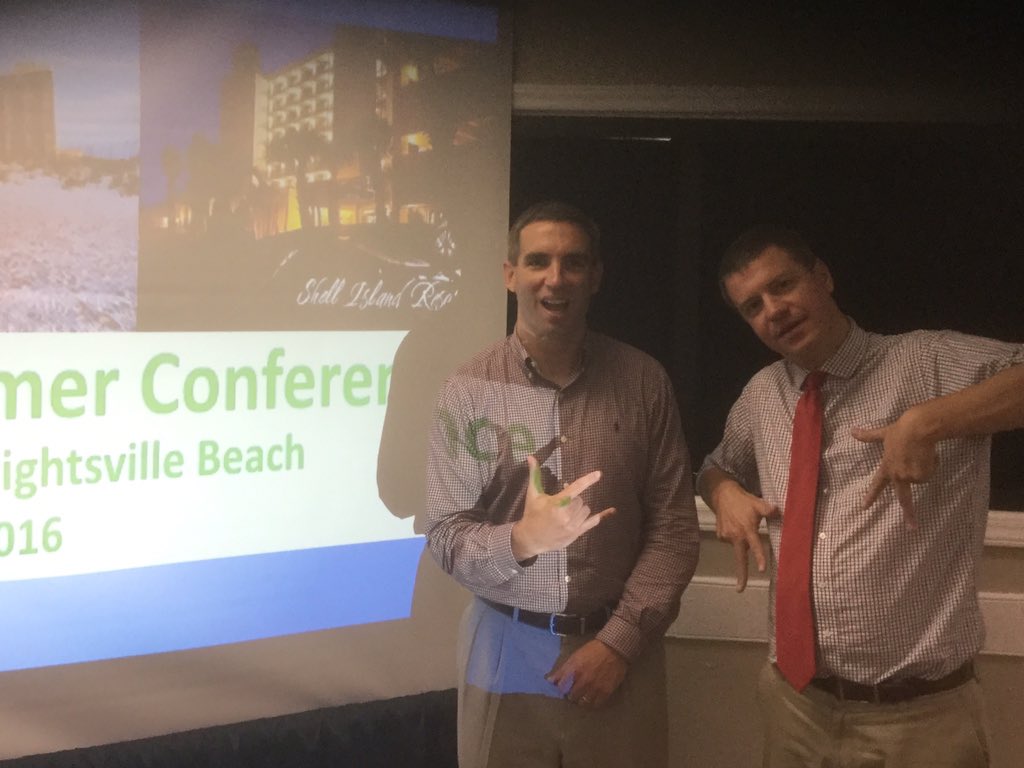 Huge props to NCLGBA for hosting an excellent conference. NCLGBA is a professional association independent of GFOA, ICMA, etc. They are 150 to 200 dedicated local government professionals. They don't impose strict membership requirements based on job title. You could be a planner with no experience in finance or budgeting and join the group. They have affordable dues which are not based on your salary. This is the way it should be.
The outdated thinking that you need a certain title to join a city managers group or finance group is the thinking that chases people away from local government. There is not a single position in local government where you only interact with one function such as budgeting, streets, water. In a successful local government organization, cross departmental work is ingrained in the culture.
If I was a city manager, I would knock down the 1980's looking cubicle walls, install workstations which are not assigned to a particular employee, and construct a bunch of study rooms where employees could work when they need quiet. Unless I work at a front counter, why does it matter where I sit. I could work next to a police officer or city recorder.
I hold the same thinking about professional associations. I want to associate with a broad spectrum of functions in local government. I want to learn the lingo used by public works or the issues facing the library.
Groups, like NCLGBA, are leading the way by creating a big-tent organization. Their conference brought together academics, city managers, budget analyst, finance directors, and students. Kudos to Stephen, Justin, Josh, and the other leaders of NCLGBA! Next time, we want in on the boat cruise.
Check out NCLGBA on Facebook, Twitter and the World Wide Web. Their original content is increasing, their Twitter game is tight, however, their Facebook voice needs some practice (but no one is perfect.)
Humble Brag
We took a selfie with the 2nd vice president of the North Carolina Local Government Budget Association. If you are wondering why they two vice presidents, you can stop because they actually have three vice presidents. ELGL will not be outmatched. We're going to change our model and elect 13 vice presidents. Get some, NCLGBA!
Sum Up the #NCLGBA16 In One Tweet…
Okay, here you go…
Uh oh. Looks like a Pokemon has crashed the @edpnc session. #NCLGBA16 pic.twitter.com/6YqXjQr9zJ

— Ben Kittelson (@benkittelson56) July 15, 2016
Ben Kittelson disobeyed the only rule of #NCLGBA16 which is don't talk about Pokemon Go!
Daily Spill
Meet the four finalists for the DesMoines WA new City Manager. "The City received an incredible number of highly qualified applicants for the City Manager position," according to Mayor Matt Pina. "We are extremely impressed with all four of the selected finalists and we are focused on hiring a dynamic and visionary leader who is the absolute best fit for the City."
Columbia city manager says claims of taxpayer money misuse are "inaccurate" – "There are people that believe that they can make you so afraid of the establishment and so distrustful that you'll vote no because they don't want something," said Matthes.
Grand Junction's City Manager wants to take you to coffee – "Community members have ideas and concerns but they don't bring those to City Hall, so I think coffee with the city manager is really taking City Hall to the people," said Grand Junction's City Manager Greg Caton.
Hampton continues forward-thinking leadership during second stint as City Manager – This month marks City Manager Gary Hampton's 100-day milestone as head of the City, and even though it's a position he's held before — for four months in 2009 — both Turlock and Hampton are at much different places today  than they were seven years ago.
July 14
Photo Album
Our Facebook photo album can be found at #NCLGBA16
Vids
Action from the afternoon session.
Social Media Part #1 and Part #2
Attracting the brighest employees
Part I
We Periscoped the first part of Dr. Ammons's presentation at the #NCLGBA16 Conference. Watch it once, watch it twice, watch it all day long. Link: Performance Management Presentation
Fun Fact: David Ammons tells the crowd that there is a black market for grease. Umm.
Jobs, Jobs, Jobs
Here are links to our members only job boards.
Rainin' New Members
Welcome to the new members who joined after our session this morning.
Mecklenburg County, NC
David Ades, Durham County, NC
Louie Moore, City of Charlotte, NC
Jessica Kemp, City of Durham, NC
State of ELGL
Yesterday we talked about the state of ELGL, what's ahead for ELGL, and how you can get involved. Link: State of ELGL.
Game Time!
Here's what to expect – Hiring and Retaining Great Employees

Daybreak
My day started with this text message exchange with Ben Kittelson. He's disobeying my Pokemon-free zone.
July 13
ELGL Headquarters
We've set up shop at the Holiday Inn in Wrightsville Beach, NC. Don't worry, it's not the ol' school Holiday Inn that you have in mind. This one is a lot nicer – dive up bar, arcade, fitness center, and parrot. My two complaints: the parrot won't talk and Pac-Man is broke.
Other than that, my dad bod is loving the hot, humid air. My girls walk outside and immediately say, "it's hot!" I, on the other hand, say, "it's summer!" You aren't in Oregon anymore girls, the sun shines in North Carolina and doesn't spit ran for hours upon hours.
Pre-Refreshment Broadcast
Before we drink and eat, we must podcast. Ben, Kirsten, and myself will broadcast live from the lobby of the Shell Island Resort. You can participate via Periscope. We'll be discussing local government in North Carolina, what's next for ELGL, and who is sweating the most. We'll take audience questions (except if the question is about Pokemon Go). I am tired of hiring about it while Ben has been luring Pokemon things all day.
Leah! Leah! Leah!
ELGL member and Knope of the Week winner Leah Treat is at it again. This time, she is spearheading the new bike share program in Portland.
Portland Transportation Chief Explains Why Women Love Bike Sharing
Why are women who won't commute by bike willing to use the bike-share system? There are a lot of theories. Women constantly say they want to be safe. They want to feel safe in order to ride bikes. Women have adopted bicycles in their own households at a much lower rate, so they don't own bikes. A bike-share bike presents them with the opportunity to try out biking. So they get on the bike, and [the bikes are] very heavy, they're very big, and they're easy to maneuver and they're safe. They start using the bike share bike as a trial and discover that they like it.
Now, that you're thinking to yourself that you want to learn more about Leah, we have the answer in this GovLove podcast. GovLove: The Stories Behind The Start-Up City
Daily Spill
Palm Springs Power Struggle: Mayor Rob Moon Says He Now Regrets Voting to Retain City Manager David Ready.
What you need to know about Pasadena's new city manager – Mermell has worked in Pasadena for 27 years, with the last seven in the role of assistant city manager. He started in 1989 as an analyst in the Water and Power Department. His career includes a number of financial roles, with stints as the city's acting finance director, planning director and health director.
New city manager is first woman, black person to serve in role – After thanking the council and residents, Rose told the council she considered the unanimous vote for her appointment "a vote of confidence in me and my abilities."
Two council members: City manager lied – Two Cincinnati councilmen are accusing City Manager Harry Black of lying about details of a $55,000 payment to politically connected Metropolitan Sewer District contractor Sam Malone.
Wake Up, Wake Up…
It's time to drive from Raleigh-Durham to Wrightsville Beach. A few weeks ago, I was caught in an email battle with a city employee of a North Carolina municipality (city rhymes with Bawleigh) who took umbradge with me using Raleigh-Durham as a location for Supper Club. I will take to my death bed that RDU is a valid location. As evidence, I point to Raleigh-Durham International Airport and the now defunct Raleigh-Durham Skyhawks.
July 12
The Confidential
While in North Carolina, the Confidential is being merged into this post. The Confidential is a members-only post that covers hirings and firings in local government, pop culture, and random GIFs.
The North Carolina Poll
I was born in Morganton, NC, and I went on to live in Burlington, Elon, Greenville, and Wilson. I have lived in West Linn for the last eight or nine years. (Not good at math or dates.)
Living on the West Coast/Left Coast is a tad different than North Carolina – college football games start at 9:00 a.m, a suit is only worn at a funeral (maybe) or wedding (50/50), and farmer's markets outnumber any fast food franchise. Fun Fact: The City of Tigard, where I work, held a farmer's market in a funeral home parking lot until the last couple of years.
If Tigard sounds familiar, you must be a student of local government law. Tigard vs. Dolan was a monumental Supreme Court case. How many local government law cases have their own Wikipedia page?!?!
The Supreme Court overturned the state Land Use Board of Appeals and the Oregon appellate courts. The Court held that under the doctrine of unconstitutional conditions, a government agency may not require a person to surrender constitutional rights in exchange for discretionary benefits, where the property sought has little or no relationship to the benefit conferred. A two-prong test was applied: Whether or not there is an "essential nexus" between the permit conditions and legitimate state interest, and whether or not the degree of the exactions required by the permit condition bears the required relationship to the projected impact of the proposed development.
I will continue to contend that downtown Tigard should be home to a Tigard vs. Dolan amusement park. My idea has received little traction.
Back to the topic at hand, I am going to post a series of polls while we are in North Carolina. The first one focuses on something that Portland doesn't have – fast food restaurants.
[polldaddy poll=9468752]
Daily Spill
Castle Hills city manager fired after 'cloak and dagger' city council no confidence vote – "It's totally cloak and dagger," Pfeil told supporters after the special meeting where she complained that she was unable to defend herself because city officials had not shared a package of purported complaints against her that were discussed by council in executive session.
City manager: Positions on chopping block are 'nontraditional' – Proposed budget would eliminate city's arts and culture director, auditor.
This longtime Pasadena employee was just asked to be the city's top administrator – The longtime Pasadena employee threw his name into the running after the former City Manager Michael Beck resigned to take a leadership role at UCLA.
Hobbs city manager claimed to be a finalist for Cruces job, but he wasn't – But officials in Las Cruces have not named finalists for the job, Mayor Ken Miyagishima confirmed. The mayor said he had "never met with, spoken to or interviewed Mr. Murphy ever."
Dozens meet administrator finalists, share impressions – Riley is town manager of Hilton Head, South Carolina; Spiegel is interim city administrator of Davenport; and Woods is city manager of Stallings, North Carolina. The City Administrator Search Committee selected the three from among 34 applicants.
Petersburg budget deficit reaches $17 million; 10 percent pay cut ordered for employees – "What is at stake here is the sustainability of the city of Petersburg," Vice Mayor Samuel Parham said minutes before the council voted.
How do Lakewood, Cleveland Heights elect a mayor? Inner-ring Divide – Cleveland State University urban affairs professor Dennis Keating, a Cleveland Heights resident, thinks a strong mayor and council "can be more active and decisive."
Petey Pablo
Yes indeed, we're flying to the Tar Heel State, North Carolina. (Insert your comments/jokes/questions about the political environment in North Carolina.) We can't dive into the trip details until we enjoy the unofficial song of North Carolina.

If you are like me, you are wondering, "what happened to Petey Pablo?" I did some research (Wikipedia search) to find the answer. First of all, Petey Pablo's real name is Moses Mortimer Barrett III. (You probably knew that already.) Here's what Moses has been doing since 2010.
Since his departure from Jive Records, Petey Pablo founded his own independent label, Carolina Music Group. He released a track in July 2010 entitled "Go", which was produced by Timbaland. In September 2011, Petey Pablo had released a single called "Get Low" on iTunes. On February 17, 2012, Petey Pablo released a mixtape called Carolina #1 while in prison under the independent newly founded label "Carolina Music Group". Pablo had also confirmed working on his third studio album A&R: Anticipated Recordings, which has yet to have a confirmed release date.
On Sunday January 17, 2016 after the Carolina Panthers victory off the Seattle Seahawks in the 2016 NFC Divisional playoffs Pablo released a new single via Soundcloud and YouTube titled "Carolina Colors". The single has gained positive reviews from fans, gained praise from Rolling Stone and other popular media outlets.
Tweet! Tweet!
Follow the action via the #NCLGBA16 Twitter list.
Pothole Politician
Unrelated to North Carolina, but part of my on-flight entertainment was listening to the Freaknomics podcast with Eric Garcetti, the mayor Los Angeles. Fun Fact: Mayor Garcetti is an ELGL member, although he might not know that he is. Kirsten awarded the Mayor a free membership in her weekly column. Once the Mayor finds out about his membership, we'll make sure that he jumps right in by doing the Morning Buzz, participating in Twitter chats, and writing a weekly column.
ELGL has a six-degrees of separation relationship with the Mayor. ELGL member Elizabeth Calixtro worked in the Mayor's office and wrote about it in Empowering Minority Communities in the Decision Making Process.
Confessions of a Pothole Politician
Eric Garcetti, the mayor of Los Angeles, has big ambitions but knows he must first master the small stuff. He's also a polymath who relies heavily on data and new technologies. Could this be what modern politics is supposed to look like?
Key Podcast Takeway: The Drop – Mayor Garcetti developed the initiative to address Los Angeles' ongoing historic drought. The city aims to cut its water use 20 percent by 2017. Michael Scott/Steve Carell was involved with the campaign – Steve Carell Joins The Campaign To Conserve L.A.'s Water In New "Save The Drop" Spots