ELGL's mission is to engage the brightest minds in local government by:
Providing timely, relevant, real content

Fostering authentic, meaningful connections

Expecting equity and inclusion

Encouraging joy in public service

Welcoming new ideas and technology
One of the ways we make our membership equitable and inclusive is by keeping our membership prices low. We want to encourage our members to participate in all the amazing things we do and that means making it possible to pay for the membership out of your own pocket without having to calculate your annual dues, skip a big purchase, or choose between other organization memberships to make it work. Members should be able to join as an individual and then as an All-In member once you have the support of your organization.
ELGL has continued to grow at an incredible rate, in large part to the enthusiasm and drive of our members! We encourage our members to write for ELGL and share their experiences. We involve them in forming new programs and new initiatives. ELGL is what it is today because of our members.
We've grown from a handful of local government nerds in Oregon to over 4,800 nerds throughout the US and beyond!
With that growth we need to raise rates to ensure ELGL is what our members deserve.
As we continue to grow we take a look at where we want to go as an organization and take a look that programs we want to roll out. We recently expanded Emily Edmonds role from Membership Service Coordinator to Membership & Program Director of ELGL. In her new role, she will continue to be the point of contact of all membership questions and will also be taking on grant writing efforts and some awesome programming targeted and small/rural communities including the Small Place, Big Ideas innovation cohort.
Our focus is still on providing timely and relevant content and much of that is being created and shared by our members. We have so much fantastic content being created everyday, blog posts, webinars, programming campaigns and more events; it's easy to miss something new that we are working on.
With all the content we're creating and sharing, we are in need of Content Manager. This person will be responsible for managing content and our website so we can be more effective at connecting our members and mission.
With everything that we have going on today and everything that we have planned for the organization we've come to the conclusion that we must raise member rates; these are annual rates:
| | |
| --- | --- |
| Veterans Management Fellows | $0 |
| Student | $20 |
| Individual | $40 |
| Two Year | $80 |
| Small-Communities All-in (5 membership spots) | $250 |
| All-In (10 membership spots) | $360 |
| Supersize (20 membership spots) | $720 |
| Supersize Academic (number of membership spots tailored to your campus) | $700 |
We want to you be as active in ELGL as you would you like. There is so much we are doing all year round and we don't want you to miss a thing. Take advantage of your membership and share with everyone all the great things we're up to. If you have any questions about your membership reach out to Emily at [email protected].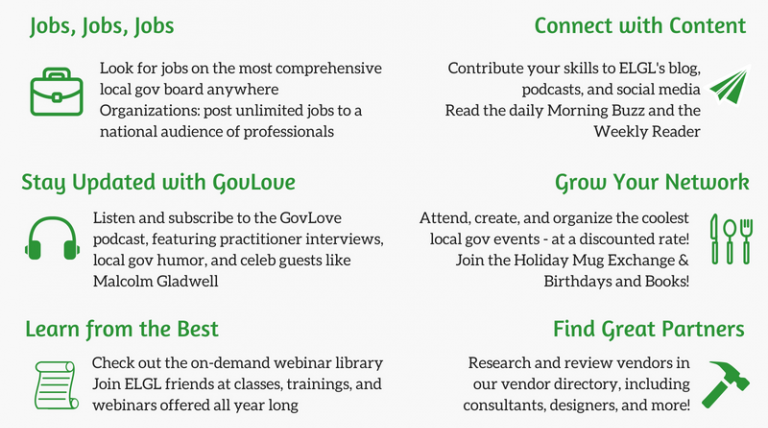 Dues alone do not pay for the all the programming and content that we create. In fact, member dues don't cover half the cost is takes to operate ELGL. A lot of what we do would not be as affordable without the help of our sponsors and private organizations. We are also very aware that local government does not serve our residents on our own and so we make our best efforts to make sure we partner with organizations that are like-minded and share our members' values.
As a member, if you value ELGL and our events, take time to support our sponsors. Recognize that their investment in ELGL is meaningful and impactful.
From the beginning, ELGL has committed to changing the way we (local government) interact with private partners who assist us (vendors). It's part of our mission to create real authentic connections without the uncomfortable sales pitch and feeling like you've just been bamboozled into another product demo you didn't want to attend. Our members are doing great things with our sponsors and we want to highlight those accomplishments.
Read Kirsten's post about how we as members could be better at utilizing and recognizing our partners: Sponsorship Philosophy.
We've also made it easier than ever for organizations to become partners by offering easy to understand packages that allows vendors to showcase their value while supporting our organization. If you are interested in becoming a partner or have a recommendation for someone you would like ELGL to partner with, contact Kirsten at [email protected].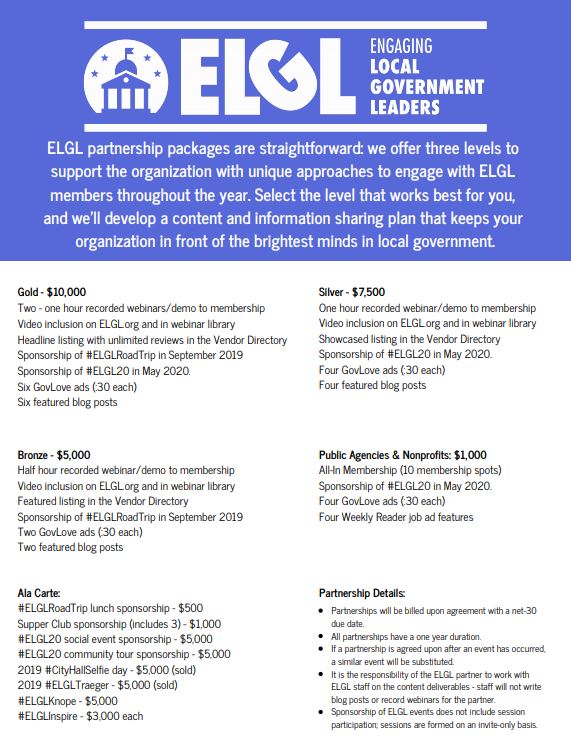 From your Board:
Ben Kittelson – [email protected]
Joey Garcia – [email protected]
Bridget Kozlowski – [email protected]
Dan Weinheimer – [email protected]
Christian Williams – [email protected]
Kent Wyatt – [email protected]