#ELGL18 takes place May 16, 17, and 18 in Golden, Colorado. In the coming days, we'll announce each of the speakers and sessions. You can register for #ELGL18 here.
---
#ELGL18: Text, Lies, and Videotape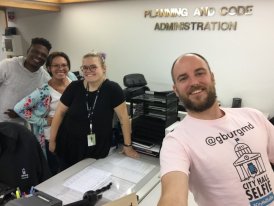 It's always been difficult to know who to trust, and when to trust them. With the arrival of the "post-truth era" of social media, it's only gotten worse, and we're nowhere near the bottom of the barrel yet. In this session, Nick Smith from the City of Gaithersburg, Maryland's Communications Office will use case studies ranging in scope from the Department of Homeland Security, to MIT, to BuzzFeed to examine #FakeNews in its different forms, where it comes from, why people spread it, how to deal with it during a crisis, and then how to take those practices offline and improve day-to-day life by applying them to internal communications, inside the office and out.
---
4-1-1 on Nick
Nick Smith graduated from Rochester Institute of Technology with a degree focused in Science, Technology & Society, and is currently employed as a friendly propagandist overseeing social media in the most diverse small city in the United States, for which he was named an ELGL Top 100 Local Government Influencer in 2017.
---
Supplemental Reading