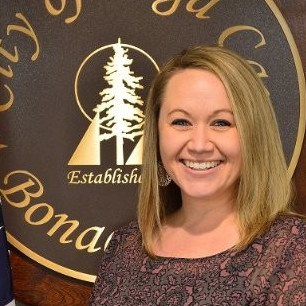 "Know before you go:" that's our philosophy with ELGL events. We're profiling our awesome attendees for #ELGL19 in Durham so you can connect with fellow attendees before the best local government conference in the world, held May 15-17, 2019 in Durham, NC. Register today!
---
Katie Poulsen
Assistant City Manager at City of Tega Cay, SC
---
What is the most local government-y thing you have done on vacation? 
Sought out other City Halls!
If I was booking the guests for the GovLove podcast, I would book…
Karen Pinkos, ICMA
If you could only have wine OR chocolate for the rest of your life, which would you choose?
What a horrible scenario…. but wine wins.
What's one thing you want to do/see when you're in Durham?
You can't go to Durham and NOT visit Bull City Ciderworks!
#ELGL19 will be a success in my book if this happens: 
I get new ideas for measuring and reporting on Strategic Initiatives.
Who is your mentor?
Just one? Rick Jiran (Duke Energy, SC), Steve Parker (Chief of Police, Tega Cay, SC), Michelle Nance (Centralina COG, Charlotte, NC), and many others that help me keep perspective, positivity, and humility!
What's the most interesting thing you're working on right now?
The recycling crisis.
What's your pet peeve?
Social media keyboard warriors who only want to complain without the whole story and have no desire to actually get involved in solutions!
---
Other #ELGL19 Attendees: