It's time to vote in the #ELGLKnope Round of 32! Read about this matchup, and then submit your vote! One vote per email address, please. We'll tally the votes and will post the next round of matchups on Tuesday!
---

City of West Bend Well Houses
1115 S. Main Street, West Bend, Wisconsin 53095
Three words to describe City of West Bend Well Houses:

Innovative, Dedicated, Extraordinary

Why are you nominating City of West Bend Well Houses:

The City of West Bend Water Utility Department is deserving of the #ELGLKnope Award because of the exceptional innovation used to design, construct and maintain well houses that naturally blend into residential neighborhoods.





In 1917, the City of West Bend developed its first municipal well house. The house had four square walls made out of concrete blocks and a flat wooden roof. Fast forward to 2006—you couldn't ask for a nicer well house masquerading as a three-bedroom ranch than the one located in a quiet neighborhood in West Bend. The "well house" is next to existing residential homes, affording a great view from the front window. It has an attached garage, manicured lawn, shrubs and trees. As a house, it would sell for about $300,000 today, but it is an imposter. Instead of a residence, the structure houses the City's No. 7 water well (photo above) and serves as a pumping station for municipal water. There are many other well houses that blend into the West Bend's residential neighborhoods and help keep the city supplied with water. 





The idea of camouflaging the City's pumping stations so they fit into the residential neighborhoods was promoted in the early 1960s by Alfred Hemauer, who held several city jobs simultaneously for 20 years, including Water Utility Manager. He wanted to avoid complaints that the pill-box brick buildings that typically house pumping stations would deflate property values. Once implemented, people began to come from all over the Midwest to see the plan. The staff of the Wisconsin Department of Natural Resources (WDNR) marveled at the idea and has gone on to use West Bend's pumping station houses as positive examples for other municipalities.

Anything else to share?

The City of West Bend is truly proud of the Water Utility team's ingenuity and ability to think outside of the box on well houses. Water Utility staff keep the pump stations as neat and clean as their own homes.  The lawns are mowed, windows washed, and walls painted, when needed.  Anyone driving through the neighborhood would never know one of these ordinary houses is a pumping station. Going forward, the Water Utility will continue to promote aesthetically-pleasing buildings that naturally blend into surrounding residential neighborhoods.
---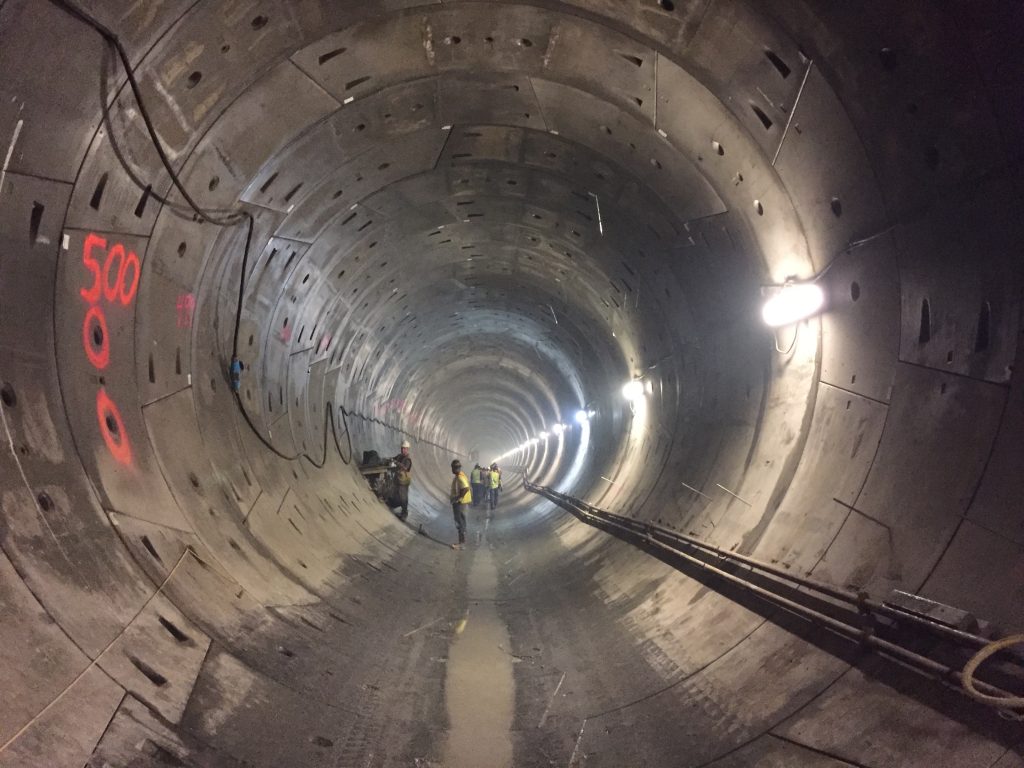 Anacostia Tunnel System
Washington, District of Columbia 20003
Three words to describe Anacostia Tunnel System:

Water is Life

Why are you nominating Anacostia Tunnel System:

This is one of the most important public health projects in the history of the nation's capitol. Since it opened in 2018, this massive system of deep underground tunnels has captured more than 9 billion gallons of combined stormwater and sewage that otherwise would have overflowed into the Anacostia River, known locally as "the forgotten river." Today, the improved health of the waterway is bringing a renaissance to the Anacostia waterfront from housing, retail and sports venues, to recreational and environmental opportunities.

Anything else to share?

The Anacostia Tunnel System is part of DC Water's Clean Rivers Project. The project is a massive $2.7 billion infrastructure construction program designed to capture and store excess combined sewage during rainfalls rather than allowing it discharge directly to the receiving waters.  Captured flows are delivered by gravity to the Blue Plains Advanced Wastewater Treatment plant for treatment before being discharged to the Potomac River. The program, to be constructed over a period of 25 years in accordance with a Consent Decree entered between the Federal government, District of Columbia government, and DC Water, will reduce CSOs by an estimated 96% system-wide by volume in an average rainfall year, with a 98% reduction for the Anacostia River. The project consists of a series of deep underground tunnels to capture and store CSOs, with green infrastructure and sewer separation utilized in select sewersheds. For more information visit https://www.dcwater.com/cleanrivers.