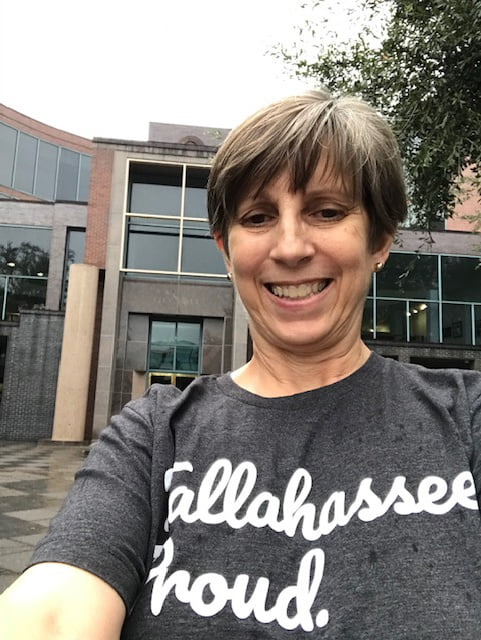 Greetings, ELGL!
I'm Paula Kiger, and I'll be sharing my day with you Tuesday on the #ELGLTakeover from Florida's capital city, Tallahassee.
A few years ago, my friend Brenda wrote a blog about me and called me the world's cheerleader. It was very kind of Brenda to say that. I have to admit it is absolutely true when it comes to Tallahassee, where I've lived since I arrived at Florida State University in 1982. (I did spend three years taking my bite out of the Big Apple from 1989-92). 
Here are a few of my favorite "cheers" for Tallahassee:
Participating in several of our

Longest Table

events

Being a part of this

#TLHCanDo video

to encourage fellow Tallahasseeans to stay active and productive amid the pandemic
I volunteered to do an Instagram takeover because I enjoy sharing the great things about our city and the many people in local government who make it tick. Besides being an active community volunteer (and — duh — cheerleader!), I edit the ICMA SmartBrief, so I have the wonderful opportunity every weekday to scour the news (along with my team) for the best local government stories and share them with our readers. 
What can you expect during my takeover?
I'm still formulating my plan right now, but here are a few things I have in mind:
For part of the day, I'll be working, so I'll do my best to highlight a story or two in the newsletters I edit that have a local government angle

Some of the things I see while I'm out walking that show how our city and county are working to make outdoors adventures in Tallahassee so much fun

A city or county meeting (I know you won't want to miss THAT!)

Perhaps my cats Alice Cooper and Bella will make an appearance
I also may show you our back in angle parking spaces. I've never fully understood back in angle parking (nor do I think I could do it very well). Our city has really tried to educate us, though (thanks, "Kip").
No matter what the day holds, I'm excited to be your February 16 #ELGLTakeover host and to show you why I'm #TallahasseeProud.
---
Thank you to Tallahassee, Florida for taking over our Instagram! Your city can sign up to takeover our Instagram, too.