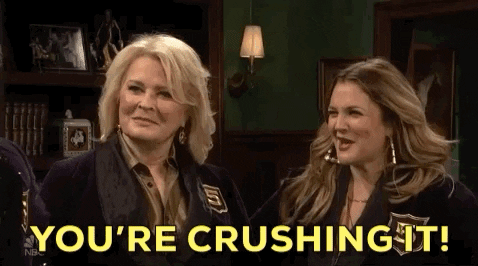 Today's Buzz is by Katie Nelson (Twitter and LinkedIn)
What I'm Reading: "The Saturday Night Ghost Club"
What I'm Watching: "Hocus Pocus"
What I'm Listening To: "Scary Stories to Tell in the Dark"
To every cloud, there is a silver lining.
I'm Irish, so hearing that at an early age, for every time I got upset about something, was not ideal. My blood pressure would skyrocket, my rage would come forth, and though I'd like to say I never skulked or threw a tantrum, I probably did.
But as I got older, and I became more aware of the world and the need for kindness, compassion, understanding, and the overwhelming lack of listening, the idea that negativity could potentially build positivity – especially on social media – resonated deeply.
Now, as a social media manager for a police department in the heart of Silicon Valley, to say that negativity hits the internet in this region on the daily is – well, fairly accurate. But why let that get you down? Why feed into it?
As representatives providing a very high, and very public, level of customer service, what does it look like to rise above the hate, rock your agency's resiliency in a social sphere, and speak to the vast majority of your audience that is silently watching?
One of the greatest examples out there is BART. Their social media account is constantly willing to engage in the tough dialogue, to answer the questions many would either try and negate, or refuse to answer all together.
Here's a recent example: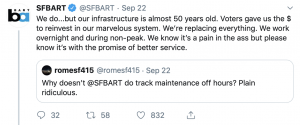 Tough questions with real answers. BART doesn't skirt the issue.
In fact, they are refreshingly honest about it. In a world where public sector agencies are constantly being compared to the creativity and responsiveness of private sector brands like Southwest, Amazon, Wendy's, and more, it shouldn't be a surprise to social media managers that not only has the level of ingenuity been elevated, how and why we engage on social media is a necessity, not a luxury.
Here's another example of what good engagement looks like – it comes from my own city. Our city social media manager rose to the occasion during a recent city council meeting regarding homelessness issues. The responses to questions were thorough, and, the social media manager was willing to go above and beyond just the one response. Because honestly, how many of you have conversations that end after one exchange?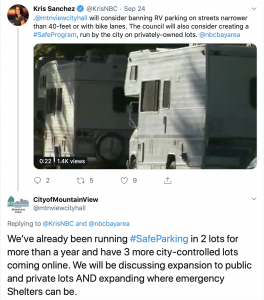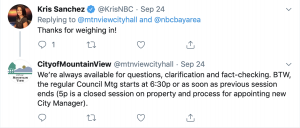 Sometimes, things get said that aren't quite accurate. Sometimes, people are just looking for someone to listen. All the time, people need you to be there. Whatever the reason is, tough topics, negativity, and other rough interactions always have the potential to be better, to showcase why, on the most fundamental level, you engage online — because that's where your community is, so you should be there too.
Negativity should be your prime time. It is your opportunity to engage, to educate, and to inform. And that's not just a one-way street, where you are the experts, and they, the learners.
As Bill Gates once said, "Your most unhappy customers are your greatest sources of learning."
So, in the best way possible, embrace the negative. Be the positive surprise your audiences crave. Find the silver lining, and show that you are listening, you are there, and that even when conversations maybe don't start out great, they can certainly conclude on a positive note.