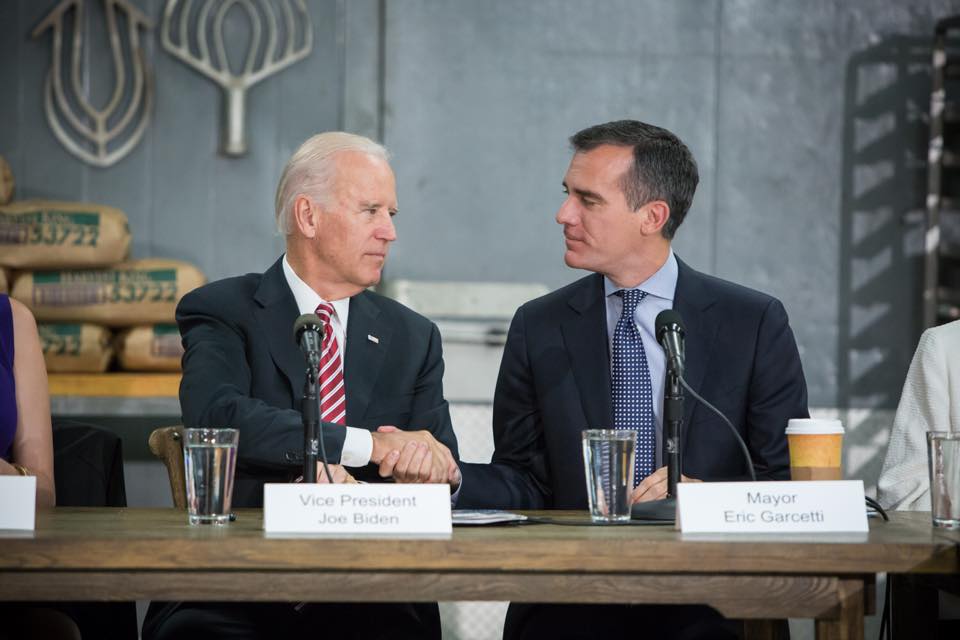 After a stint working for the City of Independence, OR, ELGL member and Willamette graduate Ellie Calixtro (LinkedIn) has landed in Los Angeles, California. She is serving as a Bohnett Fellow – Mayor's Office of Immigrant Affairs, City of Los Angeles and attending graduate school at UCLA. 
We introduced you to her in this feature New Sensation: Elizabeth Calixtro, City of Independence and now she returns to discuss working on Latino outreach in Los Angeles. You can also read about Elizabeth's passion in Driven To Dream: American By Birth.
Lightning Round
I am currently working on completing my Masters of Public Policy Degree at UCLA's Luskin School of Public Affairs.
Before I die I want to travel in South America.
You should know that I miss a rainy day in Oregon.
I am motivated by the small victories every day.
The biggest challenge I've faced was learning English at 11 years old in one year.
The Interview
Describe your experience with Latino outreach. Prior experience? What you're doing for LA Mayor?
I have been involved in the immigrant rights movement with PCUN Farmworker's Union, CAUSA, Voz Hispana, and Mujeres Luchadoras Progresistas. During college at Willamete University, I co-founded a student chapter of CAUSA to promote student activism, raise awareness of immigration policy, and develop the next generation of Oregon leaders in the immigrant rights movement. Upon graduation, I worked for the City of Independence as a Community Liaison developing programs to improve communication and collaboration with the Latino community. I consulted city staff and elected officials on culturally competent outreach strategies.
I am currently working as a Bohnett Fellow for Los Angeles Mayor Eric Garcetti's Office of Immigrant Affairs. The office has a mission of creating programs and initiatives to support immigrant integration into the City of Los Angeles through the coordination of city services, outreach, and legislative advocacy. This fellowship gives me the opportunity to apply the analytical skills I've acquired through my public policy curriculum and to experience, first hand, local government in the second largest city in the United States.
"LA is the city of hope, the city of acceptance, and the city of inclusion"
Posted by Mayor Eric Garcetti on Saturday, August 1, 2015
In your opinion, are local governments paying enough attention to reach minority populations?
Local governments are increasingly becoming aware of the need for culturally specific outreach efforts. Fast-changing demographics and a growing political influence of the Latino electorate has been a driving force behind innovative Latino outreach efforts in both the public and private sector. I'm not sure that either sector is paying "enough" attention, but they are certainly doing more than they were just a couple decades ago. I firmly believe these efforts need to continue growing and that best practices need to be shared.
For local governments beginning to do more Latino outreach, what challenges should they expect to face? 
One of the challenges local governments should expect to face is navigating the cultural nuances involved. Any local government that is launching Latino outreach efforts should start by learning the characteristics of the communities they intend to reach; they need to understand that Latinidad is a pan-ethnic umbrella that encompasses a diversity of cultures, histories, languages, experiences, etc. It is critical to understand the human geography, histories, languages, generational roots, occupations, community leadership and more of the Latino communities they serve as a first step to doing this work. This knowledge will provide the locality with some of the tools to develop an outreach strategy that is culturally specific in order to maximize effectiveness.
How do you measure success in Latino outreach?

Success in Latino outreach can be greatly gauged by the extensiveness of the acquired network, particularly with trusted community organizations and leaders. One important factor in building relationships with trusted community leaders is being accountable and responsive to their needs. These leaders know the community well, are aware of the challenges and the needs in the community, and developing relationships with them will open the doors to great opportunities for the future. In the long term, success can be measured if relationships are transformed into successful collaborations, and increased Latino representation in key decision-making processes.
For those reading this interview, give us three action items for reaching minority populations.
Learn about the Latino communities you are trying to reach. What is their history, ethnic background, primary occupations, immigration history, languages spoken, religious and political landscape, etc.
Learn from community leaders, by being an attentive listener, what the pressing concerns are in these communities.
Direct resources to community-led initiatives, in kind or monetary. Offering to take a seat at the table and leveraging the localities own network and resources to increase community capacity is a great way to support the community without re-inventing the wheel or overstepping trusted community leadership.
Should local governments be more representative of the racial demographics of the community?
Yes, Latino participation and representation in government is an imperative to a more engaged, integrated, and equitable community. Latinos, like all other ethnic communities, should be empowered to be part of key decision-making processes that affect their lives at all levels of government. However, it is also critical to understand that cultural competence in service delivery requires a skill set that professionals of all backgrounds can (and should) develop. Cultural competence in services and outreach will not be achieved solely by acquiring a more representative workforce, although it is a critical component. Resources need to be directed to professional development and cultural competency training, which will create a common foundational understanding of the cultural nuances involved in serving your community's diverse populations. Staff from all departments should be encouraged to take this training, rather than delegating it to a handful of "specialized" staff. Equipping your leadership and staff with cross-cultural communication skills will prove invaluable in the continued success of any initiatives you undertake.
It is important to embed these practices in the value system of the organization, and in its strategic planning process. Most funding of programs is justified by the strategic planning goals set forth by the organization. It is therefore critical to be intentional and explicit about cultural competency and diversity in all strategic planning processes.
What's next for you?


I will work for the Mayor's Office as a Bohnett Fellow through July 2016. Upon completion of my Master's degree, I will explore a career track that allows me to apply my new analytical skill set in an area that I am passionate about such as Latino outreach, youth leadership development, or economic empowerment. I will explore career opportunities in local government primarily, and will also apply to fellowships in the public sector. The sky is the limit!
What questions should we have asked?
"What resources should I look up next?"
Book — Beltran, Cristina. 2010. The Trouble with Unity: Latino Politics and the Creation of Identity. Oxford: Oxford University Press.