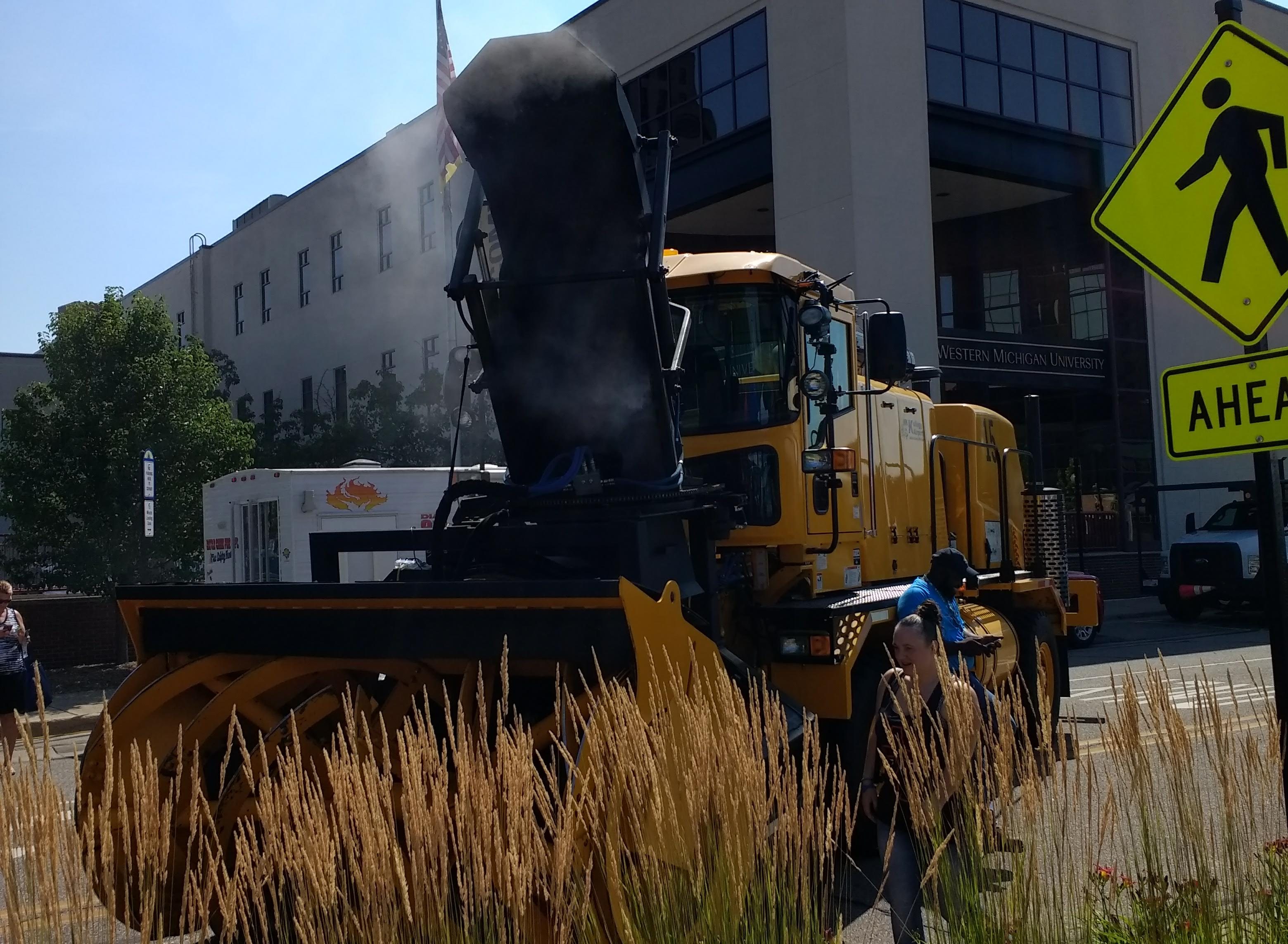 Today's Buzz is by Jessica VanderKolk. Connect with her on Twitter and LinkedIn, and on all City of Battle Creek social.
What I'm watching: A lot of Transformers, and other shows my 6-year-old watches, and Dark with my German Lit PhD husband.
What I'm reading: Just finished Anna Clark's The Poisoned City, a situation from my home state. Now staring at a giant pile of books, trying to decide what to read next.
What I'm doing: Anticipating a Michigan-summer-sticky Battle Creek Half Marathon tomorrow. If you're a runner, come visit! This race is fun in that you get a few miles on our airport grounds, and get to see fancy planes and hot air balloons, because it's during our annual Balloon Festival. #shamelessplug #HappeningBC
---
In the Battle Creek of my happiest dreams, every neighbor receives the news and information we send out, AND understands it. Can you picture it? Did your eyes just glaze over in this dreamy state? Yeah, mine, too. It's beautiful.
As a local government communications professional, this is my grandest goal. Let's be real — I don't know that I'll ever achieve this Nirvana, but I will create new graphics and Facebook events, record more Instagram stories, organize more events, and try to rally my team to get as excited as I am about waste water, master plans, and snow plowing.
One of the ways we've focused on this — especially in the last year — is improving communication with the Spanish-speaking, Burmese, and deaf and hearing-impaired neighbors in our community. We have lacked in this area for a long time, and have made incredible growth, though I won't tell you we don't stumble.
We have an assistant to the city manager who tackles language access as one of his main focus areas, and together we have numerous conversations and brainstorm sessions about how to do this better. We have trained our team to use phone interpretation with a local support organization, and are translating critical documents and developing standard language for other materials that direct neighbors on how to call and use the phone interpretation service to get the information they need in their first languages.
In 2015 we started using the National Community Survey and, in 2018, we had the survey and materials translated into Spanish and the three dialects of Burmese we know are spoken in Battle Creek. I wish I could say this was a huge success, but one neighbor completed the survey in Spanish. That's it. I can't tell you how many non-English-proficient homes received the paper survey (random sample), or how many realized the open, online version was translated, but I can tell you we didn't promote it well enough with our local community support organizations (one for Latino/Hispanic families and one for Burmese families).
We continue to build those relationships and outreach, so I'm hopeful we will get a larger response. In the last month we participated for the first time in the "Family Day" fundraiser with the Spanish-speaking community. Also for the first time, we are hiring Spanish and Burmese interpreters to attend our annual City Fair event this month, a jolly good event where we invite neighbors to interact casually with the city team — we have a dunk tank, hydrant assembly demonstrations, a sandbox with little trucks and, of course, lots of big city trucks. (Our airport snow blower's name is Chewie. #themoreyouknow #nameatruck)
I talk more about how we've worked to improve emergency communications with our non-English-proficient communities in my upcoming I Have to Ask column, but here I want to talk more about what we're doing on social media. As with many puzzles that arise on social, this one has challenged us. Because both Spanish- and Burmese-speaking communities are estimated at less than 10 percent of our population, our Title VI requirements are less than if we we had larger percentages. But using the word "obligation" here feels wrong; it doesn't matter if there's one family that speaks a different language. We want to reach them, right? Finding this balance is tough.
This spring, the middle school student group at the community Latino/Hispanic support organization started a #SpanishAccess campaign, and engaged the city in looking at the way Google Translate is lacking on our website, how we communicate during emergencies, and our social media posts. And we are working on all of these.
Where we've landed on Facebook in particular — typically our highest engagement platform — is to post bilingually in English and Spanish. This isn't for every post — like a graphic to say "happy spring" — but for things that have a great impact on a majority of the community, like boil water advisories, road closures, and a recent news item warning neighbors that door-to-door solicitors must have a permit; many folks suffered damage in a June hail storm, and roofing companies have swarmed the city.
We have requested and received translations for these items — through our local support community support organizations — that allow me to plug in dates and street names and, hopefully, have a greater impact on our entire city. As this has all happened in the last few months, our next step is to meet with the support organization leaders to find out how we're doing. We do receive comments of thanks, and plenty of shares, but we really want to hear what conversations these families are having about it.
I did recently receive a Facebook message from a Burmese woman who thanked us for the translation of the door-to-door soliciting notice, as this was important information for their community.
If you don't know about the language, posting news and information in Burmese is an extra challenge, because the language uses characters that you can't just copy and paste. We get around this by turning the translations into image files, so the characters won't be altered. When I posted that soliciting notice on our website, I was required to post a title, and it couldn't be in Burmese — there was no way to upload an image file, and even trying Google Translate didn't work. The characters formed a single line of text, with no spaces, and the website wouldn't accept it. We post images with every news item, so I used an image of the translation, so at least neighbors would see the translated language.
We've learned all this by messing it up a few times. And we talk A LOT about how to do it well, not always coming up with answers. But we keep learning and doing better, because we're still reaching for that grand goal of making sure the entire community can engage with us. *Enter glazed over, dreamy state…*
Questions about what we're doing? Tips on how to do better? Please @ me.