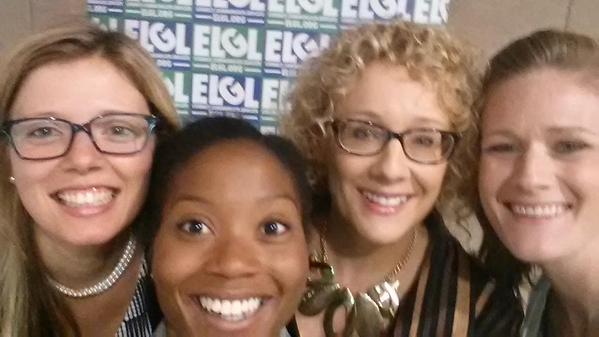 Engaging Women in Public Service – The Download
By Sarah Hazel
Wow. It has been three weeks since a couple hundred professionals descended upon Chapel Hill to discuss how we can promote and engage women in public service leadership at the School of Government's Engaging Women in Public Service Conference. The ELGL team had an excellent time live tweeting the event and meeting people committed to their communities and dedicated to supporting each other. A few highlights from our ELGL on the ground team included:
Learning how to power pose in order to make yourself big and to exude confidence
Hearing about Illumined Leadership – tapping into your life's journey
Straight myth-busting stereotypes about women that can hold us back
Instigating an all-out twitter battle in the name of women in leadership (and of course we got in a few selfies)
Time for the download!
I asked some conference attendees to download what they liked, what they learned, and to share what they have boldly put to use in their workplace. Here are a few things I heard:
"I really enjoyed Carol Kinsey Gomen's presentation on body language. Body language says a lot, and sometimes you don't even realize you're doing something people may judge as unprofessional. I'm preparing to enter the job market, so I appreciated her advice on how to best present yourself." -Olivia Hammill

"As a young professional/student the Engaging Women conference was a great opportunity for me to meet other women in the field. I was pleasantly surprised as to how eager everyone was to share some advice or insight with a student. Specifically, the body language portion of the conference was really interesting. As a shorter person I always worry about not "taking up enough space" in a room and have tried practicing taking up more space in a chair when I sit instead of curling up. I also thought it was helpful to discuss the stereotypes women face in and outside the workplace in groups and come up with strategies as to how best to overcome and defeat those stereotypes. It is okay not to be superwoman!" -Caley Trujillo
"I was recently speaking with a colleague, and I found myself nodding along while he spoke. While I didn't agree fully with what he was saying, I was still nodding – why was that? During the Engaging Women in Public Service Conference, a light bulb went off! Carol Kinsey Goman, a body language expert, was the first speaker at the
conference, and she was fantastic. I learned that women often nod their heads to encourage conversation to continue – basically saying "keep going; I'm listening." Meanwhile, men only nod when they agree with what is being said. She explained this cue and many others – such as women should take up more space at meetings and don't be afraid to interrupt! This is only a snapshot of the helpful tips I learned at this year's conference." -Megan Wooley

So what did I put into practice? I made a commitment to focus on body language, in particular the importance of strong and long handshake – 6 seconds long in fact – and to repeat a person's name upon meeting her. "It's nice to meet you Jean!" The result of my efforts? IT WAS GLORIOUS. I used a conference setting last week as my laboratory, and as I met people throughout the day, I concentrated on the handshake. Not only did I feel like I made a strong first impression, I genuinely felt more connected to the people I was meeting.
Thanks to all the organizers and speakers who made the conference such an empowering experience and who provided real tools people can put to use right away. ELGL appreciated the opportunity to be a part of such a great day, and to amplify the voices of engaging and inspiring women. Onward and upward!